We use affiliate links. If you buy something through the links on this page, we may earn a commission at no cost to you. Learn more.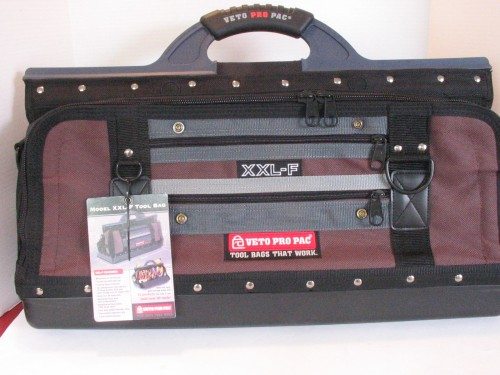 I know you have one.   Those clunky, metal, red toolboxes.  That iconic American symbol of craftsmen, workmen, and Do It Yourself-ers everywhere.   Those expensive, heavy, red-paint-chipping, heavier-than-cement-crack -your-shin-on-it dead weights that holds a mish mash of tools and accessories that, once in, you can never find again.
Throw it out.  Seriously.  Throw that rusty bucket of bolts out. (Save the bolts though).  There's a new sheriff in town and it's name is the XXL-F Tool Bag from Veto Pro Pac.  It's not a box but as strong as it is, it might as well be.
VetoPro Pac XXL-F tool bag is a waterproof, weatherproof, rust proof fabric bag that holds everything your red clunky box holds AND you can sling it across your body with the padded shoulder strap that comes with it.  You can't do that with a tool box.  But you can do it with Veto Pro.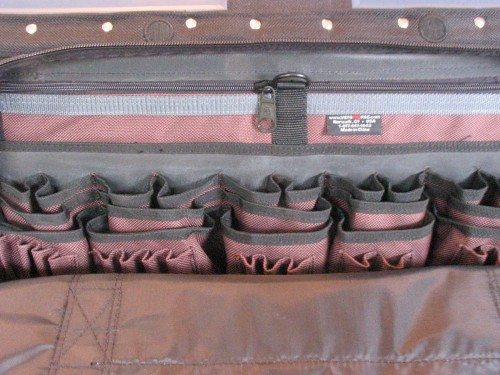 I'm not a tool person.  My husband is.  I'm not.  I'm more of a gardener.  My husband has one of the iconic red, clunky metal boxes.  I know this because I've tripped over it more times than I know how to count.  And I've kicked it as many times too.  When I first saw the XXL-F, I jumped for it.   Because my husband's wrenches and sockets and screwdrivers and pliers, and needlenose pliers and drills and bits and pieces spend next to NO time in that stupid metal box.   No.  They hang out ALL OVER everywhere else.  Not just the garage…but pretty much everywhere else.  And of course he can never find anything when he wants it because it's NOT in the toolbox…it's somewhere else.
Why?  Because no man in his right mind REALLY wants to lug that heavy toolbox around with him as he goes forth to conquer the world's loose nuts and bolts or just knock one more item off of the "Honey Do" list.
But then I thought…you know… as much as this is designed for tools….I could really use it to hold my gardening stuff because that too is all over the place.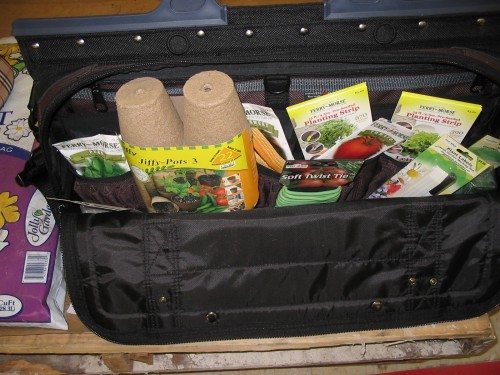 Season after season, I go through whatever cute, floral, sweet looking "holds all your gardening tools" bucket/basket/contraption that the nurseries come out with.   These "gardening tool caddies" were not REALLY for those of us who take "playing in the dirt" to a whole new level.  Our trowels, hand rakes, dandelion pullers, hand spades, this and that, twine, seeds, it all gets filthy dirty.   So the newest Martha Stewart-y caddy gets dirty, ripped, torn and is basically useless after one season.  I'm sure it's a conspiracy, so I choose to be a rebel.  My gardening stuff: seeds, twine, plant food, tools, gloves, goofy hat… it's all being kept in the XXL-F.
Painters can use this bag.  Artists can use this bag.  Pretty much anyone who has to keep a lot of materials, tools, pencils, etc can use the Veto Pro Pac XXL-F.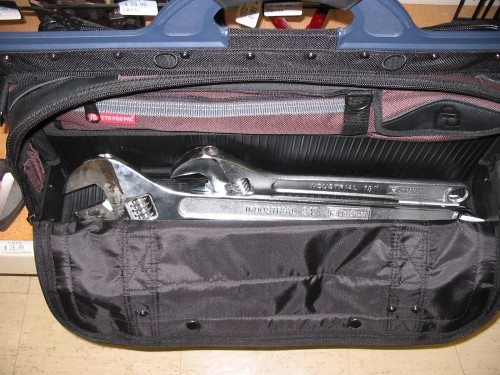 Why Veto Pro Kicks the Red Tool Box's Butt
Not clunky
Won't rust
It's made of 3mm thick waterproof, weather proof propylene with a 1800 denier nylon fabric body.
Over-molded ergonomic grip
Rock solid but padded and comfy shoulder strap leaving your hands free to carry other stuff.
54 pockets of different sizes
47 tiered pockets,
can hold framing squares
open storage for really long tools
structured, sturdy zippers…not some cheap stuff.  These zippers are rock solid and won't rust.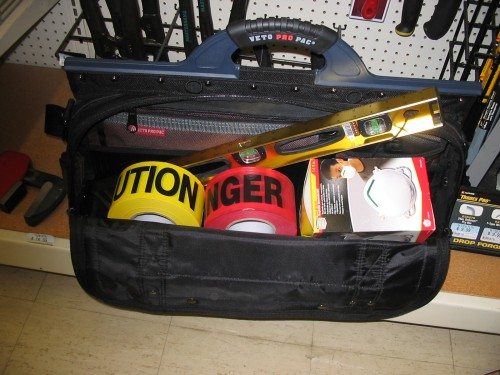 Find me a metal toolbox, red or otherwise, that will hold as many tools, in as many pockets, as solidly made, that can withstand even the toughest of conditions and still keep your gear handy where you don't go searching for it?   Because if you can, I'd like to see it.
Veto Pro Pac bags come in three different sizes designed for the user's needs.  I don't see too many metal toolboxes that do that.
Obviously, I dig this bag.  I like things organized and I know of a lot of craftsmen and plumbers who like to keep their instruments handy.  While toting this bag around Tractor Supply Company in Noblesville, IN, I had no less than three farmers ask to look at it and ask me where I got it.
And that's a good question.  While I could not find this bag at your usual and sundry hardware stores, Veto Pro Pac includes a Dealer Locator (based on your zip code) of businesses that do carry the Veto Pro Pac tool bags.  There are five different businesses within a 50 mile distance of my zip code that carry this bag complete with addresses and phone numbers that the Veto Pro Pac provides.
Two words about their website: User Friendly. Whatever you want to know about the bag, you get.  You get specs, four separate views and detailed product information about each tool bag on the website and it's easy to navigate.  You can purchase the bag directly from the website or use the Dealer Locator tab.
The XXL-F can be purchased on the Veto Pro Pac website for $179.95. That's a pretty standard price.  Even Amazon.com lists the XXL-F at $179.95.   To some, that sounds pretty spendy.  Until you see what you get and realize that you never have to deal with metal toolboxes and disorganization ever again. For the dabbler or amateur gardener, it might be a bit much to spend.  For serious craftsmen, plumbers, service professionals, electricians, tech guys, professional interior/exterior painters, handymen, HVAC guys, it's an investment.  They know that when they take this bag out in all sorts of weather, their tools and gear are going to be protected and organized.
Note: Links in this review are affiliate links. The Gadgeteer earns a small percentage of $'s for any sale that comes from this review.
Product Information
Price:
$179.95
Manufacturer:
Veto Pro Pac
Pros:

Waterproof
Weatherproof
Rustproof
Holds unusual sizes of tools
Multiple pockets inside and out
Webbed, padded shoulder strap
Versatile
Solidly made
Solid hard core bottom prevents water or weather from seeping in and rusting tools.

Cons:

At $179.95, it's a bit expensive for anyone but the hardcore professional. Farmers, professional service people, electricians, painters, plumbers, etc will find great use with this but is definitely a investment.