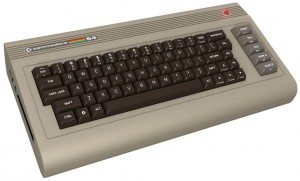 Ah, the 80's.  Neon fashions.  Big hair.  And the heady days of the personal computing explosion, including the venerable Commodore 64.  That's 64 kilobytes of RAM, man.  I was my first computer and, I used it to create my first very basic BASIC programs.  If you're a nostalgic fan, this may be your lucky day.  The Commodore 64 is back, but although it may look virtually identical from the outside, its specs have been upgraded a bit.  Now sporting an "x" suffix, there are four Commodore 64x configurations, ranging from "Barebones" which is basically a Commodore 64-shaped USB hub/cardreader for $250, to the most decked-out "Ultimate" which includes an Intel Atom D525 1.8GHz Dual Core CPU, NVIDIA ION2 Graphics (DDR3 512MB), up to 4Gb of RAM, WiFi and Bluetooth, Blueray drive and up to a 1TB hard drive for $895.  Currently shipping with Ubuntu 10.10, Commodore OS 1.0 (with compatibility all the way back to 8-bit) will be shipped when available.  Also check out the revamped Commodore VIC-Pro and Commodore VIC-Slim lines, with an Amiga line on the way. Any other former owners or fans of the C64 (or other computers from that era) out there in Gadgeteer land?

Support The Gadgeteer
:
We may earn a small affiliate commission from purchases made from buying through links on our site. As an Amazon Associate I earn from qualifying purchases. Learn more.