We use affiliate links. If you buy something through the links on this page, we may earn a commission at no cost to you. Learn more.
Fish Finders, to those who don't know, are these electronic mechanisms that either assist greatly in not having to stop by the fish shop on the way home or are a blasphemy on the sacrosanct sport of fishing. Depends on who you talk to.
Electronic gardening equipment quite possibly could be seen in the same context…except by me.  Frankly, I'll take all the help I can get.  Black and Decker does what the Farmer's Almanac is too smug to do:  puts gardening into terms even I can understand.
Yes.  I, too, thumbed my way pathetically through every gardening manual only to wind up with spindly flowers, weak shrubs, bug eaten vegetables but a bumper crop of weeds.  So what if Martha Stewart featured dandelion pancakes on the cover of one of her magazines. (Oh yes she did!).  I've been schooled practically from birth to view dandelions as an enemy to be eradicated.  And despite RoundUp's best efforts, apparently a bowlful of weeds is considered "House Salad" by the Rachel Ray set but who said Hollywood made any sense?
Black and Decker understands the Green Thumb Challenged and to that end, they've developed the PlantSmart PCS10 digital plant sensor.  The digital sensor is attached to a USB connector.  At the top of the connector is a sunlight sensor.  Inserted into the soil for at least 24 hours, PlantSmart takes into account everything happening in the soil surrounding your plant be it indoors in a container or outdoors in the ground or outdoors in a container.   After 24 hours, you detach the USB, plug it into your computer and you will get an hour by hour read out actual temperature conditions, soil moisture and sunlight exposure. By registering your plants online (http://plantsmart.easybloom.com/myplantsmart?key=1807ef0216e6dc09a0233a79a0fce27b) you can build a library of the plants, trees, shrubs, flowers, and vegetables in your garden.  You can track the moisture and sunlight levels in various parts of your garden and whether your indoor plants are receiving the conditions they need to thrive.
Instead of trying to determine your growing zone from color coded maps (and if you're like me, your region falls on the cusp of two regions) you plug in your zip code and PlantSmart gives you  top recommendations of those vegetables, shrubs, trees and flowers that will thrive the best in your zone.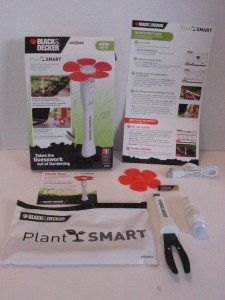 What You Get:
Digital Plant Sensor
Flower shaped shield
USB Plug with sunlight sensor
AAA battery
USB computer cord
Instructions
Warranty
Store it all in a waterproof bag.
What You Do With It
Put it together (obviously) and pick your plant. Activate your sensor. Stick your sensor in the soil. (Sorry, I can't think of a more graceful way to write it.) Wait 24 hours.  When time is up, go online, set up your profile and start viewing the conditions under which your plant lives.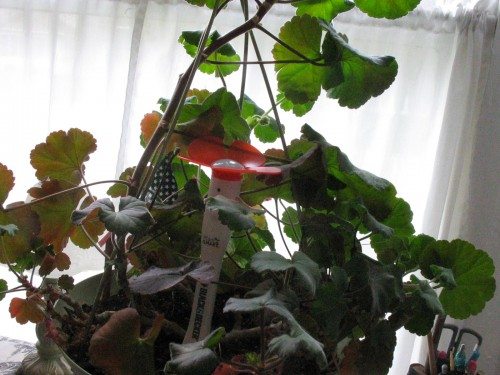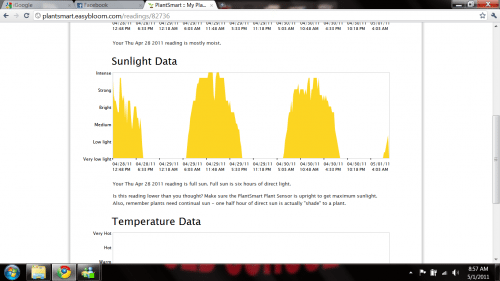 Now What?
I tested PlantSmart on three types of soil for three types of plants:  Blueberry bush, Delicious Apple tree and inside Zonal Geranium.
In all three test cases, the PlantSensor moisture levels were off of the charts.  Not surprising.  These tests were run in the final days of April in central Indiana where we've been experiencing more rain than Seattle so it's pretty much a "Well duh!" moment.  The inside Zonal Geranium registered as over watered as well because I'd placed the plant outdoors at one point and brought it inside to run the indoor tests before the soil had a chance to dry.
The Sunlight Data chart above was taken outdoor in the soil where a two year old Red Delicious Apple tree is planted on Saturday, April 3o, a day of rare sunshine.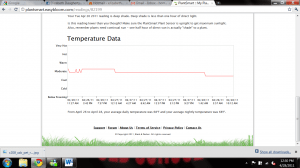 The temperature graph to the left shows a steady temperature for the Zonal Geranium which was placed inside.  Temperature graphs for the apple tree and blueberry bush showed far more diverse temperature increases and decreases due to their soil exposure.   It's one thing to follow the instructions on the tag that comes with your plant, it's another to know exactly if you are correctly following those instructions.
In the case of the Geranium, the soil was far too wet and I need to increase the plant's exposure to sunlight.
And that's what PlantSmart helps you do.  In reading some of the consumer reviews on other websites and my own experiences with the PlantSmart forum, (oh yeah, there's a forum to ask questions), it occurs to me that PlantSmart is both a very useful and perhaps misunderstood tool.   The sensor takes readings of the soil and measures four components: sunlight exposure, moisture, temperature and fertility.   If you're like me, you're not always sure that the spot you planted something or put a container is getting the proper amount of sunlight despite the fact that you think that spot gets all the sunlight possible which could lend itself to soil temperature but not necessarily so.  My geraniumwas placed in a westernmost window and my readings tell me that this plant is not getting the amount of sunlight it needs to get yet the soil temperature is steady.
A word about fertilization. The geranium, blueberry and apple plants were all planted in different soils.   The geranium was planted in a container, the apple tree in the hollow area in my front yard where a white oak once stood and the blueberry bush was planted in soil bought from a local vendor when I filled my raised beds in my backyard.  I took fertilization readings on all three and only the blueberry bush's soil has the proper amount of nutrition in the soil.   Where I thought I had an issue was that the fertilization reading on the apple tree and the geranium was merely reported as " Soil is lacking in proper nutrients."   My first inclination was to ask, "Well ok, what fertilizer does this need?"   That's up to the plant and what the plant's tag says the fertilizer should be.  What is good for apple trees (soil that is light on salts) might not work on the geranium.   As in many cases, the plant's tag gets lost.  PlantSmart's library of plants, trees, shrubs, fruits and vegetables expands every day so you can look up the needs of your particular plant.  The PlantSmart forum is where I asked my question regarding the fertilization question being as how this reading comes at an additional fee. ($3.00 a month or $25.00 a year)
PlantSmart does take a lot of the guesswork out of what to do to ensure the best condition for your plant.  Where I see PlantSmart being misunderstood is that the device does exactly what it is reported to do.  I've read many reviews where the reviewer was disappointed that PlantSmart was not more forthcoming in more specific, detailed advice.  But the device was never advertised to do everything for you, just take the guesswork out of key components and provide precise recommendations for plants based on the customer's zone.    And it does that.
I love plants.  I kill most of them unintentionally.  But I still love pretty trees and flowers and things that bloom and attract honeybees and hummingbirds.  But what I like might not grow unless I do my homework.  Books, articles, gardening magazines, these things all help.  But they do not address the immediate questions I have that PlantSmart does.
Black and Decker's PlantSmart website also boasts a forum for troubleshooting problems with the device, questions about the readings and general discussions from other gardeners sharing tips and anecdotes.
At the end of the day ( or this review) the PlantSmart PCS10 will run you about $50.00 although you can purchase it at Amazon.com for about $47.99.  It's worth it.  I have a sketchy background in gardening and little patience for soil testing kits found in hardware stores.  What I need to know, PlantSmart helps me find out.
Product Information
| | |
| --- | --- |
| Price: | 47.99 currently on Amazon.com |
| Manufacturer: | Black and Decker |
| Requirements: | |
| Pros: | Easy to set up, takes excellent and accurate readings and is very informative. The sensors are reliable and the readings provide hour by hour information. |
| Cons: | website for PlantSmart (http://plantsmart.easybloom.com) is not exactly the easiest to navigate. Extra cost for fertilizer readings. |