We use affiliate links. If you buy something through the links on this page, we may earn a commission at no cost to you. Learn more.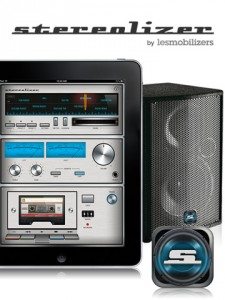 For those who feel that the mp3 player killed the mix tape, you should head over to the app store immediately and look up the Stereolizer app by LesMobilizers.  It turns the iPad into a full fledged 80s stereo complete with volume dial, tuning dials, audio output meters…and a digital, fully functioning "tape deck".  The app accesses over 10,000 free global radio stations, giving the user space for 30 preset stations, any of which can be recorded onto the "tape" at any time.  Recording can also take place using the iPad's microphone.  After a recording, all the tracks on the tape can be renamed and the tape itself can be relabeled and stored on board the iPad for accessing and playing at anytime.  Each track can be automatically loaded and jumped to upon playback–though there are fast forward and rewind buttons included on the deck portion.  Radio stations can be shared through your social networking site of choice, but for now mix tapes cannot be shared (hopefully there will be an update!!).
You can go gloriously retro with the Stereolizer app available now through the iTunes app store for $1.99.