We use affiliate links. If you buy something through the links on this page, we may earn a commission at no cost to you. Learn more.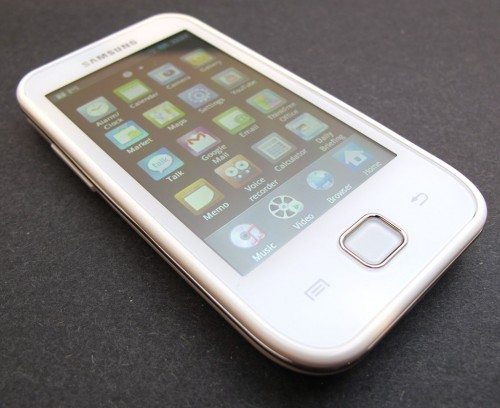 You know how you have a choice of 3 different iOS device sizes/types? There's the iPad, the iPhone and the iPod touch. Now you have that same choice when it comes to Android devices. Samsung has the Galaxy Tab tablet, a huge selection of Galaxy smartphones and now they have the Galaxy Player 50 for those of you that want a pocket device but don't want to pay for another monthly data plan. Let's take a look.
Note: The images in this review can be clicked to view a larger size.
Hardware Specs
Processor: 800 mhz ARM
OS: Samsung Android 2.1 (Éclair)
Memory: 16GB/8GB + MicroSD (Up to 32GB)
Display: 3.2" WQVGA TFT LCD
Video Codecs supported: MPEG4, H.263, H.264, WMV(VC-1), DivX/XviD
Format : 3GP, MP4, AVI, WMV, ASF
Audio Formats supported: MP3, M4A, AAC, FLAC (Lossless), WMA, OGG, WAV
FM RADIO (RDS in Europe, Russia & US)
Camera: 2.0 Megapixel camera (Video Camcorder), Normal Shot,
Battery: 1,000mAh Music: 24Hrs or higher (TBD), Video: 5Hrs
Connectivity 802.11b/g/n, Bluetooth 3.0 : A2DP, AVRCP, OPP, PBAP
Sensors: GPS, Accelerometer Sensor, Digital Compass
Dimension: 54.2 x 105.5 x 11.08mm (2.35g)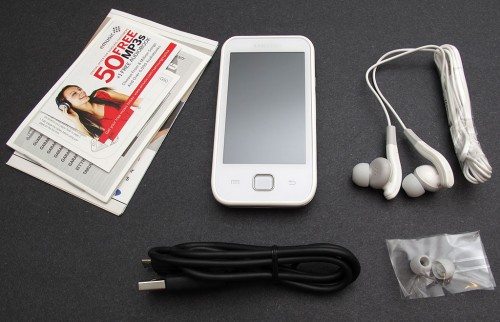 Package Contents
Player
Micro USB charging cable
Earphones with extra eartips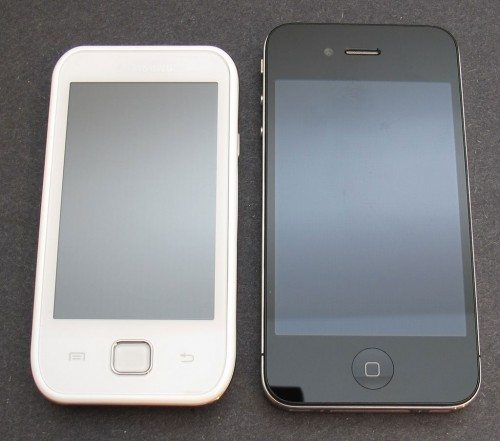 I wanted to start out by giving you an idea of the size of the Galaxy Player. Here you see it next to an iPhone 4. It's small and easily pocketable. It's a solid little player and doesn't flex, creak or crack when you squeeze it.
Never miss one of our posts again. Sent MON, WED, and FRI with the latest gadget reviews and news!
The Samsung Galaxy Player 50 has a shiny White plastic case with some chrome accents. The front has a 3.2 inch capacitive touch screen. Below it are three buttons. There's a chrome outlined Home button in the center that is flanked by two touch buttons. On the left is the Menu button and on the right is the Back button. These side buttons don't have any tactile feedback, but they do light up in Blue when touched. The center button does have tactile feedback.
On the back of the player, you'll find the camera lens and speaker grill.

On the left side of the device is the volume button. I'm not sure what the little hole is above the volume button though. My guess is that it is for a handstrap… but I'm unsure how to attach one.

On the opposite side you'll find the power button and the microphone.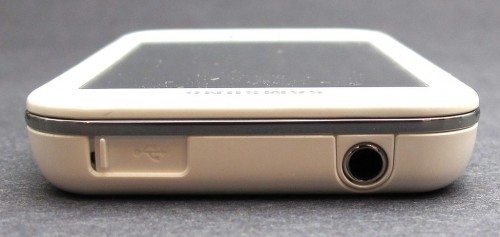 On the top is a 3.5mm headphone jack and a micro USB connector that is protected by a sliding door.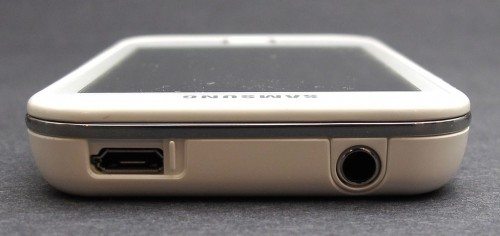 Here we see the micro USB connector exposed. The siding door that protects the port is a nice feature. I wish all devices had one.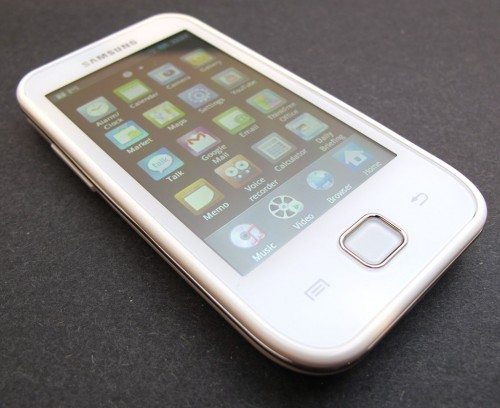 The capacitive display on this player is not as vivid and crisp as I've come to expect from other Samsung Galaxy devices that I've reviewed. It's definitely not an AMOLED display. It's very small and not the most comfortable for reading small text in the various apps and the browser. It's not impossible to read, but it's quite a bit inferior to Samsung Galaxy smartphones.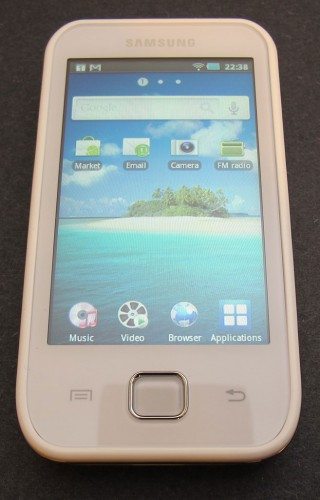 The user interface is very similar to the interface on Galaxy phones that I've reviewed.
There are 3 home screens that can have wallpaper, icons, widgets just like other Android phones. However, the bottom row of icons (Music, Video, Browser and Applications) can't be changed…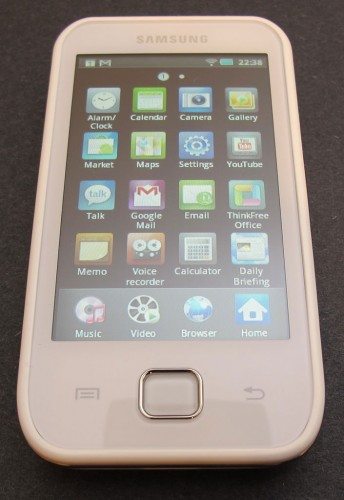 The application list scrolls left to right instead of up and down like my Droid X.
Basically the Samsung Galaxy Player 50 is just like a Samsung Galaxy smartphone minus the phone features, a 1GHz Hummingbird processor and a better camera. Instead, this player only has Wifi, a 800mhz processor and a 2MP camera.
The lack of a 1GHz processor is noticeable to me. Launching applications feels sluggish as does moving between some features in the stock apps. For example, switching from the month view of the calendar app to the list view takes quite a few seconds instead of almost instantaneously on a smartphone the first time you do it. Same goes from switching between groups in the Contacts app. The Samsung Galaxy Player isn't horribly slow, but when you're used to working with a device that is snappier, you will notice it.
Don't expect much from the built in 2MP camera. The images it captures are on par with mobile phones of 2 years ago. Yeah, that bad… Here's an example: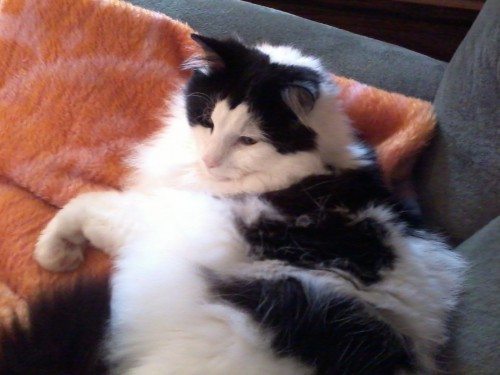 Pretty fuzzy right? I'm referring to the image, not the cat 🙂
Using the Samsung Player as a media player, a game machine, a GPS, and for web surfing can be done, but due to the small display and sluggish processor, it's not wonderful experience. There's also the fact that the device can't be updated to a new version of the OS. It's locked into 2.1. One other little gotcha is that you will need to purchase a microSD card if you want to install apps from the App Market. You can load music and video into the 8GB of storage built into the device, but not apps. Go figure…
This player isn't currently available here in the US, but it can be ordered via Amazon UK. The price conversion makes it a bit expensive though for what you get. You could get an 8GB iPod Touch for about $30 less… of course Android fans won't want an iPod Touch. If you have your heart set on a non-smartphone Android device, I would probably skip this particular device or wait for version 2. Hopefully it will address some of the short comings of this one.