We use affiliate links. If you buy something through the links on this page, we may earn a commission at no cost to you. Learn more.
Remember the old days in label making?  They weren't necessarily good old days either.  For those too young to remember, skip this review because I think Spongebob is on.  For those old enough to remember when The Partridge Family was cool and a job at Burger King was the bomb, stay with me.
You remember the colored tape on the name badges of yore…different colors (mostly red or blue) and a label maker (or label puncher rather) with the big dial that punched the letters through the plastic on the label tape and the white impression against the colored background formed the letters.  You could only have uppercase letters in those days and you had to punch out your name or what you were labeling letter by letter.  And the tape didn't always stick either.
Well, we've come a long way, baby. Now we have the Dymo Label Manager PnP (plug and play) for your PC or Mac.  Now, sure, there are hand held label makers and if you're a expert thumb texter and you like tiny keyboards, cool. And Dymo makes plenty of them.  But the PnP allows me to make all kinds of labels at once using a QWERTY keyboard and a screen I can actually see.  Hey…you'll understand once you hit 40.
And for those of us who'd rather NOT continue to burden our computers with downloading the software that usually comes with label making devices, Dymo cuts us a break there too.  It's actually quite sweet.  The software is built in to the label maker. The interface pops on to your screen and you're off to the races.  It's no sweat to your workspace real estate either. The actual labeling device is no taller than 5.6″, sits quietly and neatly on your desk, and all you do is plug it in to the USB port on your computer.
That.  Is. It.  I Swear.
This device showed up at 4:00 pm on April 12, 2011.  At 4:39, this not-so-techie-as-most-techies-go-reviewer had already unpacked it, taken pictures, uploaded the pictures, printed her first label, realized she misspelled "Gadgeteer" and had to reprint the label, got a Diet Coke from the kitchen and sat down to write this review.
This label printing device is so easy it's ridiculous.  It's almost a point of honor for tech devices to be more complicated.  The one thing I am ashamed of is that a five year old could probably have done all of this faster.  Kids, these days.
So here's what you get: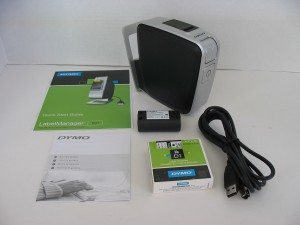 Slimline label maker. Seriously… fits anywhere. It's 5.6″ high, 2.1″ wide at its widest.  If you can't make this fit…you need a new work space.  USB cable (very important) and it should be noted that this device will work with Mac or PC, a rechargeable lithium-ion battery, your first tape cartridge (black letters on white tape), a Warranty Card thingyand your Quick Start Guide.   If the Quick Start Guide is no help (please… really?) just look at the back of the box.
And you don't have to just label things… you can print logos, stuff from database files, pretty much anything.  You can change fonts, add graphics, it's pure madness.
The Dymo PnP also uses three different sizes of tape so you're not stuck with just one size.  1/4″, 3/8″ and 1/2″ Dymo D1 label cassettes are your choices and what you will want to ask for when purchasing refills.  You're not stuck with just black letters on white tape either.  More madness ensues…DYMO features adaptable tape cassettes in various color tapes and lettering.  These tapes are also extremely adhesive (they like to stick) but they're easily adjustable too.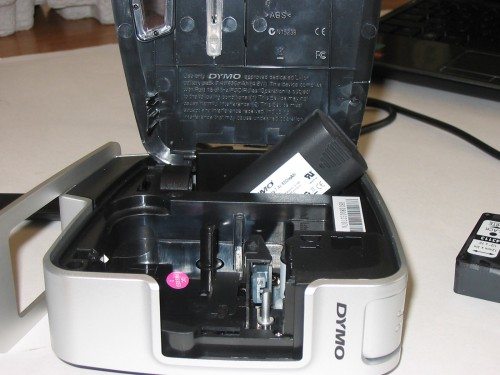 This is me installing the battery.  Real tough, right?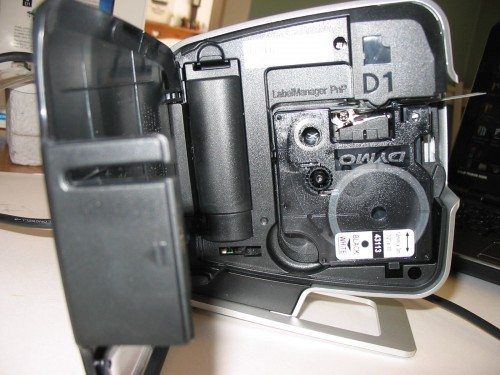 Installing the tape cartridge.  No sweat, no mess, snap and go.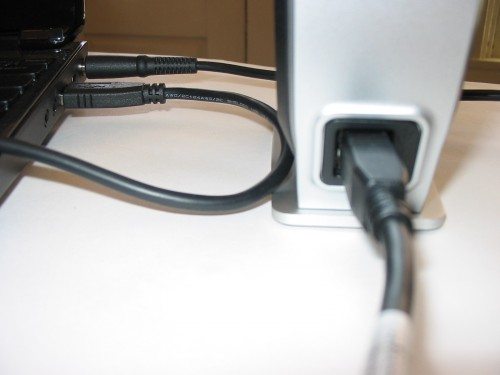 Plug into the device and then plug into your computer.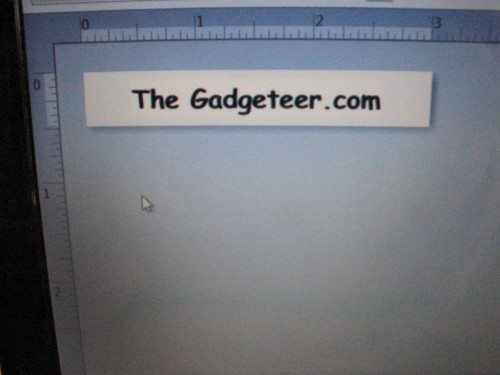 Let your labeling imagination run wild….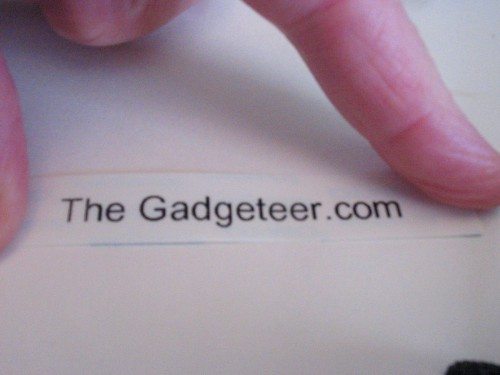 And that's all she wrote….or labeled.
The Dymo PnP retails  for about $60.00 or so depending on where you purchase it.  Amazon.com is currently listing this device for $53.24 and somebody on Ebay is auctioning it for $42.99.  It's not a bad price for nifty little handy device such as this.
In the past, my experience with Dymo label makers has been nothing but positive.  I've done all sizes of labels and address labels without having to go through all the rigmarole of sheets of address labels and printer queues for just one or a couple of address labels.  It's clean, it's neat, it sits on your desk for your use.  I know that the hand held devices are currently very popular but I like the ease and use of creating my labels on my computer screen and just zipping it out right there.
Product Information
| | |
| --- | --- |
| Price: | Around $60.00 depending on where you purchase it. Amazon.com lists it for $53.24 |
| Manufacturer: | DYMO |
| Requirements: | |
| Pros: | quick, easy, easy to set up, easy to understand, light, slim, fast, absolutely efficient, flexible, adaptable label maker. Fabulous, easy to follow instructions, box is filled with step by step how-tos, includes Quick Start, customer service number, label sizes, pretty much everything you need. |
| Cons: | I just can't think of any cons. This is a great little label making device. |