We use affiliate links. If you buy something through the links on this page, we may earn a commission at no cost to you. Learn more.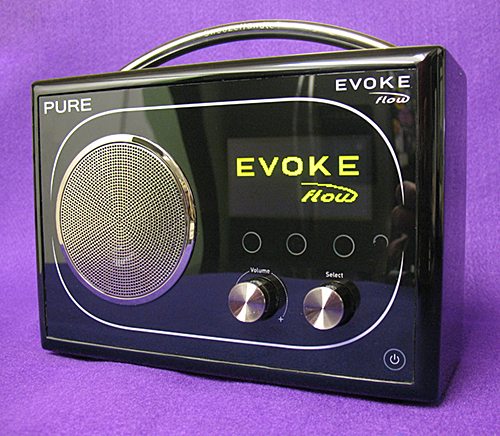 This is a difficult review to write. Not because the Evoke is frustrating to use, because it can be or that it's wonderful because it can be that, also. What makes it hard is that the Pure Evoke Flow Radio does so many things, I having to choose what to write about and what to skim over. The Gadgeteer is not an audiophile site, so I try to keep details short and easy to grasp. So if this review seems to ramble a bit, please forgive me I'm covering a lot of bases here.
Remember your first girlfriend or boyfriend? They were so magical and when you weren't together, it felt like there was a void in the pit of your stomach. That person seemed to become part of you and you couldn't fathom how you got through your day before they entered your life. Before long though, you noticed all was not perfect, and this partner could frustrate the heck out of you. However you stuck it out because the good so outweighed the bad that you overlooked the flaws. Well, that's what the Pure Evoke Flow radio is like. This hefty, sleek, retro, magic box has become indispensable to my daily routine. It also frustrates me from time to time.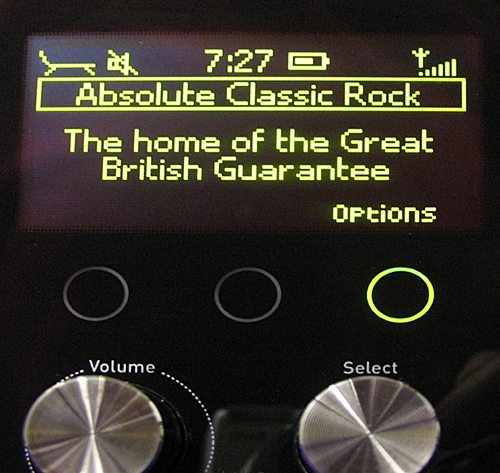 The Evoke Flow is beautiful to look at. It's (very) black and has that early tabletop/transistor radio look to it. It's heavy – as in solidly built – and portable, especially with the optional Pure E1 ChargePAK battery. The Evoke Flow does not use regular batteries.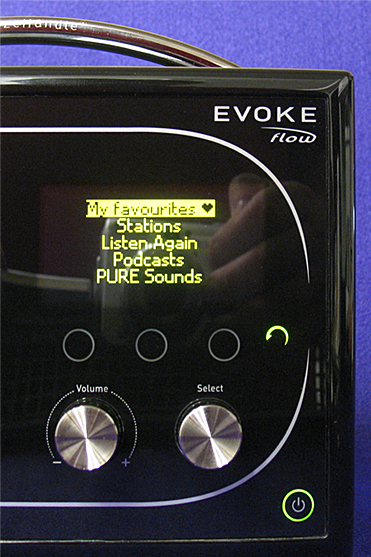 The Evoke Flow has a smallish monochrome OLED display. The yellow on black text-only display seems like a throwback to the nineties. It's very low res and confusing to learn, but very easy to read. There are two knobs; one which controls volume and the other – named Select – that scrolls through the display for tuning, preferences, settings and such and then pushes for selecting. Despite the sometimes confusing nature of the display setup, you soon figure out how the knobs work in conjunction with four touch sensitive buttons located below the display. These touch sensitive buttons are Cancel, OK, Options and a reverse button which will put you back in the previous selection. I press the reverse button a lot.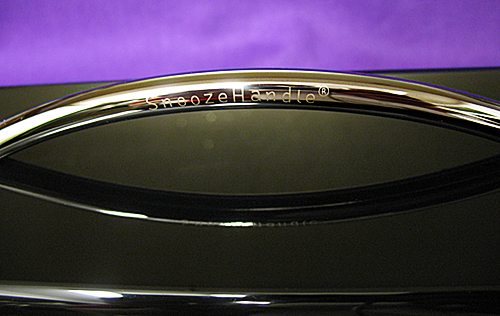 The Options button lets you set alarm, media, network among a few other settings. Even though you can choose many preferences using the Options button along with the Scroll knob, it can be confusing at first. Scroll can be used to search for radio stations, iTunes music, podcasts and environmental sounds. You can also use a search function on the display to look for stations. However, the Scroll knob is needed to find and select each letter one at a time on the display letter arrangement – it can't even be described as a keyboard. Not fun.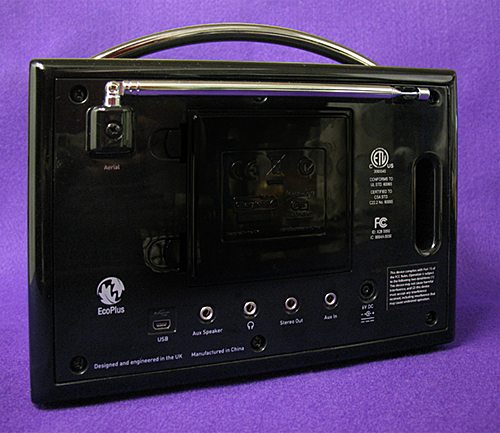 Setting up the radio begins by connecting to your wifi router. A wireless network is essential for internet radios. The radio's display walks you through the very simple registration process and is a one time affair. After that, reconnecting is all automatic. It's almost set it and forget it.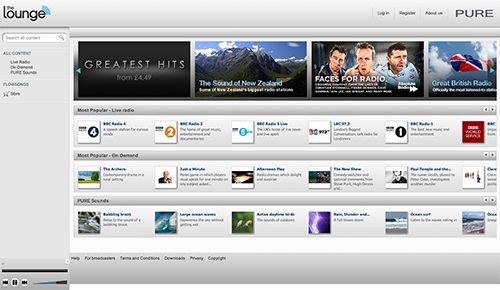 There are four options to choose from in the main display. He first choice called The Lounge refers to a website: www.thelounge.com where you register the radio. Once registered, you can input favorite internet radio stations, podcasts, streaming and even environmental sounds into playlists that you name and control. There can be as many or as few playlists as you like. The Evoke radio will then recognize your registration and list your named playlists in a favorites listing. When you add, delete or change those favorites on The Lounge site, the Evoke refreshes itself and reflects the changes you just made. This way, the radio is completely customizable to your tastes. That quickly becomes an addiction. I find myself searching various music and talk stations that I like on The Lounge site then categorize them. The Evoke the displays my favorites right away. Radio was never like this. I am so spoiled now.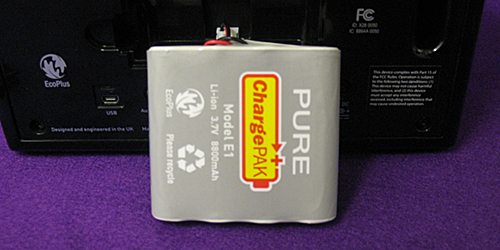 The Evoke also will find any media servers you may have in your home, which allows you access to any audio library you have throughout the house. I don't have any media servers, so I was unable to try this option. There is a built-in FM  band that holds 15 custom presets. Sadly, there is no AM band. If you need a decent output for your iPod or other portable media player, there is also and AUX port on the back of the radio.
Speaking of decent output, the Evoke's 3-inch mono speaker is not bad. The sound is full and the volume will fill a smaller-sized room. Even though it is a single mono speaker, the Evoke will output a stereo signal either through its headphone jack or an optional extra speaker (from Pure – $50) connected through the stereo out port.
But all is not perfect. There is a lack of support for paid subscription services like Napster or Rhapsody, but its the inability to access the free Pandora streaming service that I miss the most. Also, you have to weigh the Evoke Flow against easy to use apps available for the iPhone and other smart phones, despite the numerous and serious drawbacks those apps inherently have.
Pure is also a European company and consequently, The Lounge site's American radio selection isn't as robust as it should be. I have repeatedly not been able to input stations I like that can easily be found using internet radio apps on my iPhone. Pure does have a helpful support team that have "turned on" stations for me that were previously not available, but other times, I have been told that if a station is not available for streaming outside the US, then they cannot access it and because Pure is based in Europe, its US customers are treated as if they were outside the US. This needs to be fixed. Even though most stations broadcasting on the internet in the US are currently available or can be made so just by asking, it is still frustrating to have to jump through those hoops. Also, you can't search by radio show titles. Many nationally syndicated radio shows cannot be found, at least by show title. To find them for your playlist, you have to first find station that carries that particular show.  So for example, whether you may be a right-winger or a left-winger looking for your favorite nationally syndicated talk show, you can't search by show title alone. Another frustration.
There is a handy app available for download called "Pure Flow Server" for both Windows and Mac. What it does is treat your computer as a media server so you can play music from your computer through the Evoke radio. The Lounge web site provides the necessary instructions, but I ran into issues when I tried to use it. For some reason, the app sent me to the proper web site … for Danish people. Once again, the Pure support team fixed it for me. Note that only your DRM free music will play.
The Pure Evoke Flow is really more than just a radio. With internet streaming, built-in FM, ability to access your media and ability to upgrade the software wirelessly, its practically a window to your personal world. The absence of AM (a minor inconvenience) and clunky display/button combination can make for a frustrating experience. Get past that though, and you will come to depend on this portable gem.

Product Information
Price:
$195.46 US
Manufacturer:
Pure
Requirements:
Pros:

Once you use it, it becomes essential
Decent sound
Upgradable software
Thousands of stations available

Cons:

Clunky '90s display
Steep learning curve
Not as US centric as it could be.