We use affiliate links. If you buy something through the links on this page, we may earn a commission at no cost to you. Learn more.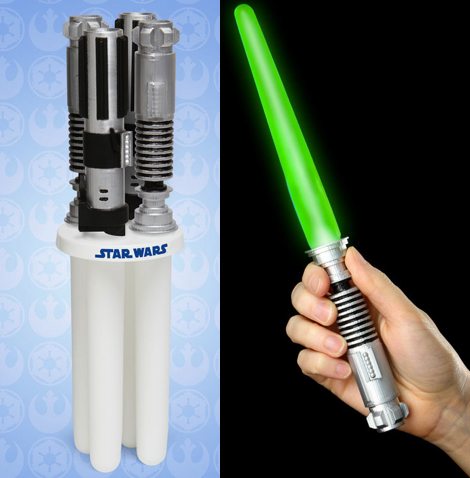 This popsicle kit from ThinkGeek will be a hit with Star Wars Fans.  The kit includes 4 lightsaber hilts (2 Luke, 2 Vader), a molding tray, and recipes so you can freeze your own "lightsabers" from most any beverage.  The hilts have LEDs inside to illuminate the blade; each hilt uses 3 button cell batteries, which are included.  The hilts are 5″ long X 1″ in diameter; the popsicle blades are about 6.5″ long.  Recipes include flavors like "Chewbapple," "Ponda Berry," "C-3POrange," and Admiral Ackbar's favorite: "It's a Grap(e)!"  The Star Wars Lightsaber Popsicle Kit is $34.99.
Note:  I apparently got fooled by ThinkGeek's April Fool's joke this year.  I'm very sorry.  I don't do April Fool's jokes, and I guess I'm just gullible.  I apologize – I just thought it looked really cool.