We use affiliate links. If you buy something through the links on this page, we may earn a commission at no cost to you. Learn more.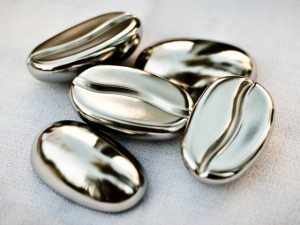 I'll come right out and admit that I have an obsession with Kickstarter lately, and with the sorts of brilliant ideas that have been rolling out of there recently, it's pretty obvious why.
One of the more recent projects up for funding is Coffee Joulies.  What appear to be large, shiny coffee beans are in fact food-grade stainless steel shells filled with a food-safe phase change material (PCM).  The PCM is a solid at room temperature, but when you drop the Joulies into a hot beverage, the PCM liquifies and begins absorbing heat, cooling your joe to a comfortable drinking temperature.  On the other end, when your drink begins to get cool, the PCM begins to re-solidify and releases the heat it has stored, thus keeping your drink warm.  Ultimately, the Joulies extend the window of time during which your hot drink is… well… drinkable.
The funding window for Coffee Joulies is open until May 2nd, and backers can scoop up a set of 5 Joulies in a storage bag for as little as $40 (plus $35 for each additional set), which is a decent savings off of the $50 per set that the inventors are planning to sell them for once they officially go to market.  Considering that the project has already more than tripled its funding target with more than a month to go, I suspect that these are going to do quite well.  I know I'm already in for two sets.