We use affiliate links. If you buy something through the links on this page, we may earn a commission at no cost to you. Learn more.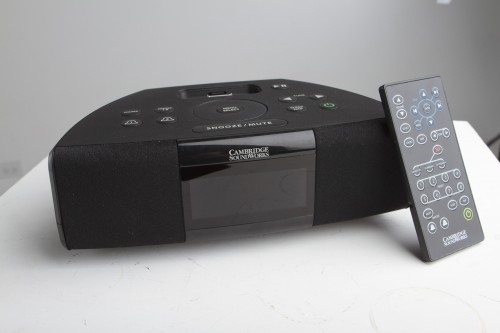 With the abundance of table radio/iPod docks on the market, it ca be overwhelming in the quest to find out which one will fit your needs. Cambridge Soundworks makes a very impressive bid with the i525 AM/FM Table Radio with iPod Dock.
This high-end speaker is impressive from the moment an iPod or iPhone is inserted in the dock. Music is instantly full and encompassing, in part because of the company's proprietary X-Fi Crystalizer technology. It can turn a sometimes one-dimensional sounding MP3 into a more dynamic audio track. This is done by the device remixing the stereo audio into multi-channel surround sound. Drums thump louder, bass cuts through the mix and guitars howl. Vocals are crystal clear. It's like the band is in the room.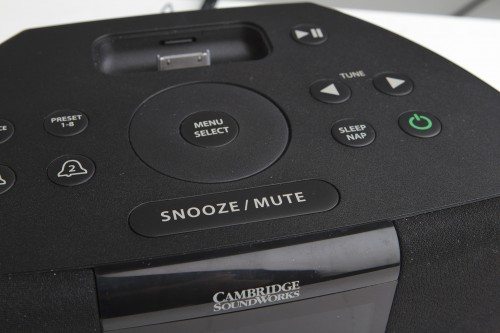 Not only does this device have pristine audio quality, but it's also a surprisingly functional alarm clock. It's able to be set with two different alarm settings for two different people. There's the standard AM/FM radio and buzzer options, but the choice to wake up with iPod music is also there for the user's pleasure. The Snooze/Mute button is at the front of the device, making for an easy slap to catch another couple of minutes, from 5 to 30 on the i525, and Sleep Mode customizable in the 15 to 120 minute window.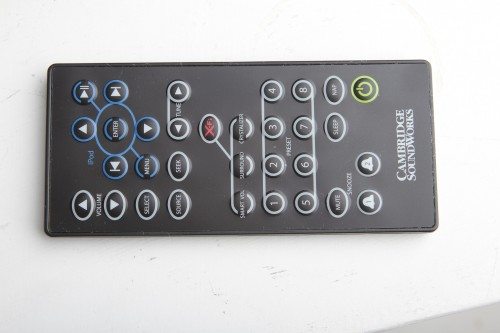 The radio feature on the i525 is slick, as it tends to glide from station to station instead of making abrupt switches like a normal radio does. That said, the speakers provide a warm and inviting tone that blankets the ears instead of generating a harsh sound.
Other features of this device include a full function remote (with the option for eight radio presents), a stereo headphone jack, an auxiliary input for other audio devices  and of course, charges the iPod or iPhone while it's playing.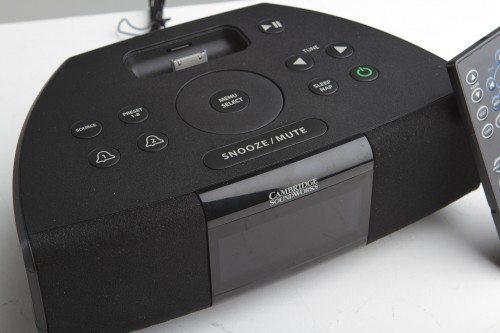 Unfortunately, there's a few downsides to the i525. At 3×6 in, the three pound very thick device doesn't lend itself well to portability. The lack of a Lithium-ion battery or any other wire free option can be a deterrent to use it in any other place than a bedroom. The button interface at top is also not entirely intuitive, and it takes some time to set the clock and date approximately without the device's manual. The device's size issue is likely a product of that emerging technology, and that's understandable, but right now, it's brick like size and weight doesn't lend itself to a tech industry that keeps releasing smaller and more economical products.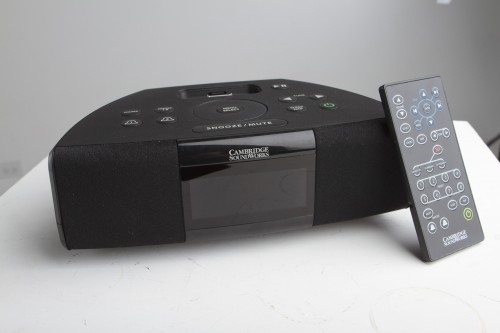 Overall, the Cambridge Soundworks i525 AM/FM Table Radio with iPod Dock is a very powerful, high-quality player that provides excellent audio quality at half the price of what many of their competitors are charging. The X-Fi Crystalizer technology is a really great feature that literally transforms the music and should only improve in later releases.

Product Information
Price:
$149.99
Manufacturer:
Cambridge Soundworks
Pros:

Excellent audio quality
Good price

Cons:

Not very portable
Interface not intuitive