We use affiliate links. If you buy something through the links on this page, we may earn a commission at no cost to you. Learn more.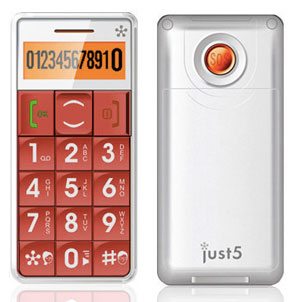 The Just5 is a GSM phone that has been designed especially for seniors or people that are not tech savvy. The phone has just 5 simple features:
1. Big Buttons
2. Ease of Operation
3. Personal Emergency Response System
4. Amplified Sound
5. Long Lasting Battery
The button on the back is an SOS button that can be programmed to call an emergency contact when pressed.
The Just5 is available in several colors and can be purchased for $89.99. You can either use the phone with your existing AT&T or Tmobile SIM card, or you can purchase refillable minute packages that are priced from $10-$40. These packages have 100-unlimited minutes, which are good for 90 days.