We use affiliate links. If you buy something through the links on this page, we may earn a commission at no cost to you. Learn more.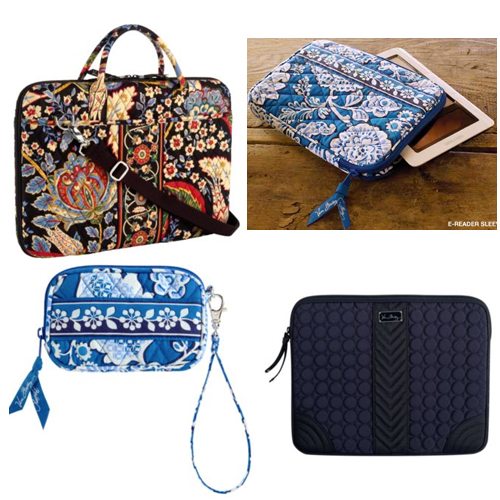 A while ago, I wrote a post asking if gadgets were just for guys.  At the time, it seemed a few things were aimed toward women, but it seemed that most were specific colors of some cases.  Last year after I got my iPad, I posted a review of the Vera Bradley Mini Laptop Case that I was using for it.  The Vera Bradley company also had a full-sized laptop case at the time. Those cases were obviously designed for women.
Since then, Vera Bradley apparently realized that women like tech as much as some of us like their frilly, girly bags.  They actually have a tech category now – including ereader covers, tech cases for small electronics, laptop sleeves, laptop backpacks, their original laptop and netbook cases, and even a sticker-style laptop skin – all in their trademarked fabrics.  They also have a couple of all-in-one wallets that they don't list in their tech category, but I think belong there as they are designed to carry a few wallet essentials and your phone.
Prices range from $16 to $98.  Check them out if you are a girly-girl or if you know someone who is.  There's a lot of tech-loving people who also love a good, frilly bag.  And it's about time we were recognized!