We use affiliate links. If you buy something through the links on this page, we may earn a commission at no cost to you. Learn more.
If you depend on your phone for communication, power is of a major concern to you. With the iPhone 3G and 3Gs, power was a bit thin – 3G network speed meant fewer active hours. With the iPhone 4, the battery is a lot beefier and the processor is a bit more powerful, for a net gain in usage time, but true geeks still need more juice. Other than carrying around cables and power blocks, what's the solution? Ampigo has an answer, and it will allow you to have power for both devices: their Personal Speaker and Battery Pack. (Catchy name, huh?)
When I first was sent this unit to review, I wrote back and explained that I had the iPhone 4, not the 3G/3Gs that the label said the unit was designed for. Soon I had a response that it will, indeed work for either form factor. I opened the box, and found that it does! They are updating the box and I got an old package, apparently. The overall form is a sled of plastic that completely covers the back of the device (with a hole for the camera lens) with a 30-pin connector in the bottom to hold it in.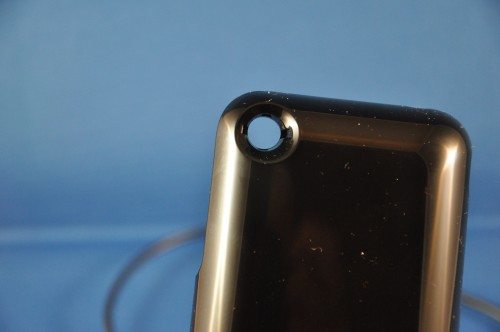 Since it's designed for both form factors, there is a bit of a gap either on the back or the sides, but the connection is ok. (I noticed a little side-to-side motion with my iPhone 4, which might get worse over time, but I don't leave my phone in this case all the time.) The sides are covered about 60% of the way up each side.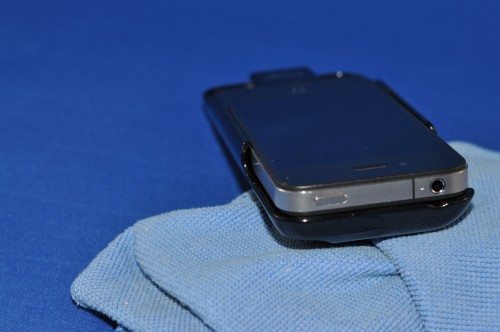 Across the bottom, under the connector, the case extends a little less than an inch and contains two speakers, slightly larger than Apple's earbuds. On the back, there are two buttons on either side of a row of blue LEDs. One button will activate and deactivate the speakers, the other shows available charge via the LEDs for a few seconds. In the bottom center is a port for the tiny charging pin. I charged the unit (proprietary USB charging cable only), which took over an hour the first time. Subsequent charges, even from completely dead, took about 30-45 minutes. The LEDs flash while charging, but give no indication of progress. You have to unplug and press the power button to see how far along you are.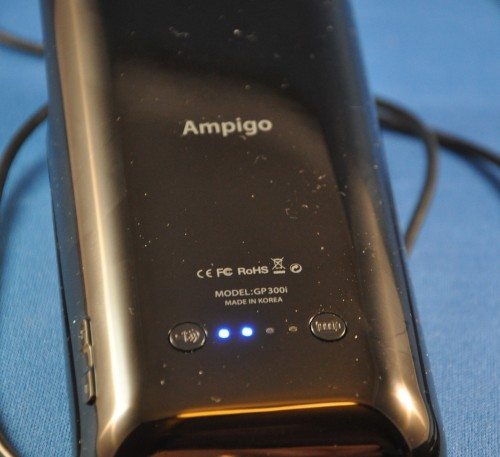 When in use, the unit keeps the battery going an extra 80% or so. The website mentions 30 hours music and 7.5 hours talk time, but that much use takes me several days, and the battery would drop power on it's on during that time, making real testing difficult. It's a notable increase, but not quite doubling. Rated at 1700 mAh, the battery is similar in power to the built-in battery in current iPhones. When playing an action intensive game, the case was able to raise the battery up about 2 percent in less than ten minutes. Allowing the phone to rest fully made for even faster charge times. If your phone is below 50%, a full Ampigo will recharge it to nearly full in less than 2 hours.
The speakers, though small in size, gave a noticeable boost to the built-in mono speaker of the iPhone. I don't know if it's just the stereo filling out the sound or what, but handheld games were quite lot more fun. Since they point toward the user, rather than into your palm, the sound never got muted when in intense action sequences. (The iPhone's built-in speaker, which is flush to the bottom of the phone, often gets fully covered by a finger when playing landscape-oriented games.)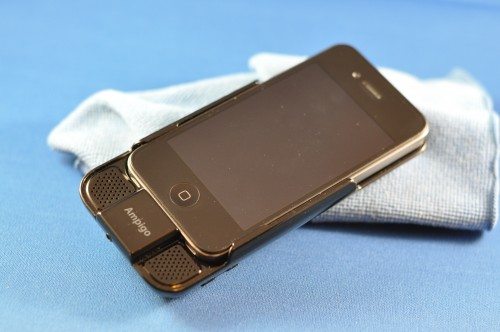 The market for battery cases is somewhat limited, but there are a few well-known brands out there. I've used several, and seen others in action, so I can't help but compare this device to what I've known of this class of products in the past. A few things immediately jumped out at me. First, a non-standard USB cable. If you're taking your computer and iPhone for a long ride into nowhere, you'll have to carry their proprietary cable as well as a regular iPhone charge/sync cable. In this day of emerging standards, you'd think all manufacturer would start to put that miniUSB port to work, rather than making their own. (The EU has already mandated that all phones must use miniUSB in the next few years. Have these guys not heard about that?) Also, this means you can't sync while in the case. You're going to have to pull the iPhone out of the case, plug it in with a charge/sync cable, and then put it back in. What protects your iPhone in the meantime?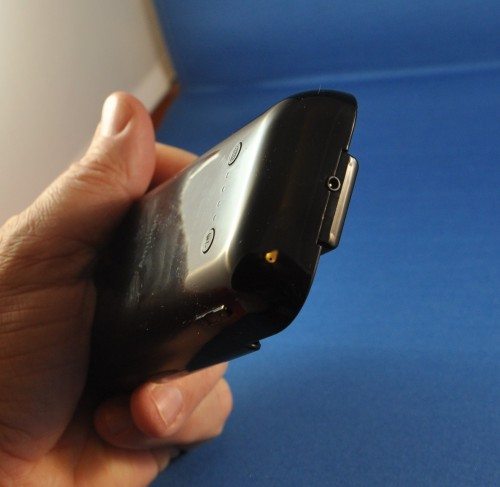 The second thing that I had issues with is the stand-by time while not on the iPhone. I usually carry a battery pack in my bag while traveling, and only install it when I need the extra juice. This one looses about one LED per day, even just sitting on my desk. By contrast, the market leader will loose about one LED of charge a week when not connected. Quite a difference.
The very first thing I noted when pulling this out of the package, however, is that the surface of the case is super-slick, almost to the point of being polished and oiled. I have dry skin, so maybe I'm just sensitive to this, but I couldn't keep it in my hands. It's like a bar of soap in the shower! I know, I know, glossy is good for some folks, but there should be some place where you can get some friction to hold on to your phone. It slid across seats and car consoles, as well. A few groves or a nubby strip on the edge or something would go a long way to making this a safer case for the iPhone.
The hole on the back of the case, although well-placed, is not large enough to allow for the flash on the iPhone 4 camera. Using the flash just made the picture over-exposed. For these reasons, I give this product two out of five stars. It's an oaky product, but there are others in the same price bracket that are far more user-friendly, have standard plugs, allow syncing in the case, etc.
Product Information
Price:
$49.99-$79.99
Manufacturer:
Ampigo
Requirements:

iPhone 4, iPhone 3Gs, or iPhone 3G

Pros:

Speakers sound really nice.
Fits both iPhone 3G/3Gs and iPhone 4.
LEDs show charge level.
Volume and sound shut-off switch.

Cons:

Slick surface makes holding iPhone difficult.
Proprietary power cable.
Cannot sync while in case.
Hole for camera blocks iPhone 4 flash.