We use affiliate links. If you buy something through the links on this page, we may earn a commission at no cost to you. Learn more.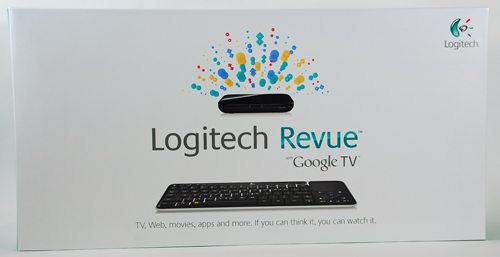 With cable and satellite companies, we have access to literally hundreds of entertainment channels now. Sometimes that still seems like an insufficient number of choices when you consider the wealth of information and entertainment you can access through the internet. I can watch content on my MacBook Pro, but who wants to watch movies on a 13" screen when I have a 65" LCD TV in my living room? Various media players that connect to your TV and allow you to access Netflix, Hulu, and similar services have been available for a while, but even they have their limitations. Google developed Google TV to open up the worldwide web to your TV. Logitech recently launched the Revue with Google TV, a little black box that brings a world of entertainment to your home HD TV. I was thrilled when Julie sent me the Revue to review, but I was a little apprehensive, too. It seemed something with so many capabilities might be a little difficult to set up or use. Turns out I shouldn't have worried.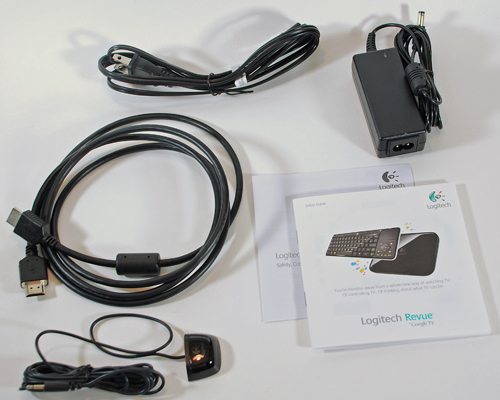 In the Box
Revue companion box
Keyboard controller with two AA batteries installed
One HDMI cable
One IR mini blaster
Power supply
User documentation
Requirements
HDTV with HDMI port
Cable, satellite, or other set-top box with HDMI cable and output
High-speed internet access (Wi-Fi or Ethernet)
Specifications
HDMI input: 1080p/60fps, 1.3a w/CEC
HDMI output: 1080p/60fps, 1.3a w/CEC
Networking: Wireless: 802.11b/g/n; Wired: Ethernet 10/100Base-T
Audio optical output (S/PDIF)
Two USB ports
Integrated Logitech Harmony Link IR blaster (for A/V device control)
Logitech Unifying wireless technology
The Hardware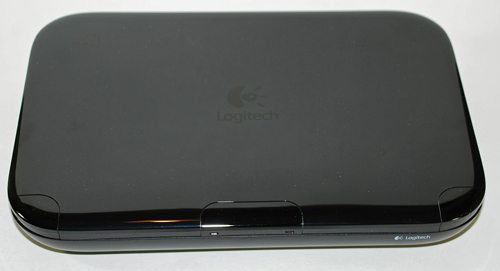 The Revue companion box is made of shiny and matte black plastic. It's about 6.5" X 9.5" X 1.25". The box is very plain, with only an embossed Logitech logo on the top of the box and a white Logitech name and logo on the front. There are also two green LEDs on the front. Neither LED is labeled, but the left one indicates that power is connected and the unit is in stand-by mode. The other LED blinks while you are entering commands to the unit from the controller. There are IR transmitters at each front corner and one at the center front, but they blend in with the color of the box.

The back of the companion box has all the ports and connectors. The leftmost button (identified with the asterisk in the red box) is the "unification" button that allows you to pair optional accessories or reset the unit. Next is the HDMI-in port; you'll connect the output from your cable box here. The Revue companion box has a built-in IR blaster to control connected A/V equipment, but the back of the box has two IR blaster connection ports. If you find that some of your equipment doesn't respond well because of distance or an obstruction between it and the Revue box, you can connect Logitech IR blasters. One is supplied with the Revue, should you need it. Two USB connectors allow you to connect external hard drives, USB flash drives, or the Logitech TV Cam. The Revue also has built-in 802.11b/g/n Wi-Fi connectivity, but there is an Ethernet port should you need or prefer to use a wired connection. The HDMI-out port will connect (via the included HDMI cable) to your HD TV – and yes, it must be an HD TV or you're out of luck. There's an optical audio port to connect an A/V receiver that doesn't have an HDMI port, if needed. At the far right is the power connector for the included AC power supply.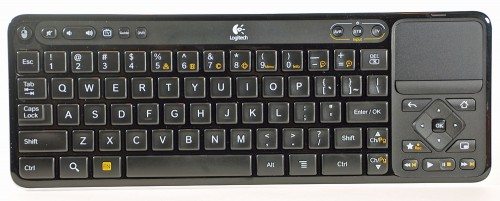 Instead of a traditional remote controller, you receive a wireless keyboard controller. It has a shiny and matte black plastic front and a matte white back. There's a full QWERTY keyboard, a touchpad, 5-way navigation buttons, and various function keys. The keyboard is about 13" X 4.75". It is only 0.25" at the front edge (spacebar side) and 0.75" at the back. The back side has the power on/off switch for the keyboard. The back side is also flat, so you can stand the keyboard upright. This keyboard will be used to control the functions of the TV, set-top box, and an A/V receiver, as well as the Revue box itself.
Setup
Our previous media player didn't have integral Wi-Fi, so we had a really long Ethernet cable to connect it. The cable wouldn't fit through the holes we already had to run cables, and we didn't want to drill more, so we'd just drape the cable across the floor when we wanted to watch streaming Netflix. Since the Revue had Wi-Fi built in, we decided we'd give that a try first. If the wireless connection proved unreliable, we could easily bring out the Ethernet cable again.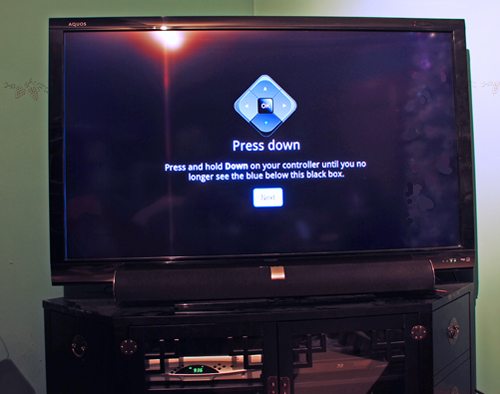 Before you can set up the Revue, you'll need to know the make and model numbers of your TV, set-top box, and A/V receiver. You start by plugging in the cables. Connect the output from the cable box to the HDMI-in on the Revue. If you have an A/V receiver, connect the HDMI-out to it, or use the optical connector if the A/V receiver doesn't have an HDMI connector. I don't have an A/V receiver, just a sound bar. I instead connected the HDMI-out from the Revue to an HDMI-in on my TV. Since I was using Wi-Fi to connect to my home network, all I had left to do was connect the power supply. The Revue box doesn't have a power switch, so connecting the power put the box into stand-by mode.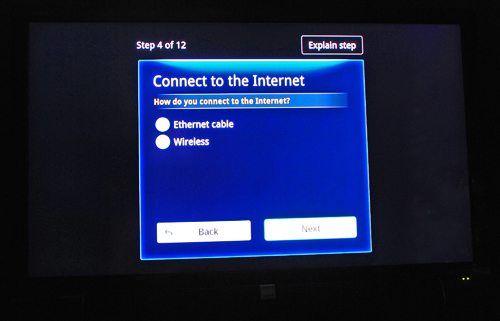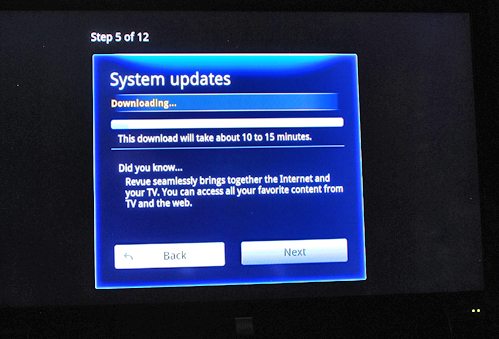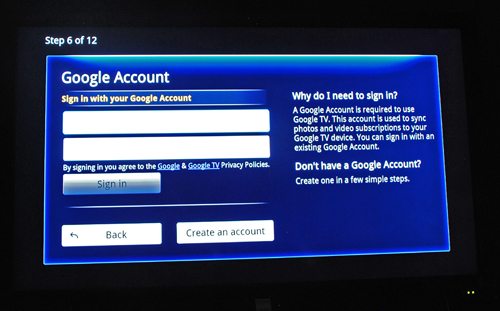 To begin the process of setting up the Revue and keyboard controller and connecting to Google TV, I had to first turn on my TV and cable box using my current remotes and switch on the keyboard controller. I used the 5-way navigation buttons on the keyboard to expand the Google TV screen to fit the size of my TV screen. Next, I connected to my network, and the Revue immediately started downloading and installing software updates. The installations completed quickly and without problems. After logging in to my Google account, I had to enter our zip code and choose our cable provider.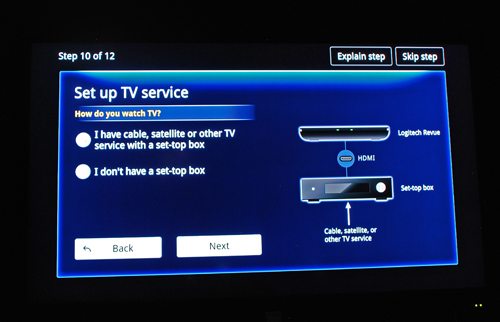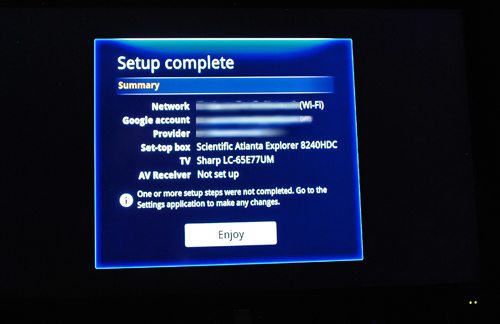 At this point, I had to identify the equipment that the Revue would be controlling. Our cable box wasn't one of the pre-defined choices, but it let me enter the make and model number. Since I only have a sound bar, I skipped setting up the A/V receiver at this time. Set up was complete at this point. It only took a few minutes, and everything was easily accomplished. After one more automatic reboot, the controller functions were defined for my TV and cable box.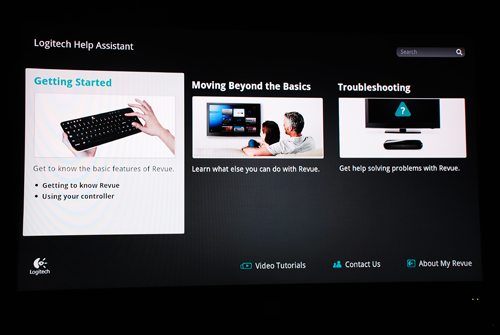 The Revue started playing videos to introduce Google TV and explain how to access all the features and options. I quickly stopped these and started watching a Netflix movie. I'd rather learn by trial and error, and I could always go online or to the Revue's home page to watch the videos later. If you have questions, you'll need to refer to these videos. The only manual you get in the box is a setup guide. I couldn't find a manual online, either. That's a shame, because I like to have a document to refer to when I have a question. I don't want to have to watch a series of videos hoping to find the answer I need. There is a series of FAQs type questions and answers you can access from the Google TV home screen, but it's still not what I'd like for a manual.
Before proceeding to the next category, I should mention that I did eventually go into the setup option for the Revue and set up the A/V functions to control my sound bar. Just like with the cable box, my sound bar wasn't one of the pre-defined A/V receivers, but the Revue was able to look up my sound bar and define a power button and volume adjustment buttons. I can also use the setup option to remove a piece of equipment and define a replacement if I change gear in the future.
Live TV
My biggest problem with watching live TV with the Revue involves the keyboard controller. The IR remote that comes with my cable box has a lot of buttons that are capable of controlling many functions of the TV and cable box. For the TV, I usually only need the power button; the sound is controlled by the sound bar functions. The problem lies with the controls for the cable box. Only a few buttons on the keyboard controller map directly to the functions for the cable box. You can go into the setup option I mentioned before and map Fn+alphanumeric-key combinations to cable box options. I don't want to have a database to track my remote control functions, so I didn't bother trying to define every possible control. However, I did define the most important function – the "favorites" selection key so I can quickly flip through my favorite channels so I don't have to try to memorize a couple hundred channels. I'll just keep the cable remote close at hand for the few times I need to use one of the more unusual cable box functions.
One of the nicest things about the keyboard controller is its size. It is big enough that it's not going to get lost in the couch cushions. You don't have to worry about angle when using it, either. Because it sends wireless signals to the Revue, you don't have to point the remote directly at a tiny IR receiver on the front of the Revue. The IR blaster in the Revue box is strong enough that it perfectly controls all my equipment. Of course, all my equipment is in one cabinet and everything is within inches of each other. However, I do have an external IR blaster should I need it for an additional piece of equipment in the future.
When watching cable programming, the Revue is "transparent." In fact, the Revue simply acts as the remote controls for my TV, set-top box, and sound bar. If I wanted, I could use the individual remotes for this equipment, and I do use them when I sometimes need to access a function that I didn't bother to add to the keyboard controller.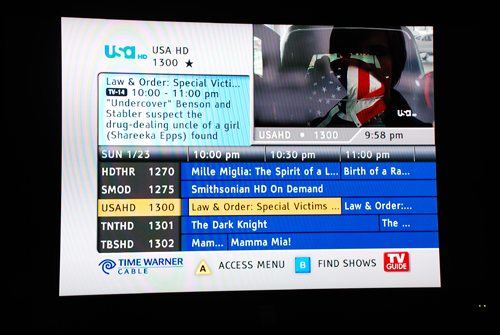 There is a button on the keyboard controller that brings up the program guide provided by my cable company. I can use the 5-way controller buttons to navigate through the guide, to change channels, or to set up a recording for my DVR (in the set-top cable box).  You should note that the Revue itself does not have any DVR functions.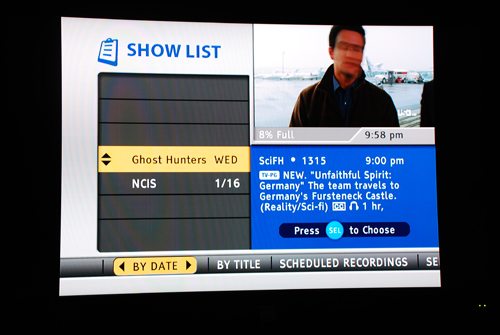 There's another button that opens the DVR recordings/schedule lists. I use the 5-way controller buttons to navigate the screens and lists, and I can modify scheduled recordings or watch recorded programs. There are play/pause/stop/ff/rev buttons that let me control playback.
I can even use the play/pause/etc buttons to control live playback of cable programming, just as I can with the remote that came with the cable box.  Controlling playback is a feature offered by my cable company, not the Revue companion box.
There is a picture-in-picture button that minimizes the live TV picture and opens up the Google TV functions in the large window. You can surf over to IMDB to look up an actor while watching a movie, check out some pictures on Flickr while you're waiting for a live weather update, or check a financial report in one of the Google TV applications while you're watching cartoons. You can be back to full-screen TV at the push of a button.
Google TV
At any time when watching cable programming, I can press the home button on the keyboard controller to switch to the Google TV functions. There are dozens of functions and services offered by Google TV. I sometimes have trouble remembering that I am writing a review instead of a user's manual, so I'll try to hit the high points without getting too pedantic.
When I was reading about the Revue, I saw people mentioning that the buttons controlling the Google TV functions should be familiar to Android users. I haven't used Android, but I don't think a home button or a back button is exclusive to that system. I remember those functions and buttons in my old Palm devices. Anyway, once you've selected the Google TV function, you navigate the screens using the touchpad (it has the separate button bar like my old Dell computer) and the 5-way navigation buttons.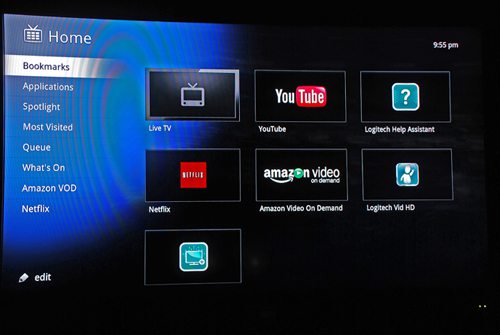 Pressing the home button overlays the Google TV home menu on the TV show that's playing. You can still hear what's going on in the live show, but you can't really see what's happening through the slightly translucent home menu. You can return to live TV at any moment by pressing the TV button or the back button.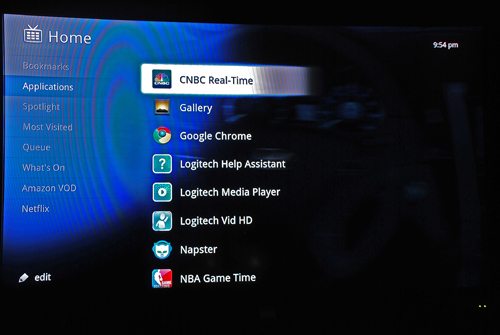 The Google TV home menu has a variety of options that can be edited to add or delete options, as you desire. I found the menu and the sub-menus to be a bit repetitious. For example, Netflix is repeated in several menus, and its function seems to vary a bit depending on the previous menu. I don't like the repetition, and I need to spend some time seeing how to best simplify the menus and remove the duplication.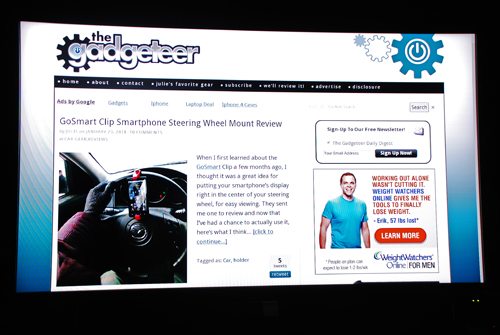 There's a Google Chrome app for surfing the internet. Surfing isn't super fast, but it is usable. The pages are displayed normally, and multimedia content is accessible – even Flash video will play. Screen resolution was sharp and clear on my 65" screen. You can save bookmarks to your favorite websites or you can add them to your Queue to find the webpage of interest quickly later.
Some of the applications require you to subscribe to their service before you can access it from Google TV. For example, Pandora, Napster, Picasa, and Netflix require accounts or subscriptions. I already have a subscription for Netflix, and it is very important to my family that Netflix works well. Watching a streaming movie from Netflix was one of the first things we tried. Netflix worked well with the media player box we had before, but that one had a wired connection to our router. We were a bit concerned that the Wi-Fi connection wouldn't work as well. We do have a lot of speed and a lot of bandwidth with our internet service, and we've got a high-performance router. I was very happy to see that our Netflix streaming downloads worked flawlessly. We've watched high-def programming and standard-def programming, and we've never experienced a single glitch. It's wonderful to not have to drag out the Ethernet cable when we want to watch a movie.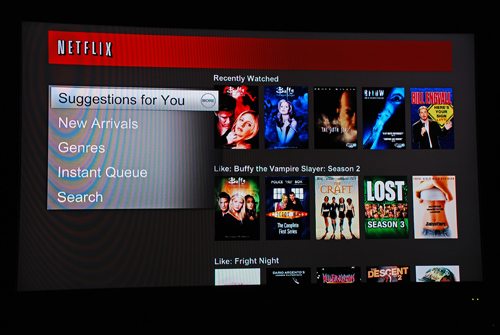 The Netflix app has much more functionality in Google TV than it had with our previous media player. With our old device, we could only see things already in our Instant Watch queue. We couldn't search in Netflix or add things to the queue from the old player. With the Revue, we can access or add to our queue. We can search for content and start it playing immediately. There's even an application that will show you new content and let you start playing a movie immediately.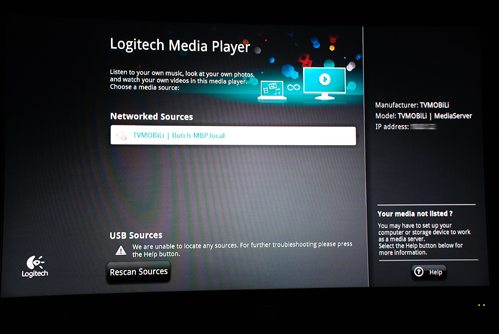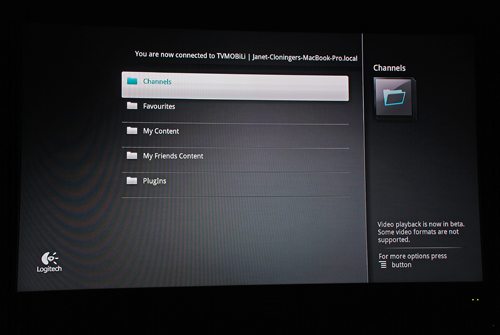 There are no apps that connect you directly with peer-to-peer sharing services for content. However, you can access anything you've downloaded to your computer with the Logitech Media Player app if you have a DLNA (Digital Living Network Alliance) server on your computer.  Logitech help can recommend some compatible DLNA servers, but I Googled and found the one I used.   I loaded up TVMOBiLi on my MacBook Pro and was able to access video, picture, and music files from my computer's disk. TVMOBiLi supports iTunes formats, and I could play many of the files – music and video – stored in my iTunes directories but not all. I had no problem accessing the files that I had ripped from my CDs, but I couldn't play many of the files I bought through iTunes. I assume the files I couldn't play were protected by DRM. Also, you can access any files on a disk or flash drive connected to one of the USB ports on the back of the Revue companion box.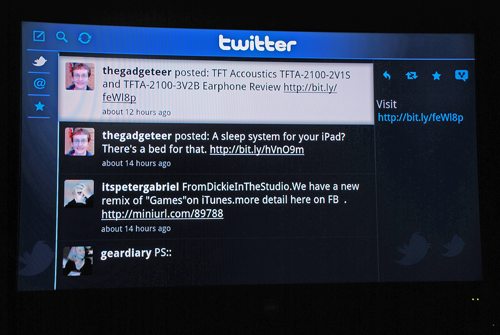 Other applications let you access Logitech Revue help services. You can access your Twitter page, and you can even do automatic Tweets from some of the options.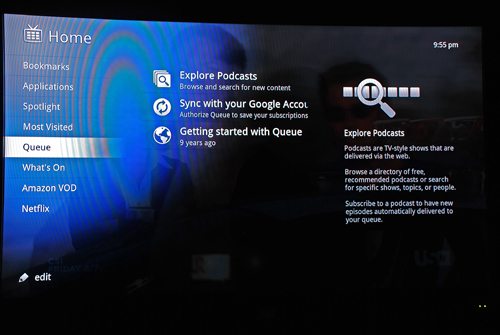 You can see and access your bookmarks from the Google home menu. The Queue option will collect your RSS feeds, Google subscriptions, and saved links to webpages in one place for easy viewing.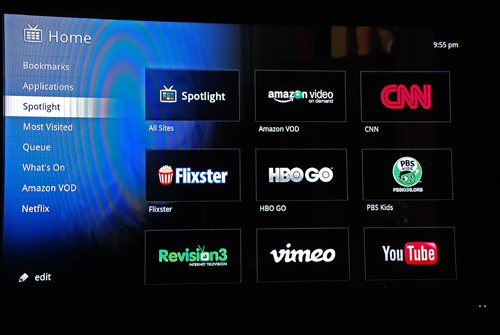 The Spotlight application gathers links to various video services in one location so you can watch YouTube videos, Vimeo, HBO Go, PBS Kids, Flixster, and others. Again, some of these require a subscription to access content, like HBO GO. You can search for, select, and watch Amazon Video On Demand. I've tried a couple of downloads from Amazon VOD, and they played as flawlessly as Netflix.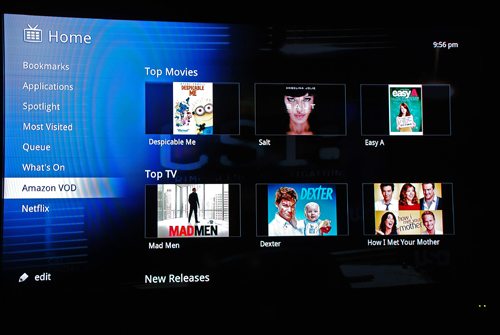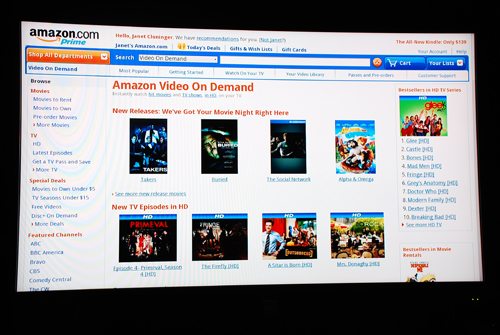 Obviously missing from the list is Hulu, Hulu Plus, and ABC and CBS video services. Since there was no Hulu option in the Spotlight application, I had the bright idea to surf to Hulu.com using Chrome and try watching something from the website. When I navigated to Hulu, I was informed they were not allowing Google TV users to access their services. They said they planned to eventually offer a Hulu Plus app to Google TV. Until then, there will be no Hulu joy. ABC and CBS also blocked me from watching videos from their website.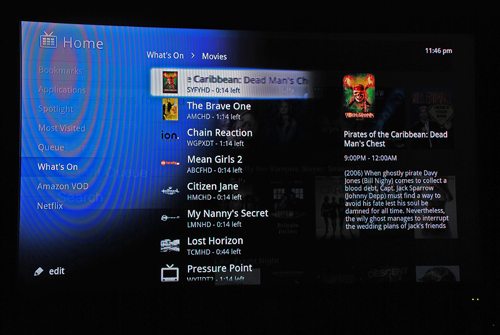 There are other applications, like a "What's On" app that shows you movies, TV shows, news programs, and other shows that are available from your cable system. There's also a universal search button on the keyboard controller that lets you enter a search string to look up content with a specified name, actor, or other criteria. (I guess you've seen those creepy commercials with Kevin Bacon, haven't you?)
It's not available yet, but Google has announced that Google TV will be able to access the Android Marketplace to purchase apps. That's supposed to happen later this year. They are also promising to expand the capabilities of Google TV.
There are other functions of Google TV, some of which I'm sure I'm not yet aware. However, I did promise that I wouldn't write a manual, and I'm trying to not list every single app or video service. Suffice it to say that I am enjoying using the Logitech Revue Google TV. I like using the keyboard controller as my universal remote, at least for my most common functions. I love how well the wireless connectivity works for streaming video. I'm interested to see what other functions will be added in the future, and I'm interested in learning what I don't know that I don't know yet.
I will be doing a couple more reviews related to the Logitech Revue. Logitech also sent along a Google TV Cam that will let you do video calls that I'll be trying out. I'll also be reviewing the Harmony remote app for the Revue. Look for them in the future.
Product Information
Price:
$299.99
Manufacturer:
Logitech
Requirements:
Pros:

Easy to install and set up
Offers a lot of internet content for easy consumption on your HDTV
Works well with Netflix and Amazon Video on Demand
Full-sized QWERTY keyboard controller

Cons:

Some content providers, like Hulu, ABC, and CBS, are blocking Google TV users
Somewhat expensive
Won't work with non-HD televisions