We use affiliate links. If you buy something through the links on this page, we may earn a commission at no cost to you. Learn more.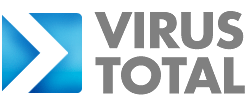 All of us techies know that by the time we open our new computer, or for that matter, just about any other tech device, it is close to being obsolete.  If this is, for the most part, true of tech gadgets, it is especially true of software, security software in particular.  By the time you download AV software on your computer, it is probably out of date.  A FREE service called VirusTotal will allow you to check out files or suspicious websites before you deal with them.
Here is the "brag" about their service from their site:
VirusTotal is a service developed by Hispasec Sistemas that analyzes suspicious files and URLs enabling the identification of viruses, worms, trojans and other kinds of malicious content detected by antivirus engines and web analysis toolbars.
VirusTotal's main characteristics are:
Free, independent service.
Runs multiple antivirus engines.
Runs multiple file characterization tools.
Real time automatic updates of virus signatures.
Detailed results from each antivirus engine.
Runs multiple web site inspection toolbars.
Real time global statistics.
Analysis automation API.
Online malware research community.
Desktop applications (VTUploader, VTzilla) for interacting with the service.
Worth a peek I think!