We use affiliate links. If you buy something through the links on this page, we may earn a commission at no cost to you. Learn more.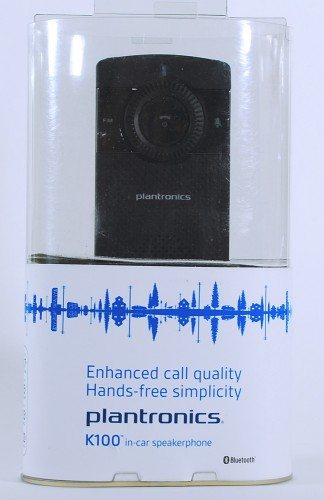 There is no state in the US that bans all phone use while driving. (Texting while driving is different, and many states do ban texting by all drivers.) Several states ban all cell phone use by certain types of drivers – like novice drivers or bus drivers – and several states require hands-free devices. North Carolina doesn't restrict experienced drivers, but I still prefer to use a hands-free device in the event I need to use the phone while I'm driving. The only hands-free devices I'd used were those little Bluetooth earpieces. While I've used a few that were comfortable for the short distances I normally drive, all earpieces start to bother me after a while because they eventually start to hurt my ears. I'm not the only person I've heard complaining about uncomfortable earbuds and headphones, and Plantronics was listening to us. Their Plantronics K100 In-Car Bluetooth Speakerphone is hands-free, and it promises to be pain-free as it attaches to your car's visor. I asked Julie if I could give the Plantronics K100 a try.
Photos in this review can be clicked for an enlarged view.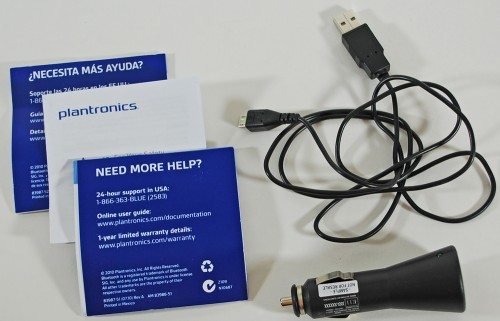 In the Box
K100 Speakerphone
Micro-USB charging cable
Car adapter
Manuals
Specifications
Rechargeable battery – 17 hours talk time and 15 days stand-by
Bluetooth profiles – hands-free and A2DP
Compatible with most Bluetooth-capable phones
Dual microphones
DSP technology and echo-cancellation
FM transmitter to play calls through your radio
FM transmitter plays music, podcasts, or GPS information from A2DP phones
The Plantronics K100 Bluetooth Speakerphone charges with USB, and it comes with a micro-USB cable and car adapter. Since I was in the house when I received the K100, I used the cable with a USB port on my computer to charge it for the first time. It does charge easily with the included cable and adapter with my car's power outlet, but I don't like charging it when it is clipped to the visor. The cable dangles from the K100 on the visor down by the steering wheel, and I'm afraid I'll catch my hand in the cable while driving. With my Subaru, the power outlets aren't powered when the car is off, so I'll either have to bring the K100 in the house for charging, or I'll lay it in the drink holder while it's charging.
Plantronics touts Quickpair – quick initial pairing with Bluetooth devices – for the K100. Pairing was quick and effortless with my LG enV3 phone; I didn't even have to enter a passcode. If you have multiple drivers sharing a car, the K100 can be paired with more than one phone. However, only one phone can be actively connected to the K100 at a time. Operating distance is up to 33 feet away from the phone.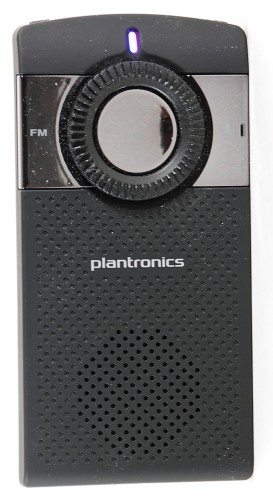 The K100 has only three buttons and a volume control wheel. The large circular, center button is the multi-function button. It powers the device on/off, takes/ends a call, initiates phone's voice dialing, and other call functions. There's an LED above it that shows things like power and pairing status. Surrounding the multi-function button is the volume adjustment ring. There is also a mute button and an FM button. It's obvious what the mute button is used for, but the FM button will be discussed later.
Never miss one of our posts again. Sent MON, WED, and FRI with the latest gadget reviews and news!
In addition to the LED, the K100 communicates status and function with a soothing, female voice. You'll hear announcements for power on/off, pairing status, call status, battery low, and the like.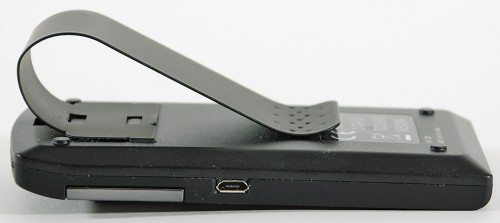 Installing the K100 In-Car Speakerphone is easy. There's a large clip on the back of the Plantronics device. I just slid the clip over the free end of the visor on the driver's side of the car. Plantronics says you should place the K100 so that you can speak in a normal voice for best performance.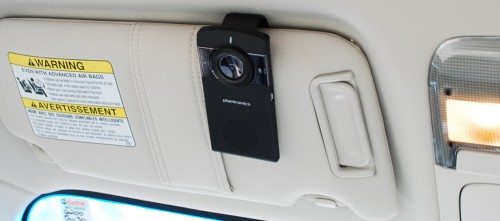 The K100 has dual microphones. It also uses DSP (digital signal processing) technology and echo cancellation to produce clear, natural-sounding calls. The K100 also has a built-in speaker so that you can hear your caller.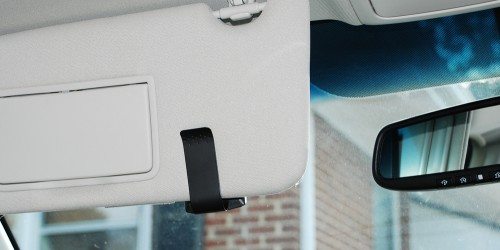 People I called using the Plantronics K100 said my voice was clear and easy to understand. I found the speaker in the K100 also produced clear sound. I never had to shout to be heard, and no one complained that ambient car noises were making it difficult for them to hear what I was saying. I'll include a recording of a call made using the K100 so you can hear the call quality for yourself.  plantronic-k100-bluetooth-car-speaker
The K100 has an FM transmitter with five pre-set stations (all between 88 and 90 on the FM dial). Although I found the built-in speaker more than adequate, you can route the call sound through your car's speakers. Connecting the FM function was as easy as pressing the FM button, waiting for the K100 to announce the FM station, and tuning my radio to that station. On one occasion, the first pre-defined station had interference, so I simply held down the FM button to change it to the next station. Although the FM function performed well, I preferred to leave the K100 speaker engaged so that I could listen to the radio.
Of more interest, perhaps, is the A2DP (advanced audio distribution profile) Bluetooth profile of the K100. When paired with an A2DP phone, you can stream music, podcasts, audiobooks, or even GPS directions from the phone to the K100 to the FM receiver in your car and listen to the content through your speakers.
I was a bit surprised to realize that my little LG enV3 "feature phone" had A2DP capability, so I loaded up some songs on my micro SD card and tried out music streaming with the K100. Playing back music was effortless. You simply start the FM streaming, tune to the correct station, and start playback on the phone. When a call comes in, the music playback stops and you'll hear a ringtone through your speakers. After the call is ended, music playback immediately restarts.
I found the music sounded a bit muffled and flat, and I had to greatly increase the volume level to hear the music. However, it sounded much better than the music played back through my phone's speaker. And it's much safer to listen to music through my car's speakers than to listen with headphones, which would block out traffic noise.
I think the Plantronics K100 In-Car Speakerphone is a great tool for making cell phone usage a bit safer while driving. It's easy to install, easy to setup, and easy to use. Best of all, it doesn't hurt my ears!
Product Information
Price:
$79.99
Manufacturer:
Plantronics
Retailer:
Plantronics
Pros:

Easy to setup and use
Calls are clear on both ends
Can stream calls or music from an A2DP-enabled phone through your car's FM receiver

Cons:

Charging cable could cause a problem while driving