We use affiliate links. If you buy something through the links on this page, we may earn a commission at no cost to you. Learn more.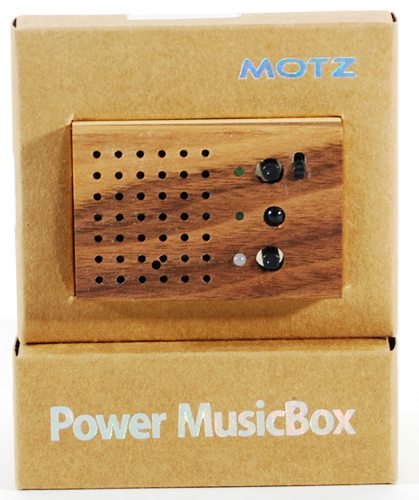 A few months ago, I reviewed a tiny little wooden speaker from Motz that had a built-in radio and surprisingly good sound.  Pyramid Distribution has a newer Motz speaker with a built-in FM radio and an MP3 player that can play files on an SD card or on a USB flash drive.  Pyramid was kind enough to offer the Motz Tiny Wooden Power Speaker with built-in FM radio and MP3 player for review, and I asked Julie if I could give it a try.
All photos in this review can be clicked for an enlarged view.
Product Specifications
Rechargeable Li-Polymer battery (3.7V, 1100mA)
Speaker Output: 1.5W (max)
Product dimensions: 1.58" X 2.4" X 0.94", 2.12 ounces
Radio frequency band: 87.5 – 108MHz
Battery life: using speaker – 5 hours; radio with earphones – 10 hours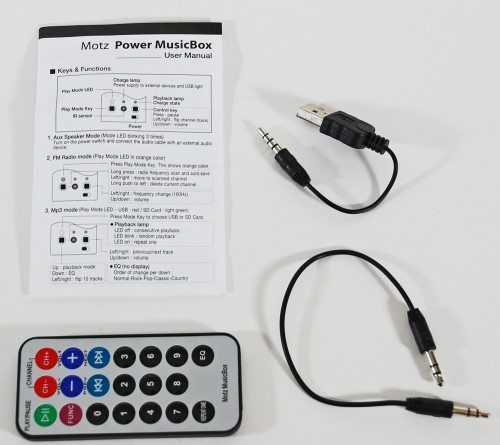 In the Box
Motz speaker
3.5mm-to-3.5mm audio cable
Proprietary USB-to-3.5mm charging cable
Manual
Remote control with battery
Just like the first Motz radio/auxiliary speaker I reviewed, the Tiny Wooden Power Speaker is very tiny.  Again, Pyramid Distribution uses a different name for the device; the packaging calls it the Motz Power MusicBox.  This speaker is also handmade of apricot wood, like the other Motz speaker I reviewed.
The first thing I did was charge up the Motz.  I used the proprietary cable to connect the 3.5mm port on the speaker to a USB port on my computer.  The documentation says it takes 3 hours to get a complete charge.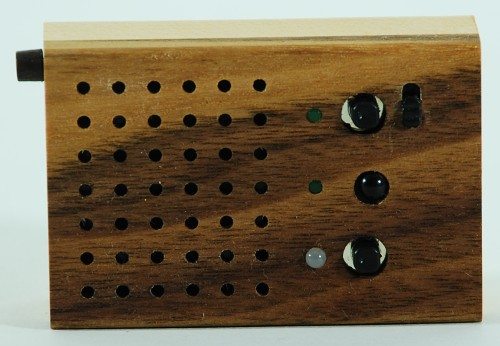 While it was charging, I looked over the manual and the ports and controls on the Motz speaker.  On the front, you'll find a power slider, a play-mode joystick, and IR receiver for the remote, and a control key.  There are also three lights: play mode (orange for FM radio, red for playback from a USB flash drive, and green for playback from an SD card), a charge light indicating that you are charging external devices, and a light to indicate when the device itself is charging.  All the buttons are multi-functional; they have different uses depending on the mode you're using.  You'll need to refer to the manual a lot at first.
Never miss one of our posts again. Sent MON, WED, and FRI with the latest gadget reviews and news!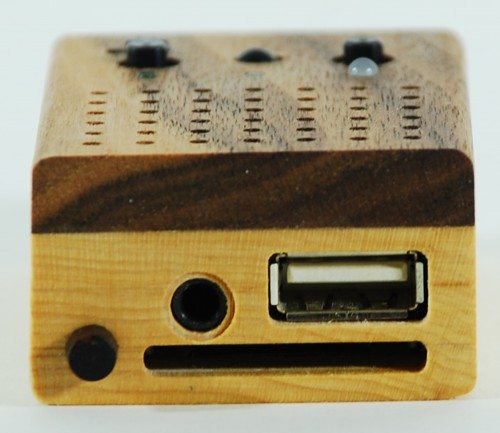 All the connection ports are on the end with the small FM antenna.  The slots for the SD card and the USB flash drive are obvious.  Only the SD card slot has a single function.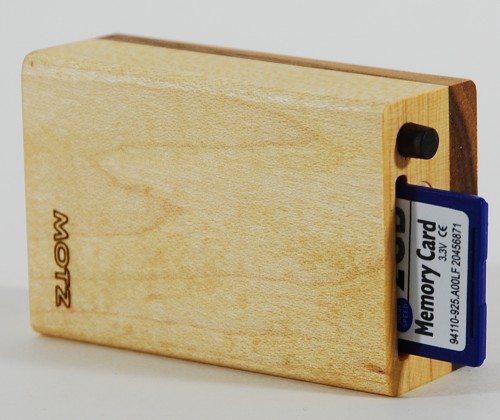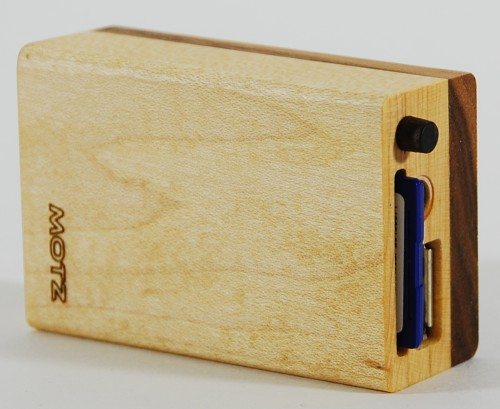 The USB port can be used to plug in a USB stick containing music files.  The Motz can also work as an external emergency battery for a device that charges from USB, like your phone.  It can even work as a power source for LED lights, fans, or other USB accessories that use a 5V USB power source.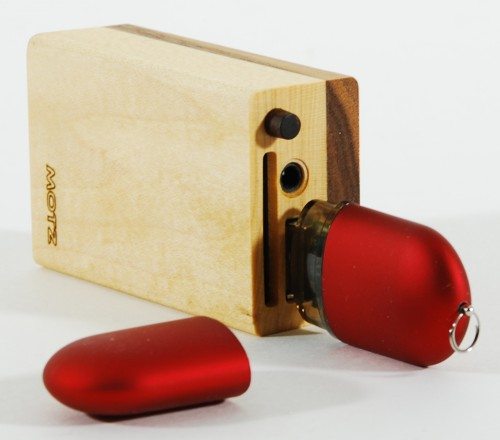 The 3.5mm port is used to connect the proprietary charging cable.  Plug in some earphones to listen to the built-in FM radio without disturbing others.  Use the supplied 3.5mm-to-3.5mm cable to connect an iPod, iPhone, portable CD player, your computer, or other device and use the Motz as an external speaker.  Unlike many other external speakers, the Motz has its own battery and doesn't drain the device's battery.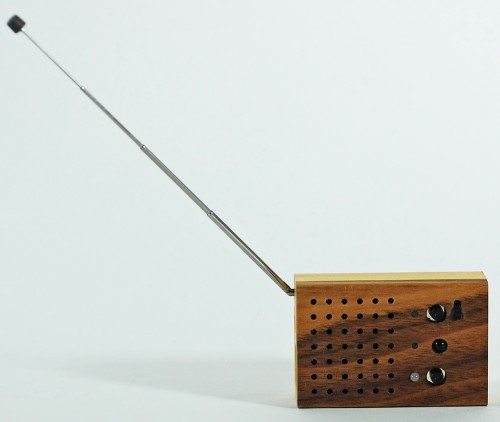 After charging, I turned on the speaker with the power slider, extended the antenna, and started the device scanning for local FM radio stations.  In only a few seconds, it found 19 different stations in my area.  The reception with the Motz device is very clear, and I could switch between stations without having to constantly fiddle with the antenna.  Of course, there is no tuning dial, so you have no idea what station you're listening to unless you happen to hear a station identification announcement.
The sound produced by this tiny little speaker is surprising.  It produces a lot of volume for something so tiny.  Just like the previous Motz speaker I tried, the Motz Tiny Wooden Power speaker produces more volume than my iPod touch speakers do.  The sound is a bit muffled and tinny, but it is clear and clean enough to make listening enjoyable.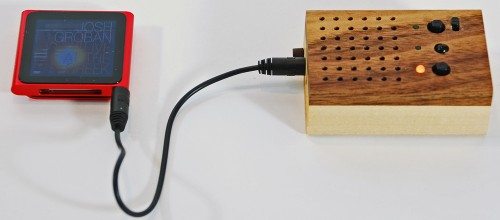 You can use the Motz as an external speaker for MP3 players – iPods, iPhones, CD players, and other similar devices that can output audio through a 3.5mm plug.  It worked well with my 6th generation iPod nano.  The two together made a cunningly cute little music system.  Listening to Yes with the Motz wasn't like being in the studio with them, but the sound was good for casual listening while I was working on an article.
Using the Apple charging cable, I plugged my nano into the USB port and put the Motz into external battery mode.  The nano began to charge, as was indicated by the lightning bolt displayed on the battery meter.  The manual cautions against charging the Motz while it is charging a USB device.
Unfortunately, I don't own any little USB lamps or fans to try out the Motz as a power source for USB devices.
The Motz works well as an MP3 player, too.  I loaded up some songs on a USB flash drive and on an SD card.  There were other, non-MP3 files on my USB drive, but the Motz found and played the songs.  There is no internal memory to store MP3 files.
The Motz Tiny Wooden Power Speaker comes with a remote control unit that controls all functions except power on/off.  With the remote, you can switch between playback modes, change the radio station, switch tracks or pause while playing MP3 files, even put the unit into emergency battery or auxiliary power source mode.  The number keys can be used to save up to 10 pre-set radio stations.  They are also used to define a playback order for the songs saved on your SD card or USB flash drive.
The remote controller even allows you to toggle through pre-defined equalizer settings.  The EQ settings are normal/rock/pop/classic/country.  I'll admit that I didn't hear any difference between the settings.
I like the Motz Tiny Wooden Power Speaker with Built-in FM Radio and MP3 Player.  It produces a surprising amount of volume, more than my iPod touch.  The sound is okay for casual listening.  It works well as an external speaker and as an FM radio, and this version adds the ability to play MP3 files from an SD card or USB flash drive.  The surprise is that you can even use the Motz as an emergency battery backup for your phone or other device that charges with USB.  What a great little package!
Product Information
Price:
$59.99
Manufacturer:
Motz
Retailer:
Pyramid Distribution
Pros:

Compact
External speaker with its own rechargeable battery
Built-in FM radio
MP3 player that uses SD cards and USB flash drives
External emergency battery or auxiliary 5V power source
Has a remote controller

Cons:

Sounds a bit tinny
Unmarked, multi-function controls are a bit confusing