The Gadgeteer is supported by readers like you! If you buy something through links on our site, we may earn an affiliate commission at no cost to you. Thank you! Learn more.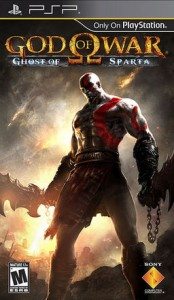 Oh, Kratos. Why can't he escape all those memories of his past? Kratos might possibly be the angriest game character I have ever seen; I mean he did accidentally murder his wife and son after all. God of War Ghost of Sparta for the Sony PSP is a third person action adventure game set somewhere between God of War and God of War II. This game starts out with Kratos sitting on his throne which he had just acquired. But why does he look so grumpy? Well, I would probably look the same way if I keep having memories of my past. As I said, the game starts out with Kratos sitting upon his newly acquired throne, while a vision of a person we have never seen before appears. It's an old woman lying sick on a stone slab. Kratos is convinced he can change the vision he has seen. After all, he is a god. So he sets off for Atlantis on a quest that eventually leads him back to his home of Sparta and then into Thanatos, God of Death's Realm.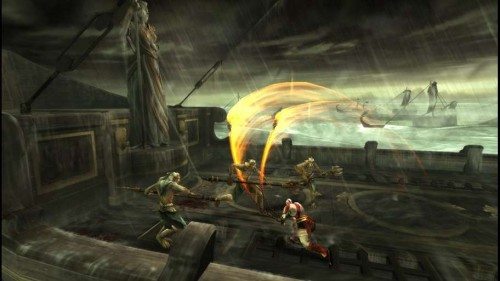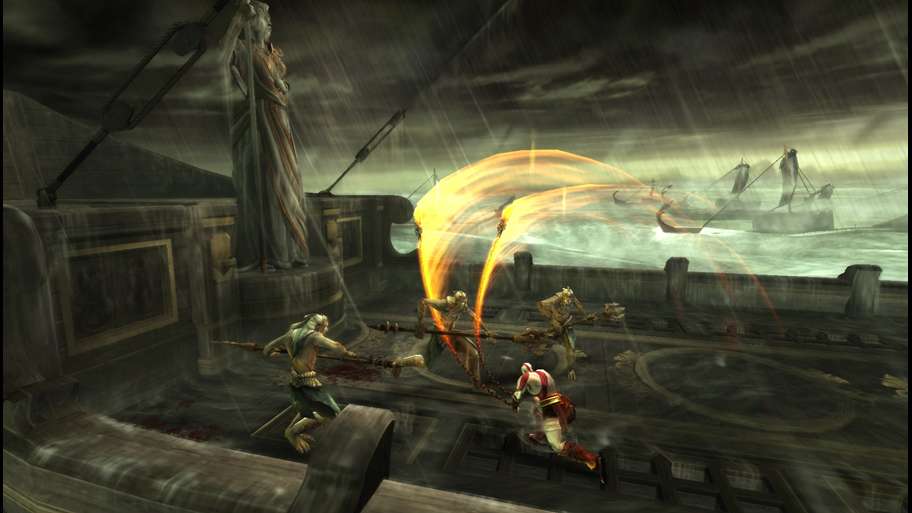 The game is beautiful, probably one of the best games I have seen on the PSP system for a while. The graphics are breath taking. Between the constant rain, cascading water and lava backdrops, it really feels and looks like you are actually inside of the game.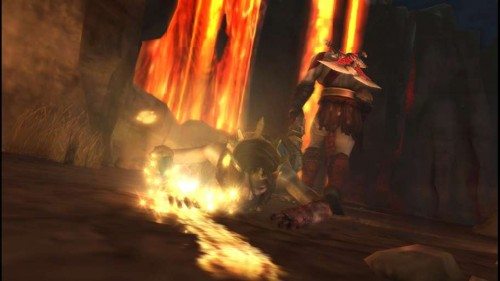 The controls for the game have not changed that much. Sine they have already honed the controls to perfection in previous versions, why change them. The analog stick allows you to walk, run, climb and swim.  The X button allows Kratos to jump and if you hit it twice he will do a double jump.  The main fighting action is done with either the square button for light attacks or the triangle button for heavy hitting attacks.  As usual, with any main fight sequence, the use of the circle button for when the icon flashes on the screen allows Kratos to do some heavy damage to his enemies.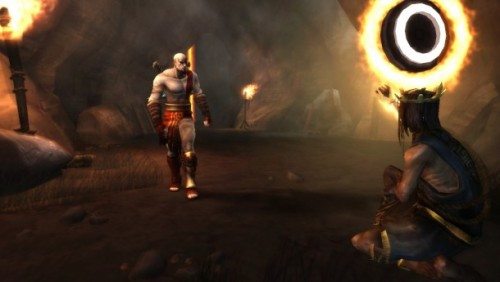 The controls take little time to master. You start off with the Blades of Athena, but by unlocking the ability to add fire to the blades, known as Thera's Bane, then your attacks become even more powerful. Thera's Bane has a meter which lets you know when its power is diminishing, but it replenishes itself over time. The other weapon that you acquire over time is the Arms of Sparta, which is a spear and shield combo. This weapon serves as both a ranged and melee weapon. The spear can be thrown or used to jab enemies and the shield can be used to charge into enemies as well as to block oncoming assaults.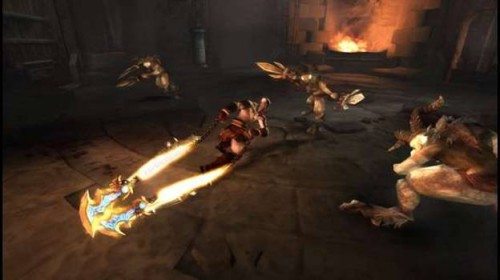 The game also features two new magical attacks – the Eye of Atlantis and the Scourge of Erinys. The Eye of Atlantis is a so called lightning attack, and the Scourge of Erinys is a ball of energy that can pull enemies into it. As is true with any God of War game, this game is filled with all the blood and gore one comes to expect, even on the PSP system one can't help but notice this.
I have been a God of War follower since the game first came out. This game has enough gigantic bosses to encounter which is one of the reasons it is so enjoyable. There is plenty of action to keep players immersed in game play for hours. Upon beating the game, challenges open up which allow for more game time. There isn't too much load time for this game either, I did notice a few times when I would be in the middle of a gigantic battle and the game would pause for a few seconds while it loaded, but this didn't happen too often and it did not affect gameplay. The game is rated M for Mature, there is some bad language in the game, and between the blood and gore, there is even a mini sex game scene, which I was surprised to see. Please keep this in mind when buying this game for younger players.
Ghost of Sparta is a must for any die hard God of War fan. With all the blood and gore and beautiful cut scenes, to the most impressive fight scenes, Ghost of Sparta will surely impress upon you. I know I am impressed, I started the game on Normal difficulty and am now trying to beat it on difficult level, so we will see what happens.
Product Information
Price:
$39.99 for game alone, $199.99 for God of War PSP Bundle
Retailer:
Sony
Requirements:

Sony PSP (Play Station Portable)

Pros:

Must have game
Excellent detail and graphics are impressive
Game play is awesome

Cons:

Not much replay potential, once all the videos and few challenges are opened up there is not much more to do except try it on different difficulties
Not appropriate for younger players