We use affiliate links. If you buy something through the links on this page, we may earn a commission at no cost to you. Learn more.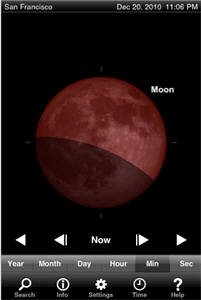 Tonight the winter solstice and total lunar eclipse will overlap for the first time in 458 years. To help make sure that you don't miss this once in a lifetime event, MIT grad whiz kid Tim DeBenedictis is offering the award-winning SkySafari Lite app for free. SkySafari is an easy-to-use planetarium app that helps you explore the night sky by showing 120,000 stars, 220 of the best-known star clusters, nebulae, galaxies, the major planets and moons of the Solar System using NASA spacecraft imagery. It will help you locate stars when you hold up your iPhone in the sky. Full press release after the jump.
Southern Stars Releases Free iPhone App and New Accessory to Track Once-in-a-Lifetime Holiday Celestial Event
 
Last time North America saw total lunar eclipse on the winter solstice was 1638
 
SAN FRANCISCO, CA, December 17th, 2010 – On the night of December 20-21st, 2010, a total lunar eclipse will dress the moon in holiday red for more than three hours. For 72 minutes of that eclipse, the Earth's shadow will hide the moon in complete darkness. The last year North America saw a total lunar eclipse on the winter solstice was 1638. The next is 2094 – making this event a once-in-a-lifetime opportunity.
 
To help people track this eclipse, Southern Stars, a 2010 MacWorld Best of ShowTM winner, is releasing the latest version of its SkySafari LiteTM iPhone app for free from December 18th through December 21st, 2010. SkySafari Lite is the only iPhone app which correctly predicts and displays this eclipse. Unlike other star-gazing apps, SkySafari features research-grade accuracy, the largest celestial database of any mobile planetarium app, and descriptive content written by experts. Sky & Telescope magazine, the oldest and most prestigious journal in astronomy, chose Southern Stars to develop their own S&T SkyWeek iPhone app, based on SkySafari's engine. Robert Naeye, Sky & Telescope's Editor in Chief, wrote "A special thanks goes to … Southern Stars for their enthusiasm and technical expertise."
 
To download SkySafari Lite now, go to the iTunes store by clicking this link: http://itunes.apple.com/us/app/skysafari-lite/id321419308?mt=8
 
More information, including video and a link to the app, can be found here: http://www.southernstars.com/eclipse/index.html
 
"We're using this unique eclipse to share our latest astronomy apps with the public, and to spark an interest in astronomy for millions of people at the peak of the holiday season," said Southern Stars founder Tim DeBenedictis. "It's an event we couldn't miss."
About Southern Stars
 
Southern Stars, formerly the mobile products division of Carina Software, is a world leader in mobile applications for astronomy, and has been developing planetarium software since 1993. In 2009, Southern Stars developed SkyFi, the first wireless iPhone-based solution for telescope control. That product, and the SkyVoyager iPhone app, won a MacWorld 2010 Best of Show award. To date, Southern Stars' iPhone apps have been downloaded more than 200,000 times. Southern Stars has also developed iPhone apps for Sky & Telescope Magazine, and for Orion Telescopes and Binoculars.