We use affiliate links. If you buy something through the links on this page, we may earn a commission at no cost to you. Learn more.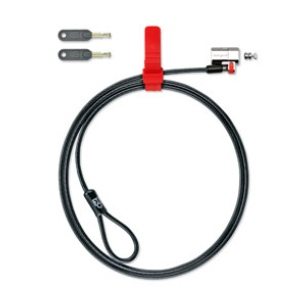 Laptops are attractive for their portability, but can also be a security nightmare for the same reason. Kensington locks have been around for years securing laptops. I still have the first one I bought over 10 years ago. Essentially the Kensington lock is a cable with a lock that fits into a slot of your laptop. These slots are ubiquitous anymore, and are showing up on more and more gear. For example, many hard disk enclosures have them as well. The initial idea of the slot, and the development of the lock was pretty creative, but how creative can a cable be? Let's see what Kensington has been up to.
The innovation in the ClickSafe is the addition of the installable security anchor. This is a small post you install into your laptop with an included hex key.

They created a really nice way to store the security anchor and hex key. They fit in a key fob attached to the set of two keys.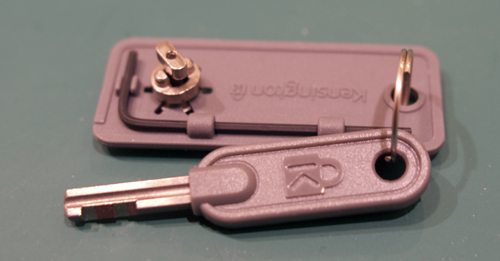 The other key was already on my king ring, but you can see the post on the fob, and the hex key securely held next to it.
Now you might be thinking "Install? What a pain." Well, this is frankly the easiest install you will ever do. It would take me longer to explain, than show, so I will embed a short video fron Kensington that demonstrates the install.
That's it. Now the eagle-eyed reader will notice the slight edit in the video. All you missed was a few turns of the wrench.
The security anchor installs in the security slot found on almost every laptop and many peripherals. Here is a shot of it on my wife's MacBook.

Installing the anchor takes seconds, and here it is attached.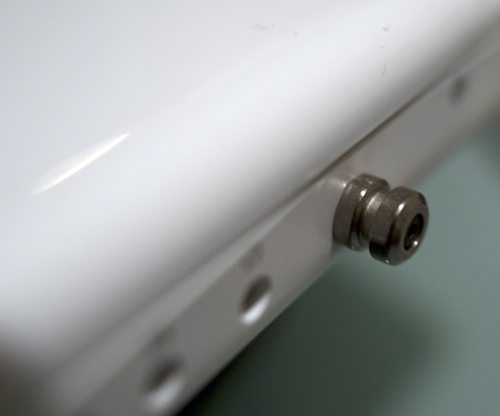 Once installed, attaching the security cable involves a simple click. I was not a fan of having the anchor stick out of the side of my laptop. It's a trade-off: convenience versus having the little anchor stick out of the side. You can easily remove the anchor with the hex key when not locked (the lock covers the hex key).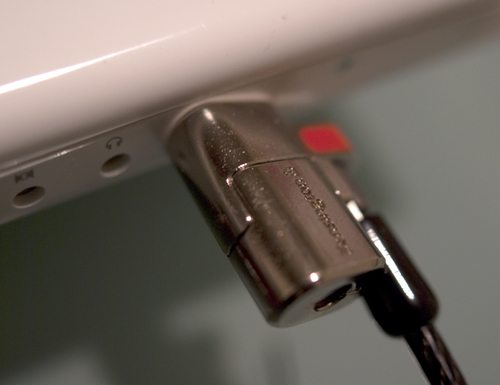 I really like the low profile design. It is far slimmer than my old lock. Connecting takes seconds, and does not require a key. However, for me, I actually didn't like that. I like the fail-safe design of my old lock, that requires a key to lock it. That way I can find out if I miss-placed the key before I have locked it to the cable. It also would be tempting as a prank, to switch out someone else's cable with your own. But then, maybe that means you don't want to work in the office with me. Frankly, while it is not my preferred method, I can't even bring myself to add it as a con. It is a trade off.
This system has a lot of pluses. They are gearing this towards companies as a way to increase security compliance. It is designed to make securing your laptop as easy as possible. Also, you can purchase these with a master key, which gives the company a way to unlock all the cables with one key. I think this has a lot to offer to the right person.
There is also the option to get the "Twin" version that includes two locks. With this you can lock your laptop and another item with one cable.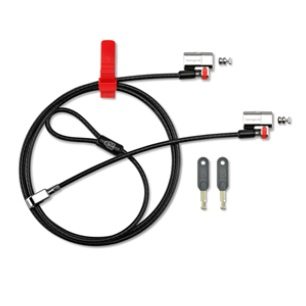 How Secure Is It?
Well, the cable is cut resistant, the locks are pick-resistant, but a determined thief could still get your laptop. As with all locks of this kind, picking where to loop the cable through is crucial. Around a table leg that can be easily moved is not very safe. It's all about making stealing your laptop inconvenient. I mean, we all lock our doors to our houses and cars, right? They are not perfect, but we don't hesitate to do everything to slow a potential criminal down. Also, if you use this to anchor your laptop at the coffee shop, most folks are going to be alerted to someone with a bolt cutter, or ripping your laptop of the cable. I am a longtime user of these locks, and I highly recommend them.
I think this is a great option for laptop security. For the small cost of having a security post sticking out of your laptop, you can quickly lock your laptop to keep it safe. For me, I will stick with my old Kensington lock, but I would not hesitate to recommend this to others.

Product Information
Price:
$49.99
Manufacturer:
Kensington
Requirements:

Device with a Kensington Security Slot

Pros:

Easy to Install
Quick Connection
Lock with a simple click

Cons:

Security Anchor Sticks Out