We use affiliate links. If you buy something through the links on this page, we may earn a commission at no cost to you. Learn more.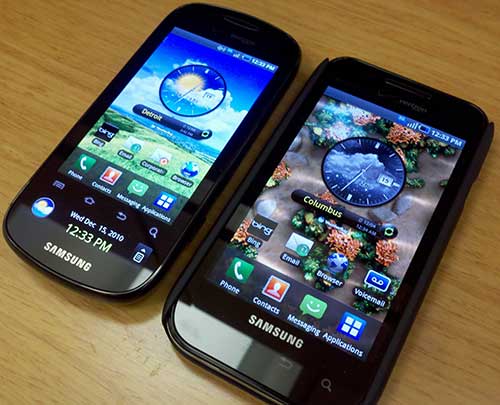 Verizon recently sent me a Samsung Continuum Galaxy S Android smartphone to try out. This phone is very similar to the Samsung Fascinate, but includes one very unique feature that we don't normally see on today's smartphones – a secondary display. Let's check it out. 
Note: Images in this review can be clicked to view a full-size version.
I want to start out by saying that this isn't going to be one of my standard reviews. Since the Samsung Continuum is so similar to the Samsung Fascinate, which I have already reviewed, I am just going to focus on the main difference – the secondary ticker display. The only other differences between the Continuum and Fascinate is that the Continuum is slightly longer and narrower with a 3.4″ display instead of 4″.
With that out of the way, let's get to the ticker display which is located below the main display and row of soft touch buttons.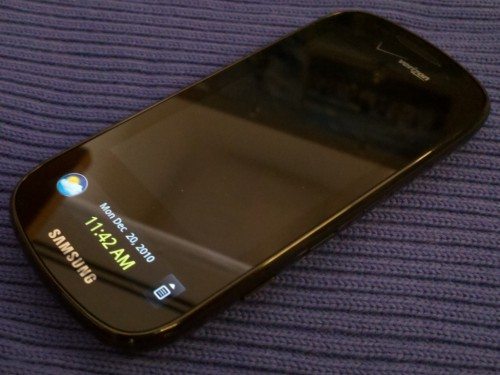 Like the main display, the 1.8″ ticker display is Super AMOLED. That means it's super crisp with very vibrant colors. It's not just read-only either. It's a touch display. The default view shows the current date, time and current weather conditions.
If you click on the weather icon, it will bring up a Weatherbug app which shows the 4 day forecast and radar button.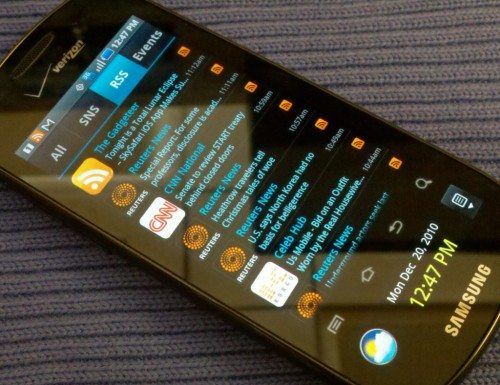 The ticker will also display RSS feeds. It includes several feeds that you can choose from like CNN and Reuters and also allows you to add your own favorites.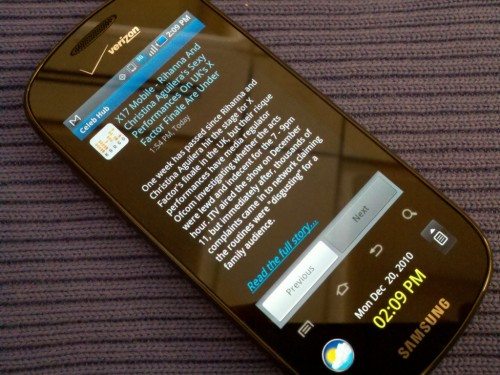 If you see something interesting scroll by on the ticker, you can tap it to read more. In addition to RSS feeds, you can also see your Twitter, Facebook and MySpace posts.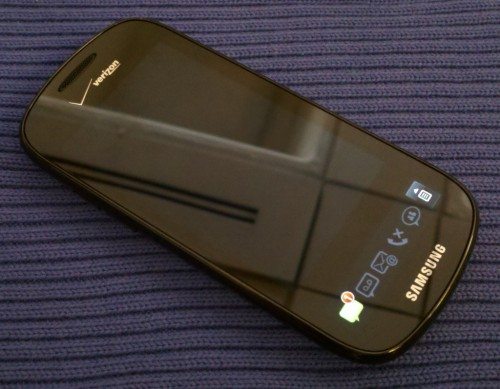 Notifications for SMS, Voicemail, Missed calls, Emails and instant mesesages will also show up on the secondary display.
The Continuum has a grip sensor that you can toggle on and off. If you touch the phone on both sides at the bottom while the phone is idle, it will turn on the secondary display like you see in the image above. You can scroll left and right to access the last news item, or notifications panel. One cool feature is that you can click on the news item and /or  notification and it will turn on the phone without having to unlock it.
There's also an option to set a sleep time for the secondary display so it won't come on.
The Samsung Continuum is a cool little Android smartphone. It's snappy, has a wonderful display and the secondary display gives it a little pizazz over and above other Android phones. If it were up to me, the only thing I would change would be to move the secondary display above the main display and move the grip sensor to that area as well. But that's just a personal preference. I was already a fan of the Samsung Fascinate, so now I'm also a fan of the Continuum. Samsung is definitely on a roll. It makes me excited to see what they'll come up with next.
Product Information
Price:
$199.99 with 2yr contract / $579.99 without contract
Manufacturer:
Samsung
Retailer:
Verizon Wireless
Pros:

Gorgeous AMOLED display
2nd ticker display
Excellent camera (macro mode)

Cons: