We use affiliate links. If you buy something through the links on this page, we may earn a commission at no cost to you. Learn more.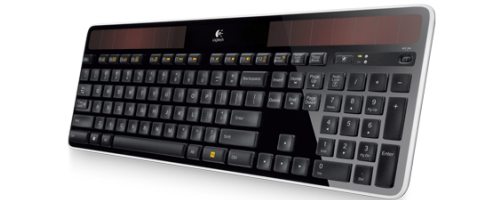 I love all things wireless, except when it comes to keeping them powered up.  For some reason, I've never latched onto the idea of wireless input devices, like mice and keyboards.  I was always worried that I'd run out of battery juice at the worst possible moment.  But a solar rechargeable keyboard?  Now this is a first.  I must take a look.
I've had wireless keyboards in the past.  The last one I bought was the Apple Bluetooth Keyboard (flat aluminum).  Apple went through great lengths to make that keyboard sleek and smooth.  Trouble is, I have no way of knowing if that keyboard is powered up or if it has a weak battery just by looking at it.  That, and it always seemed to have a bad habit of eating through AA batteries.  I have no idea why.
Now let's get to the Logitech K750.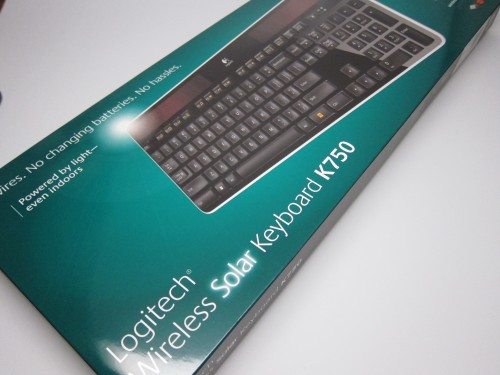 I was fully expecting a set of printed instructions as there usually is.  Instead, a cryptic note on the inside flap of the box.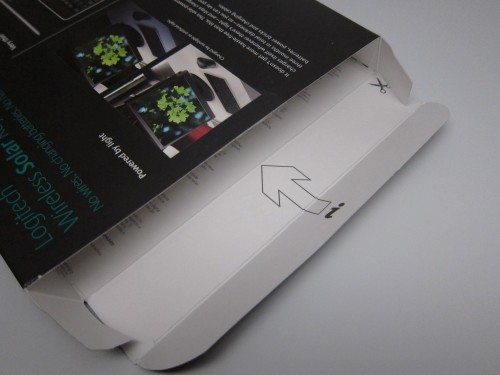 Yup, a few snips and you get the standard boilerplate blurbs in several different languages.  Nothing technical.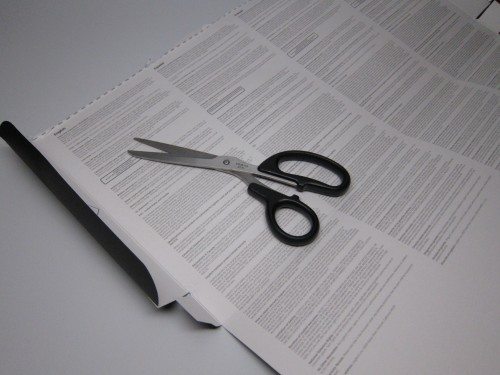 The Logitech K750 comes with a small microfiber cloth, a tiny USB receiver, and a short USB extender if you need it.  The USB receiver is a Logitech Unifying Receiver, which allows you to pair, say a compatible mouse AND a keyboard to the same computer.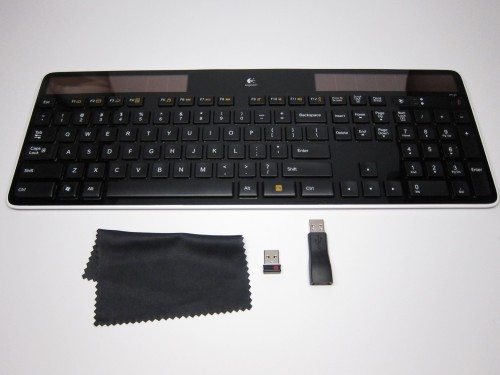 Here are some photos of the K750 next to an Apple Keyboard.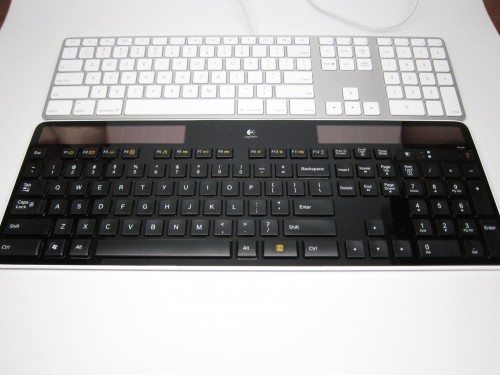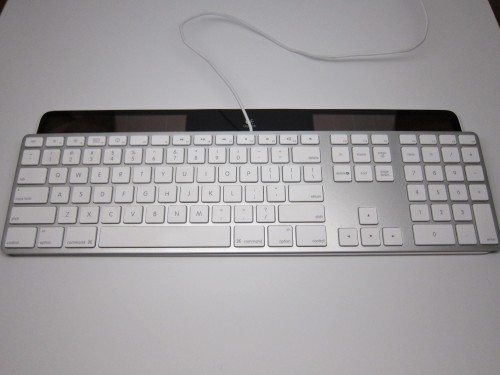 This is my favorite part of the K750:  A sliding, hardware switch for keyboard ON and OFF.  This should be mandatory for wireless devices!  No more guessing.  Pressing the little solar/sunshine button shows the relative brightness level the keyboard's photovoltaic panels are receiving.  If it's currently bright enough for good battery health, a little green LED lights up next to a smiley face.  If it's too dark where you're sitting, you'll get a red LED and a sad face.  Brilliant.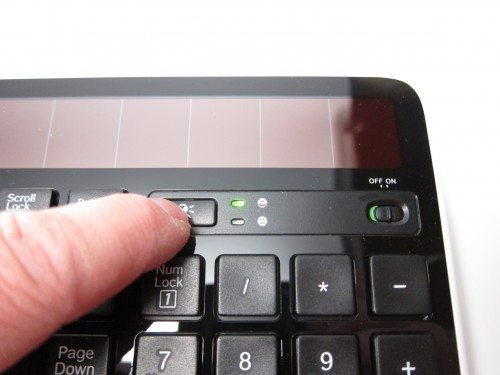 I should point out something pretty subtle.  There is no right-side "Windows" button.  You get one on the left of the space bar, but you'll find an FN key on the right.  This engages the function key row at the top.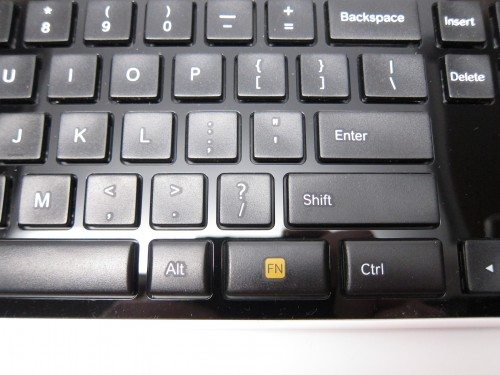 Here you can see F1-F12 and their corresponding FN functions.
In contrast to the front side, which is nearly all glossy black, the back side of the K750 is entirely white.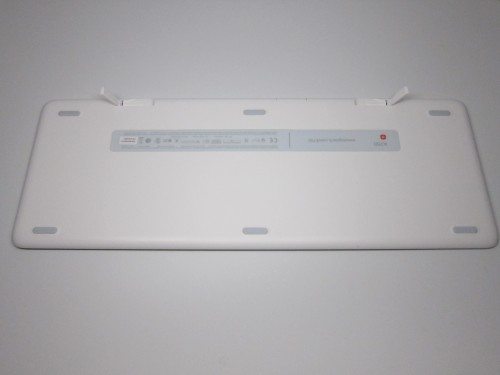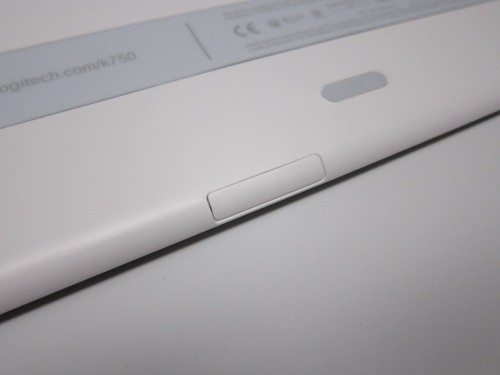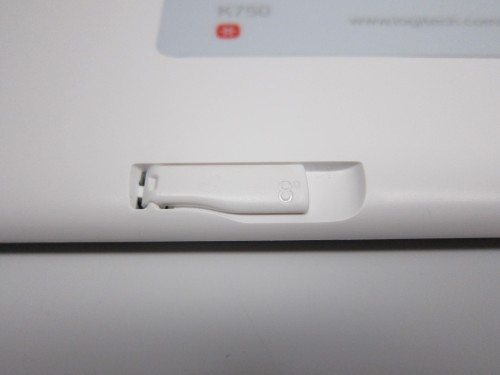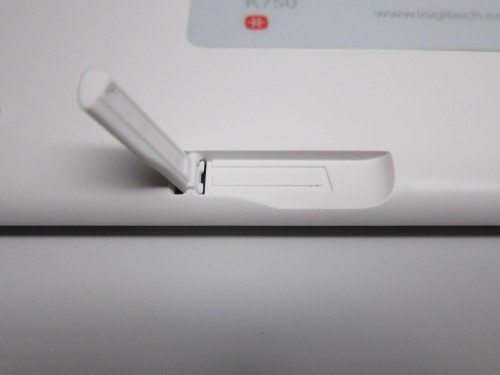 Another thing I love about the K750 is how crazy flat it is!  I thought the Apple keyboard was flat until I put it next to the wafer-thin K750.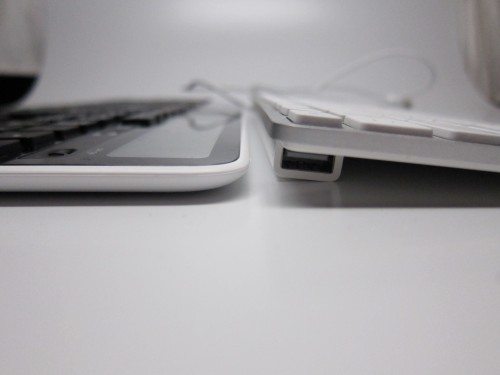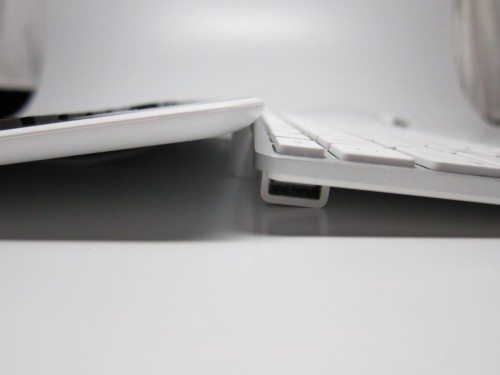 The Solar App is unique to this keyboard.  It's a free download (no CD-ROM included in the package) and is separate from from the Logitech SetPoint software.
With the Solar App, you can monitor the battery status and the level of "brightness" the photovoltaic cells see, in Lux.  Now I don't know how spot-on these figures are but there are helpful smiley and frowny faces to make it more clear.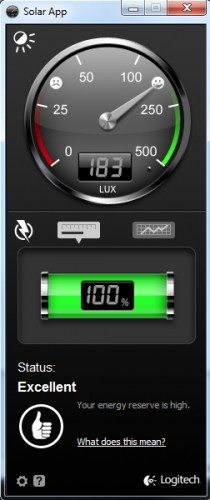 There's also an option to view the charge over time, in graphical form.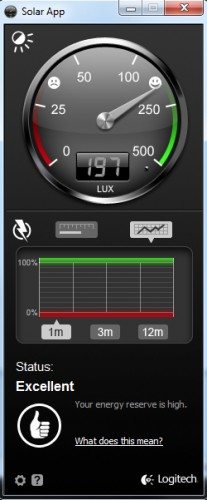 USER EXPERIENCE
I use a Mac at home running OS X and Windows 7, and I use a PC at work running XP.  I tried the Logitech K750 in all three environments.
Windows 7:
I already had Logitech SetPoint installed so I just downloaded the Solar App.  I plugged in the tiny Unifying Receiver into an open USB port and that was that.
I noticed that the function keys (see photo above) were working.  The "home" icon brought up the default browser.  The music note icon launched Windows Media Player.  Transport controls worked, too, as did volume.  Email did not work, and I'm not sure if it's because I don't have an email program installed.  Well, duh.
Despite having SetPoint installed, I could not get the on-screen Caps Lock to show up.
Windows XP (no drivers):
This is my work machine where I have no admin rights, so I can't install any Logitech apps.  Naturally, I can't monitor my battery status and I can forget about Caps Lock indicators.  But I was surprised to see that the function icons worked.  In the case of my work PC, pressing the Home icon key launched Internet Explorer (the default browser), the email icon launched Outlook, and the music icon launched iTunes (which I installed and set as default).  Pressing the F12 "PC on/off" button caused my XP machine to go into some kind of instant, weird coma that forced me to restart the computer.
Mac OSX (Snow Leopard):
With the Mac, the little Windows key in the lower left becomes the Command ("Apple") key, except you only get one.  As expected, most of the special function keys don't work.  Home brings up a new browser window.  The transport controls (for iTunes) work, and volume up/down/mute work.  I was happy to see that the F12 key for power ("PC only") actually DID work, in a nice way.  It brought up the dialogue box for Restart/Sleep/Cancel/ShutDown.  Nice!
Despite some things not working as I had planned, probably due to my own ignorance, I love the Logitech K750.  It has totally erased my fear of battery death, eliminates one more cord, and looks so darn cool.  And even though I can't use all the functions on my work computer, I'm planning to give the Logitech K750 a permanent home there.  And, if Logitech ever makes a white-and-silver Mac edition with the Command key in lieu of the Windows key, I'm snapping one of those up, too.  I'm not holding my breath, though.
Product Information
| | |
| --- | --- |
| Price: | $79.99 |
| Manufacturer: | Logitech |
| Pros: | Solar rechargeable keyboard means it's always got a charge (even indoors). Top mounted on/off switch and check light are nice touches. Very sleek. Logitech Solar App (Windows only) only required if you want to geek out on your charge status. |
| Cons: | No on-keyboard caps lock indicator. Although the K750 works on a Mac, I wish they made a Mac-specific version. |