We use affiliate links. If you buy something through the links on this page, we may earn a commission at no cost to you. Learn more.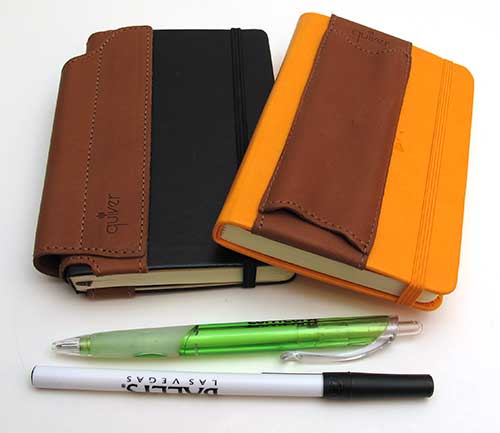 I love gadgets and gizmos with LEDs, buttons and batteries, but I also love analog gear just as much. Things like Moleskine and Rhodia notebooks, pens and colored pencils are usually scattered around my desk and in my gear bag. I've recently started keeping a journal again and during one of my epic web surfing quests for Moleskine info, I found these great looking leather Moleskine pen holders from Quiver. They appear to be a wonderful solution for keeping a writing instrument and a notebook together in one place. They were kind enough to send me samples of each style, so let's check them out.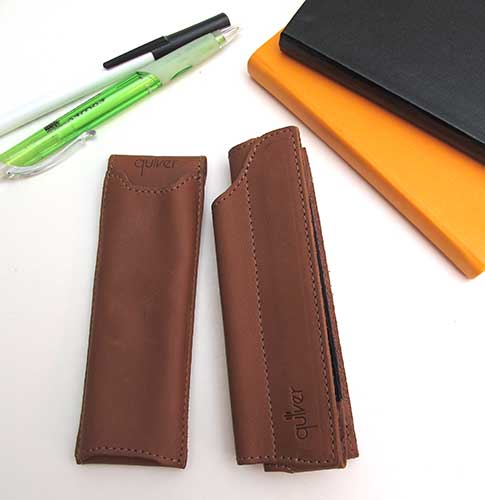 The quivers come in two styles, two colors and two sizes. The single-pen quiver holds one pen (shocking!) or pencil and the dual-pen quiver can hold two pens (or two pencils or a pen and a pencil – you get the idea). They come in Brown or Black and are sized to fit the small and large Moleskine and Rhodia style notebooks.
I was sent both style quivers in Brown for small sized notebooks. I paired them with a Moleskine and a Rhodia 3.5 x 5.5″.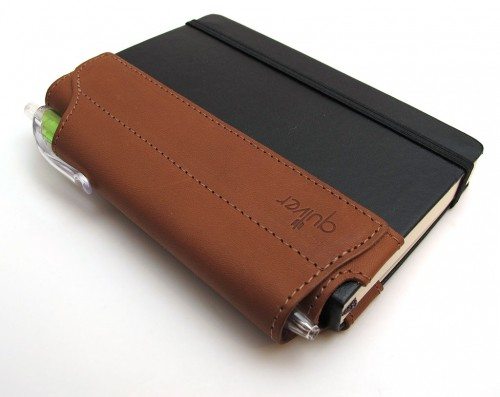 Both quivers are made of soft finely grained leather and are hand stitched. The single-pen quiver adds the pen holder to the spine of the notebook and attaches with elastic straps that go around the front and back covers of the notebook.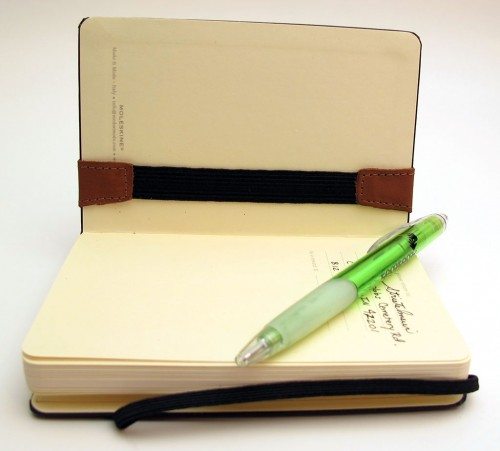 Because the straps can stretch, it's possible that the quiver will fit other notebooks of similar size. You can check Quiver's site for a list of compatible notebooks.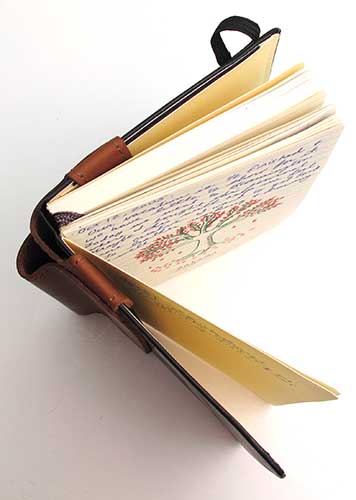 The pen holder is generously sized. I tested all sorts of pens from generic Bic stick pens up to a Pilot Petit 1 mini fountain pen – although the Petit 1 was a tight fit. Due to the nature of leather, it will stretch, so even if your favorite pen or pencil has a large diameter, chances are that it will fit. Since the holder is open at the bottom, even longer pens will not be a problem.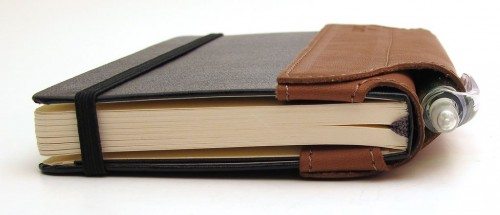 The single-pen quiver lays completely flat on the sides of the notebook, due in part to the spring steel stays that are sewn into the leather.
I was worried that the pen holder would get in the way of actually holding the notebook while writing in it, but so far that has not been an issue. The extra bulk in the spine area is there, but it folds out of the way when there's no pen in it.
There is one downside to using the single-pen quiver with a Moleskine and Rhodia style notebooks that have a pocket attached to the back cover… the elastic band goes over the pocket, so that it can't be accessed. I personally don't use these pockets, but I'm sure others do – especially with the large size notebooks.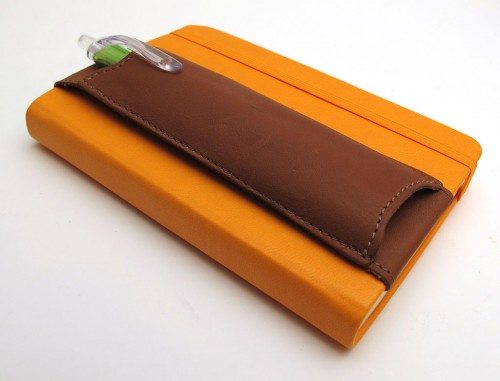 The dual-pen quiver has a simpler design than the single-pen quiver. It attaches just to the front cover instead of both the front and back.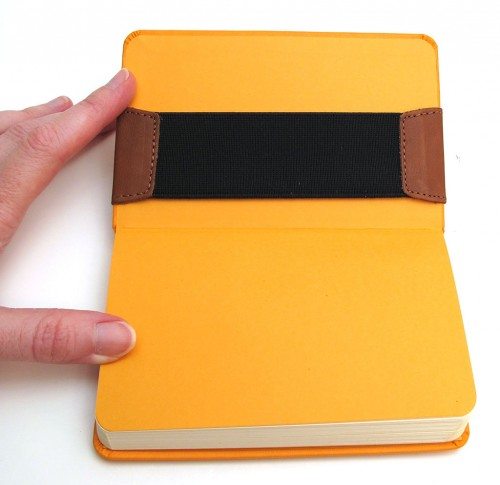 Like the single-pen quiver, it is held in place with a strong elastic band. It just uses one band though, so the back cover pocket can be used normally.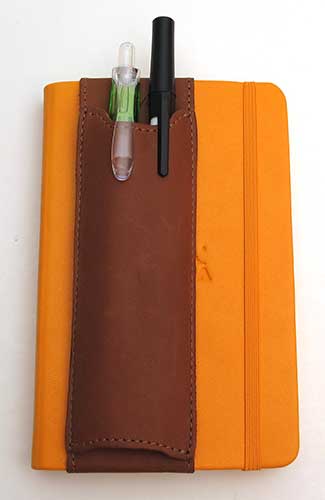 I like that I can keep two favorite pens in this holder. I like to write with a medium tip pen and draw with a fine tipped pen. This style also adds less bulk and is almost unnoticable when you're holding and writing in the notebook. The holder is large enough to easily hold even 2 Pilot Petit 1 fountain pens with ease. It is open at the bottom, so even longer pens can fit with no issues.
I just love these Moleskine pen holders from Quiver. It's funny how something so simple can make me so happy. If you love notebooks like the Moleskine, you need this great little accessory. Trust me, I know that you'll love them as much as I do.
Product Information
Price:
$14.95 - $24.95
Manufacturer:
Quiver
Pros:

Incredibly useful
Great workmanship
Inexpensive

Cons:

Single holder does add some bulk
Single holder elastic band covers up the pocket on the back cover of Moleskine and Rhodia notebooks