We use affiliate links. If you buy something through the links on this page, we may earn a commission at no cost to you. Learn more.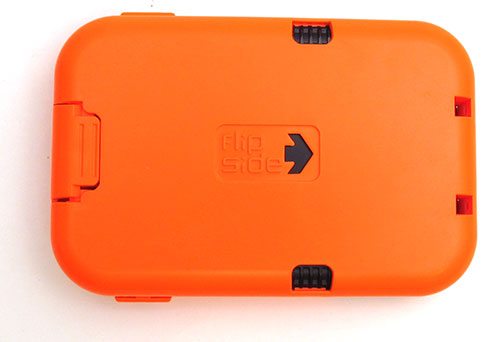 When it comes to wallets, do you consider yourself a traditionalist or modernist? Traditionalists tend to choose wallets made of leather, nylon or canvas style materials, while modernists are up for plastic, stainless steel, sailcloth, tyvek and more. I would place my own wallet preferences somewhere in the middle of the two. I love leather, but I'm always interested in trying new ways of carrying my money and credit cards. The Flipside 2x Wallet is definitely a modern take on this age old every day carry product.
Note: Some of the images in this review can be clicked to view a larger size.
Flipside isn't new to the wallet game. We reviewed their Flipside 2 wallet last summer.
The Flipside 2x is available in 4 colors: Orange, White, Blue and Black. As you can see from the photos, they sent me the Orange version.
The first thing I noticed was that the plastic on the 2x feels slightly more robust than the plastic used to construct the previous version. It's still flexible so that it shouldn't crack if you place it in your back pocket. I wouldn't advise you to carry this wallet (or any other wallet for that matter) in your back pocket though. It's not a good idea to sit on something that hard all that time.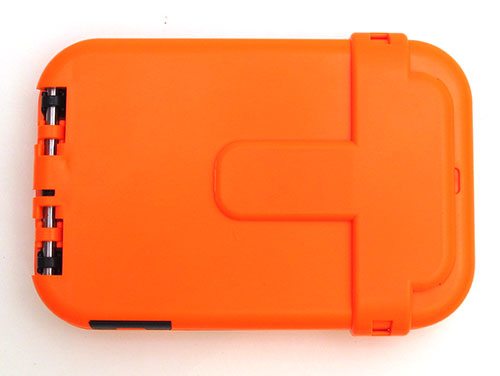 If you flip the wallet over, you'll notice the new removable card clip which has been designed to hold business cards and/or receipts.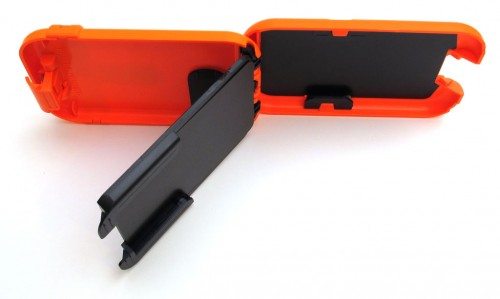 The 2x retains the spring loaded latch that when pressed will automatically cause the cover to flip open, ready for use. The latch is slightly larger, which allowed the cover to easily pop open. The previous version would sometimes get hung up on the flesh of your thumb and not pop open until you adjusted moved slightly.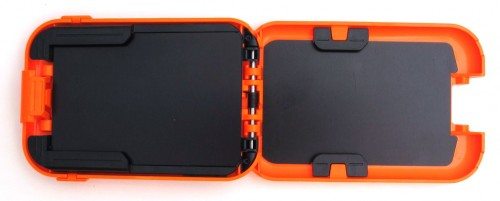 Inside you'll find 3 storage areas for your cards and cash. The clip on the inside of the top cover can hold 3 cards of standard thickness (like your driver's license or credit card).
The center section had a storage area on either side. One side can hold 3 cards…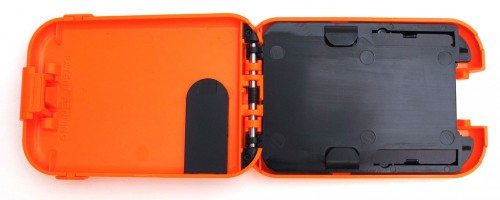 While the opposite side holds one card for quick retrieval. It's important to note that the to main storage areas (that each hold 3 cards) are the only slots that are RFID shielded and protected from de-magnetization. The slot that holds just one card is not RFID protected.
The back cover has a built in money clip that can hold up to 12 dollar bills.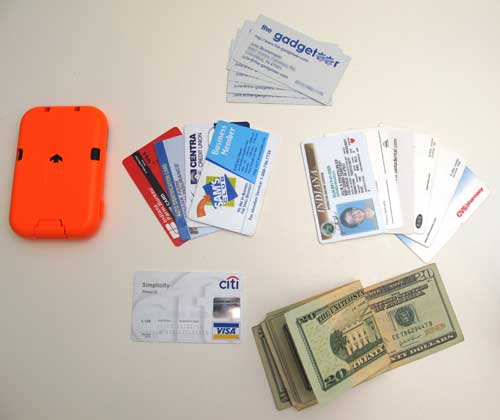 Time to load er up!  I have been using the Waterfield Wallet for years now. Here are most of the contents of that wallet.
12 dollar bills
5 business cards
5 thick plastic credit cards (drivers license and credit cards)
6 thinner cards (like store cards, insurance cards, etc)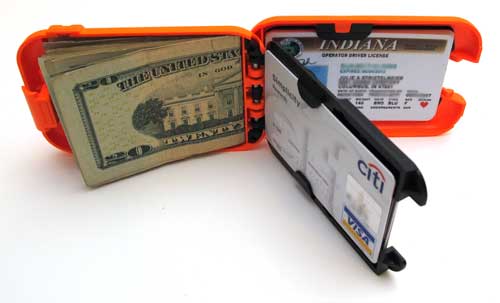 The Flipside 2x is able to hold more than 7 cards depending on the thickness of those cards. Instead of 7 cards, I was able to store a total of 11 cards.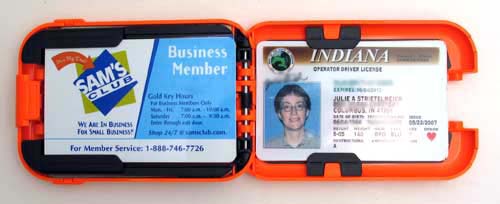 The cards are held in place with friction. Even if you only store one card in each slot, they won't fall out.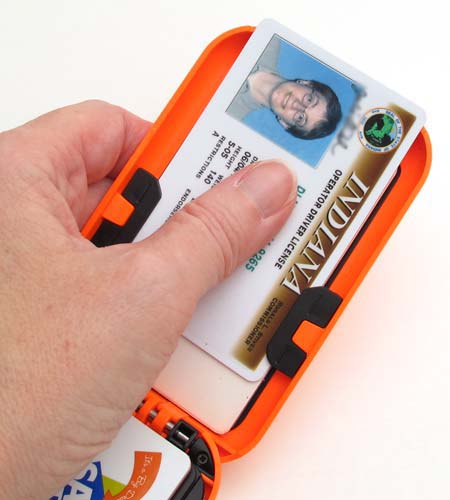 Removing the top card is as easy as sliding it up and out of the slot with your thumb.
The only issue I found is that it's hard to remove cards below the top card, without removing the whole stack of cards in that slot.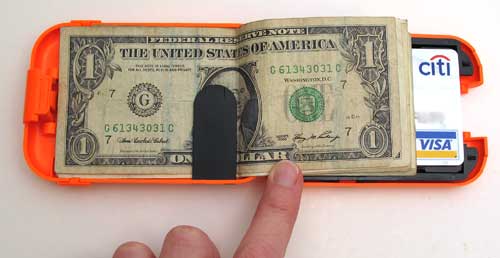 Accessing your cash is simple though with the built in money clip.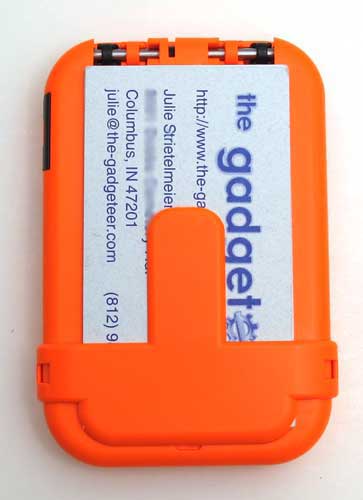 I was able to store 5 business cards in the external clip.
I mentioned earlier that I use the Waterfield zippered wallet. While I was able to move almost everything from it over to the Flipside 2x, I did end up running out of room. There were a few credit cards that wouldn't fit, along with 2 mini discount store cards and a few folded up checks that I have been carrying around for a few days until I can get to the bank to deposit them. I also had a few coins in the bottom of the wallet that the Flipside won't hold. That's one issue that I can see with the Flipside vs. a conventional wallet. Conventional wallets are usually able to expand to hold more items because they are made of softer materials.  I've even used my Waterfield wallet to hold my phone before. The Flipside on the other hand,  has a set storage capacity. Which is not exactly a bad thing. It causes you to think about what you really need to carry with you. If I'm honest, half the cards I have in my wallet have never been used.
The Flipside 2x does turn heads. I've had several people see mine and ask about it. As soon as I press the latch and they see it pop open, their eyes light up.
When it comes down to it, I think the Flipside 2x wallet is a very nice update to the original Flipside 2. It's made better, opens easier, has a 3 card slot, an improved cash slot and a new external business card clip. All that and the price has remained unchanged. For those of you that are looking for a new and unique wallet to add to your EDC (every day carry), you should definitely check out the Flipside 2x. Even if you're a traditionalist… it might just turn you into a modernist.
Product Information
Price:
$39.95
Manufacturer:
Flipside
Pros:

Holds 7 credit cards and 12 bills
Easy to use
Easy to open
Protects from RFID theft and de-magnetizing

Cons:

Difficult to remove cards that aren't on top