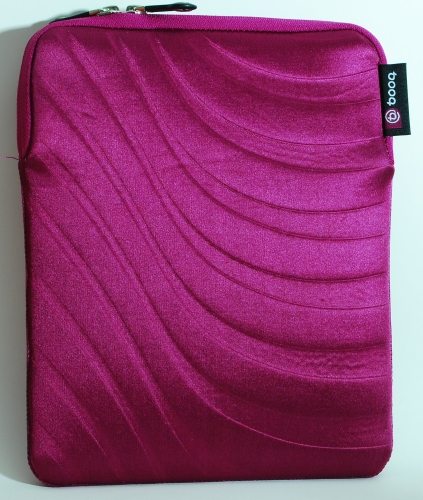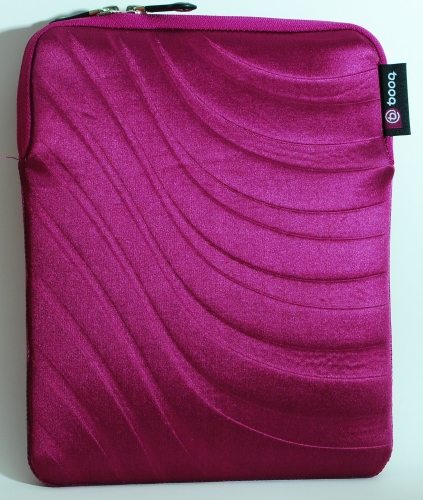 There are a lot of options for covering up and protecting your iPad.  Some people opt for book-style cases, some for sleeves, and others for nothing.  We've seen everything from a clear sticker to cases with built-in keyboards to wooden boxes.  I've opted for just a TPU back cover from Belkin, but that leaves my screen unprotected when I'm transporting my iPad.  I'd like a little extra protection for the screen when I throw my iPad into a bag, but I don't want anything big and heavy.  Booq makes a line of bags and cases for Apple laptops.  They also have products for the Apple iPad.  Julie sent me a Booq Taipan Spacesuit XS sleeve for iPad, and it looks like a good option for lightweight protection.
The Taipan Spacesuit XS comes in three colors: silver, black, and berry.  I received the Berry, and it is a bright, bluish-red raspberry color.  The case measures about 7.5" W X 10" long.  It's very flat when empty – perhaps 0.25" in the body and about 1" at the zipper end.  The zipper has double pulls, and it covers one narrow end and extends down about 2.5" on each side.  The rest of the sides and the bottom end are sewn with an overlock seam (on the outside) done with color-matched thread.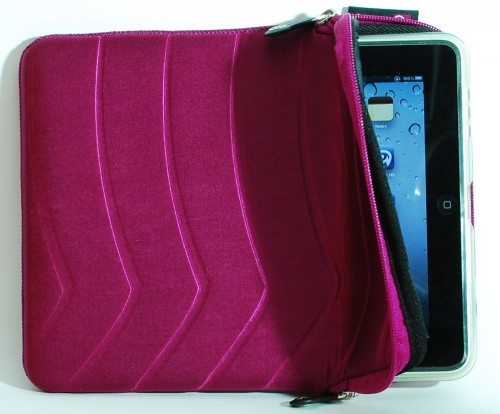 The case is made of neoprene covered in some sort of silky jersey-knit fabric.  The fabric has a very high sheen.  The interior of the berry case is made of the same silky fabric in black.  The seam attaching the zipper is bound with a black ribbon.  The bound seams are big enough that they make a barrier between the metal zipper slider and the iPad to protect against scratches. 
There's a "swoopy" design heavily embossed into the neoprene on one side of the case and a more angular design on the other side.  It's an attractive design, but it does make the case considerably thinner and less spongy in the depressed areas.  Hopefully, it won't be less protective in those compressed areas.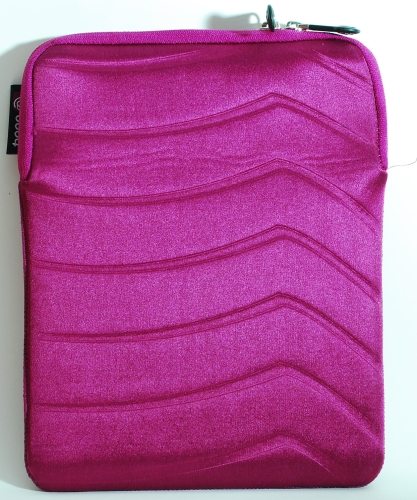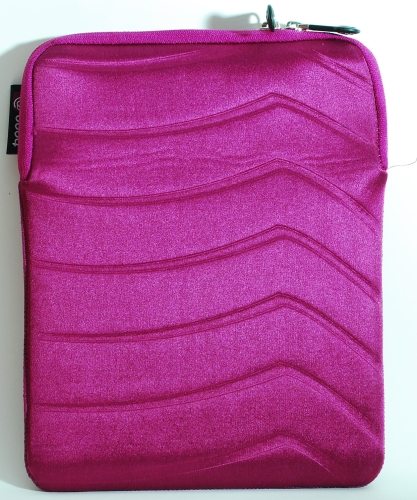 The only branding on the exterior of the case is a very stiff, double-sided woven tag sewn in the zipper seam on one side.  Both zipper pulls have plastic tabs with "booq" embossed on them and a stylized B in a circle (similar to the @) at the end.  Other than the main iPad compartment, there are no exterior or interior pockets.
The Taipan Spacesuit is sized to fit the naked iPad with little room to spare.  Luckily the neoprene fabric has a little stretch, so I was even able to fit the iPad in its Belkin Grip Vue case.  It took a little effort to get it in wearing the Belkin, and it was a bit tricky getting it out, but it did work.
The Booq Taipan Spacesuit XS should work well to protect your iPad inside your laptop bag or gear bag.  I'm not sure it's padded enough to protect against really hard knocks or big drops, but it should protect the iPad from getting scratched by keys, pens, or the like while in your bigger gearbag.
Some of our links in posts like this one are affiliate links, which means that we may receive a small commission on purchases at no cost to you.
Product Information
Price:
$29.95
Manufacturer:
Booq
Pros:

Zippered closing makes the sleeve even more protective
Bound seams to protect iPad from being scratched by the zipper slider
Holds the iPad even in a thin TPU back cover

Cons: