We use affiliate links. If you buy something through the links on this page, we may earn a commission at no cost to you. Learn more.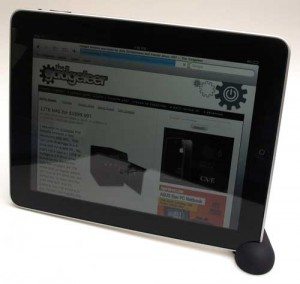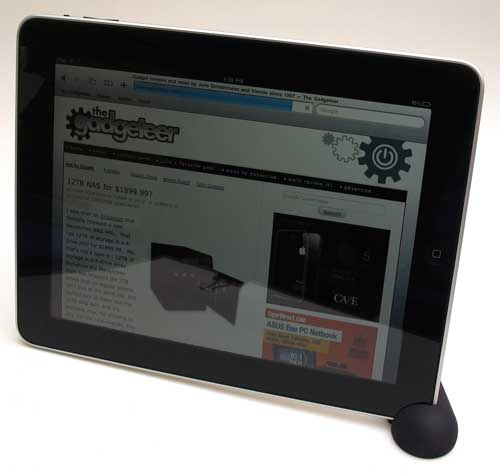 Are you still looking for the perfect stand for your iPad because the current offerings on the market are either too bulky or have too many bells and whistles? The PadFoot from independent Dutch designer Michiel Cornelissen is neither of those things. It's about as simple a stand as you will find. But is it too simple? Let's take a closer look.
Note: Some of the images in this review can be clicked to view a larger size for more detail.
The PadFoot is available in several colors including Black, White, Green and Red. The PadFoot sample that I received is Black.

The first time I held it my hand I was surprised by how small and light weight it was. It almost felt like it was made of rigid foam. The material used to construct it is Polyamide, which is tough but lightweight with a fine surface texture.
Unlike some other iPad stands, the PadFoot is extremely portable. I can't imagine anyone having problems finding space in their gear bag for it.

The stand is actually hollow, with a thin lattice base.
Most products like this one are typically injection molded. But the PadFoot has been printed. Yes, you read that correctly. It's been created through a process called 3D printing where the product is created by laying down successive layers of material.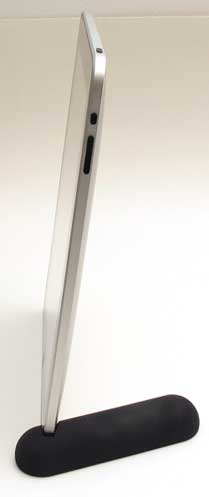 To use the PadFoot, you just slide the bottom right corner of the iPad into the slot. That's it. As long as you've placed it on a flat and stable surface, the PadFoot will hold the iPad securely at an angle perfect for viewing photo slide shows or videos.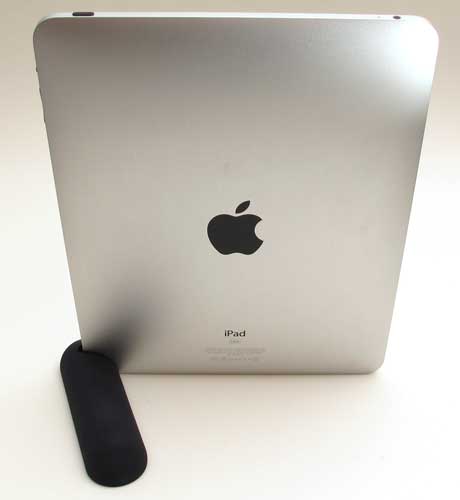 As you might have guessed, you won't be able to adjust the viewing angle. Remember, I told you that there are no bells or whistles here. What you see is what you get with the PadFoot.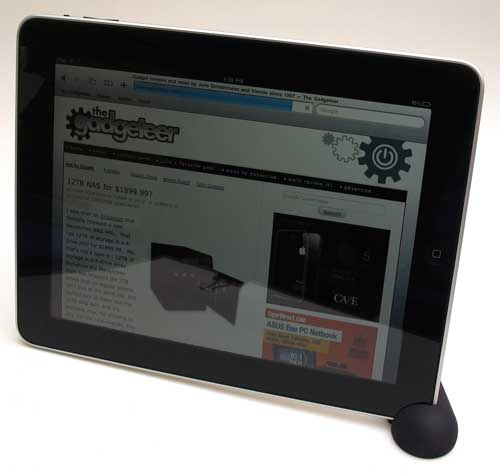 However, it does work well in both horizontal and vertical orientations. I like to use it in landscape mode when I have the iPad paired with a Bluetooth keyboard. It makes me feel like I'm using a laptop.
Other than the fact that you can't change the viewing angle, the only real issue that I have with the PadFoot is the price. It starts out at $25.00 for White and goes up to $33.66 if you want Green or Red. The reason for the high price is the fact that Michiel is not a big manufacturing company. He's using a 3D print service to offer the PadFoot to the public and the "printing" process isn't cheap. Shipping is included in the price though.
If the price doesn't scare you away and you want an easy to use, extremely compact iPad stand, the PadFoot is one such choice.
What is your favorite portable iPad stand?

Product Information
Price:
$25.00 - $33.66
Manufacturer:
Michiel Cornelissen
Pros:

Small
Light weight
Easy to use

Cons:

Viewing angle not adjustable
Pricey