We use affiliate links. If you buy something through the links on this page, we may earn a commission at no cost to you. Learn more.
"When you can't be with them…" is the tag line for the SafeDriver monitoring device from Lemur Monitors.  Some might say "Or when you can't trust them,"…either way, the SafeDriver wireless monitoring device is a sweet little "don't even think about it" mechanism for that new driver in the household.
The second in a series of monitoring devices manufactured by Lemur and I've already had three friends with new teen drivers ask if they can borrow it.  The SafeDriver monitor plugs into your car's OBD II port and once the fob is synced, will report how far the auto traveled, the average speed of the trip and a nifty little feature that tells you whether or not there were any "sudden brakes" applied.  Yep.  Sudden braking.  As in, "OMG, I totally almost hit that car in front of me!  Thank God my parents weren't here, they'd kill me."  Well, 'fess up because they're going to ask you about it.
The device does not record the severity of the braking but does record how many times the vehicle braked hard.  And Lemur is fair and defines this as "a sudden brake is counted when the vehicle speed is reduced by 15 mph in less than two seconds".  In other words, a hard brake.   Put the texting away because SafeDriver is going to rat you out.   And don't even think of resetting or trying to mess with the fob.  Lemur is already two steps ahead by programming in a special tamper proof pin number so the results cannot be changed.  And if you really want to dig your hole further and attempt to remove the sensor from the OBD II port , the fob's battery removed or an invalid pin number has been entered then the words TAMPER appear on the fob that can only be reset by entering the valid pin number.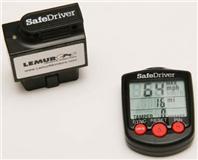 While new drivers or kids who really want to head out somewhere else instead of the library "like they told their old man now", will not really like the SafeDriver, I know parents who love the idea of it.   One friend in particular is not so interested in catching her daughter out as she believes the SafeDriver is a useful tool to help her daughter navigate the perils of being a new driver.
"My idea of a hard brake and her idea of a hard brake are easily two different things," she told me.  "If I am out driving with her, she hits the brakes and the fob doesn't record it, that's one thing.  But if she hits the brakes hard and the fob does record it, there could be several reasons why she had to brake hard and it's a good training tool to sharpen her reflexes. It also helps define what a hard brake is and since I was there, she's really limited on the "it was not a big deal, Mom.  The fob is just sensitive,' remarks.  The device isn't sensitive because I was there the first time she did it.  Like it or not, driving is not learned overnight."
I am not a fan of hard braking and since I live in Indiana, I have to pay serious attention because most of the drivers here are basically clueless to anyone on the road besides themselves.   When I tested the SafeDriver, it worked perfectly in all respects and was very useful but I did not employ any movement that would cause it to record a brake.  This is surprising since I was sure the soccer mom in the minivan in front of me, who was far more interested in texting than in driving, would definitely cause me to score a brake.
With the good, comes the not so good.  It's necessary to sync the device after inserting the sensor but  before you start the car according to the instructions.  If you're trying to catch your new driver in a lie, it's a little suspicious to go out there to start the car for them and attempt to hide the fob.  I'm not sure if this is really a "con" or not.  All new drivers should be prepared to accept and discuss the results of the SafeDriver and adjust their driving habits accordingly.
This is a very useful device for parents and new drivers alike and at $69.95, it's a reasonable price to have this in a house with new drivers.
Product Information
| | |
| --- | --- |
| Price: | $69.95 |
| Manufacturer: | Lemur Monitors |
| Pros: | Easy to install, easy to sync up. Works well, useful too. |
| Cons: | Not really able to sync without the driver knowing for blind testing. Again, not sure if this is a con or not. |