We use affiliate links. If you buy something through the links on this page, we may earn a commission at no cost to you. Learn more.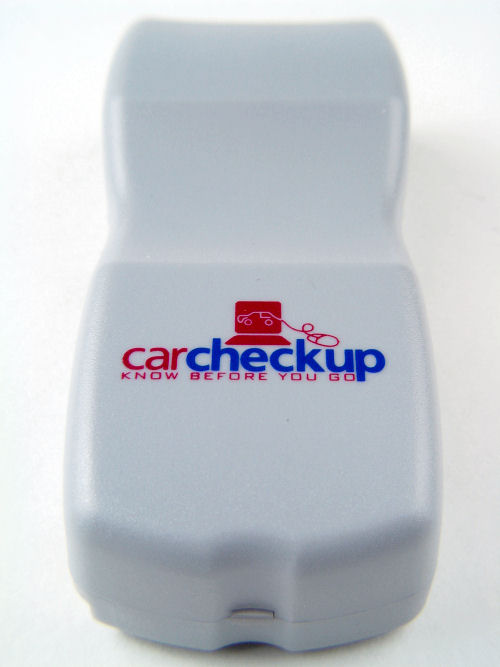 If you've ever had the misfortune of the Check Engine Light (CEL) in your car come on then you are stuck there wondering what the heck is wrong. You could take your car to your dealership or even to an auto parts store but you don't even know if your car can make it that far. What a hassle. Or you could just pop in the handy and helpful device called the CarCheckup.
The CarCheckup is a portable device made to work with foreign and domestic vehicles from 1996 and newer.
A nice thing about having this device is that it can pull up the error codes from your cars on-board computer.  But more on that later.
The CarCheckup is excellent if you keep logs of your mileage and trip times for business and it is a handy tool for those parents who are concerned for their new teen drivers, also.
To use the CarCheckup, you connect the front of the device (the Data Link Connector or DLC)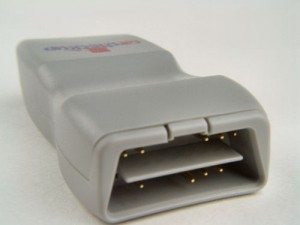 to the cars OBD2 port, or the on-board computer. It is a port under the steering column usually directly underneath or off to the left. Then you drive around and let the device gather information. Unplug from your car. Connect to your computer. Upload to their website and voila!
All the necessary data is collected and displayed for you on your computer screen.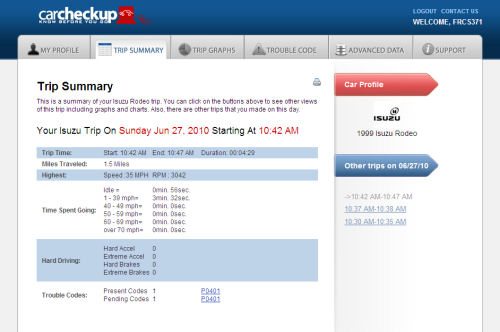 After you plug the device into your car a blinking green light on the back will let you know that it is ready.  When the device is recording data information the light will change to orange. Just be sure not to disconnect the device until the light starts blinking green again or you could damage the device.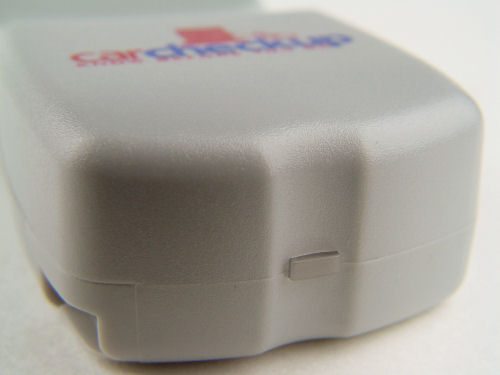 It took me a few minutes to download all my data. I didn't have to wait long at all. A Quick Start Guide pamphlet is included so you can get started but the CarCheckup device is fairly self-explanatory.
There is an impressive amount of data collected from the CarCheckup device and it shows. You'll get information like miles traveled,speeds you were going,  what your RPM's were, braking and acceleration. An all in one driving summary and report. It can even giveyou the date and times that the data was collected.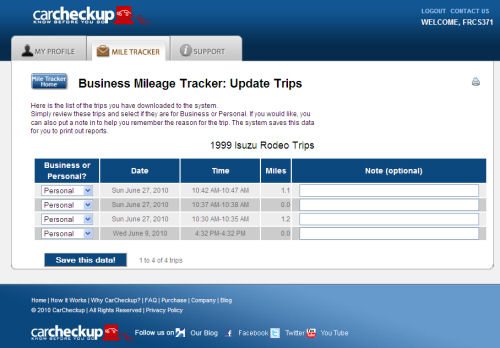 The CarCheckup device has a swing-arm USB connector that plugs in to any USB port on your computer.  It is nice having the swing-arm and not a USB cable that you have to attach later. So no messy wires and no misplacing the cable. However, the their website offers a USB extension cable if you need one for $20.00.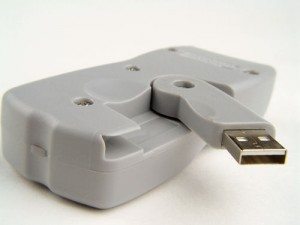 Having a device that can read your car's error codes is a nice feature to have when you need it.  The CarCheckup read my car's CEL and found a code that my mechanic found when I had my oil changed prior to using the device. So I felt that it did as good a job as a professional code reader like the ones that a mechanic uses.
Fortunately my code was nothing serious. Just a dirty valve that needs a shot of carburetor cleaner.
When you register with CarCheckup on their website you are allowed one year subscription for your car so if you have more than one car and want to use the device on another car you have to pay for another subscription.  Every car added is $25 for a year.
Unfortunately, this device doesn't have a LCD readout on it which would be nice to pull up error codes so you wouldn't have log on to the website just to view the codes. But this device is more of a data recorder/tracker with the ability to read codes as a bonus.
But it is nice to have all the data stored electronically so you can eliminate the paper mess and make a printout for a later time when you need one.
The CarCheckup has a MSRP of $149.97 and comes with a 30 day money back guarantee.
Product Information
Price:
$149.97
Manufacturer:
CarCheckup
Pros:

Easy to use.
USB swing arm.
Good job or reading error codes.
Nice portable size.
30 day money back guarantee.

Cons:

No LCD readout.
One yearly subscription per car.