We use affiliate links. If you buy something through the links on this page, we may earn a commission at no cost to you. Learn more.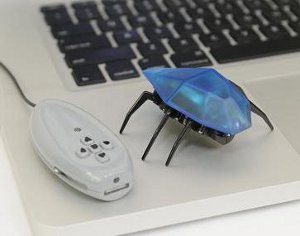 I had the opportunity to see the Skitterbot in action last February when I attended the International Toy Fair in NYC. The Skitterbot is a small bug shaped robot that is crazy fast. It can travel at one foot per second. You can control the Skitterbot with the 5 function remote that includes controls for forward, back, left, right, and stop. A retractable USB charger is built into remote and will provide 15 minutes of play
for a 30 minute charging session. Skitterbots come in Red, Blue, Clear, and Green. They are currently available at RadioShack and Toys R' Us for $19.99. Watch them in action here.