We use affiliate links. If you buy something through the links on this page, we may earn a commission at no cost to you. Learn more.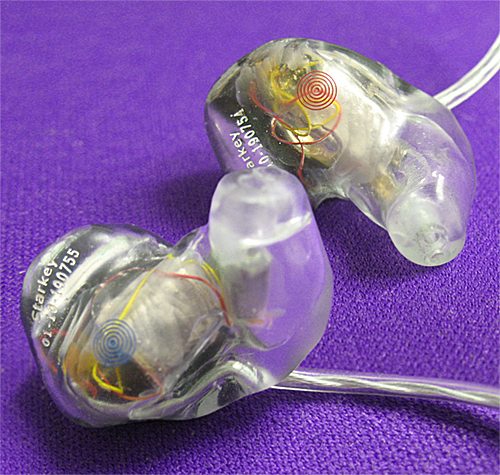 While some earphones/headphones available for the iPhone/iPod/iPad are great, most fall into the pretty good category.  But all of them are light years better than the earbuds that come standard with your device. The difference is that noticeable. This is not a review for you who are still using earbuds, unless you KNOW how awful they are. This review is for you who already have a decent pair of earphones and want to move on to a higher level. And one way to do that is to go custom, like the Tunz Duo in-ear monitors from Starkey Labs.
If you are unaware of what exactly custom means in earphones, think about the last time you saw a performer live or on TV. Today, the majority of musicians have what looks like bad hearing aids in both ears. Those aren't hearing aids and they are most definitely not bad. They are earphones that are custom molded to their ears.
See, ears are like fingerprints. No two are alike. The advantages to acquiring custom earphones are obvious: They will fit you, and no one else… perfectly. The not-so-obvious advantages are increased noise isolation and better bass response. And your friends can't borrow them (they won't fit)!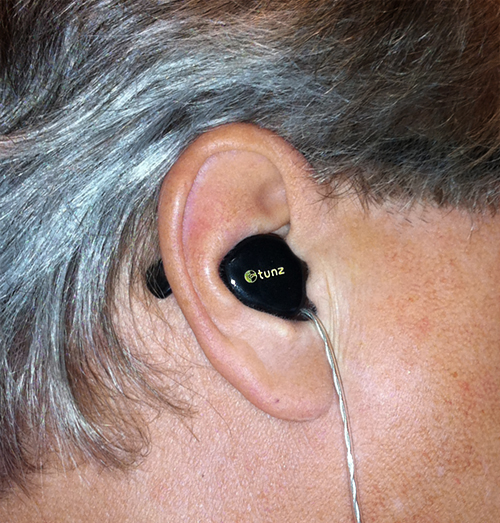 First lets deal with the fit.  With customs, as you insert the earphones, they will literally "snap" into place. It can feel really weird at first. But they will stay in place. No more adjusting or fiddling to get a good seal. And know this, no seal means no bass. Then, there is the almost total isolation from your surroundings. Technically, it's about 24-26 dB of isolation – which is a LOT. You can be riding the noisiest subway and still be lost in your own world. The fit is that good.
The main disadvantage of custom earphones is the price. They are not for the faint of heart. Custom in-ear monitors can go well over $1000. Most fall into the $500-$1000 range. But there is good news for those who are interested in going custom, but will not (or cannot) spend close to that amount, no matter how good they sound.
Starkey Labs in Minnesota have released a brand of in-ear monitors called Tunz. I am concentrating on the consumer dual armature model, called the Tunz Duo In-Ear monitor. At $250 (not including the ear impression cost), the Duos are one of the least expensive dual armature custom monitors on the market.
You begin by getting an open mouth impression (or mold) made of your inner ear by an audiologist (appx. $40-75). It's a process that takes about 15 minutes. Once the impressions are made, they are then mailed to Starkey Labs for construction. In about 2 weeks, your custom earphones arrive (you won't find these earphones in a store).
Inside the box are your earphones, a shirt clip, cleaning tool, and a hard case with the customers name engraved on it.
It may take some practice to insert the earphones, but they will literally snap into place if done correctly. Once in, they stay in.
Interestingly, these customs cost about the same as most good quality universal-sized duos. So you have the added benefit of a custom fit for the same price (minus the impressions cost). Not a bad deal.
So how does the sound compare with other duo or triple armature earphones? I'm happy to say, pretty well, thank you. The Duos are equipped with one bass and one treble armature. I'll admit that they are not quite as accurate as some triple armature (bass, treble, midrange) earphones I own, but the Duos tackled much of what I threw at them with a surprising warmth. Many armature-based earphones can be overly bright. These aren't.
I wanted to see how the Duos handled bass, since this is where most dual (and more) armature customs really shine. I began with the Robert Plant and Alison Krauss album, "Raising Sand." For an album of well-recorded Americana music, this really kicks bass. I'm sure the producer, T-Bone Burnett had a lot to do with this.
I can't listen to "Raising Sand"  in my car, because the speakers just can't handle that  much bass. But hearing these wonderful songs through the Tunz Duos is ear-opening. Believe it or not, this rediscovered bottom end brings out the highs in strange ways. The jangly guitars and Krauss' high whine in "Polly Come Home" gets hung out to dry on lesser speakers. But with the Duos, the highs suddenly have balance with the bass and static drum pounding. Finally, the song sounds complete.
Speaking of Robert Plant, his song "Big Log" from "Nine Lives" features a mid-range percussive repeat that counters nicely with the string arrangements. However the Duos do bring out a certain sibilant quality to Plant's vocals. This song is proof that with the Duos, you are much better off with higher resolution files, which is usually necessary with better earphones.
If you want a kick to the teeth, crank up "Thunderstruck" from AC-DC. Chris Slade's bass drum attack vibrates the brain… in a good way. This song must be played loud to  be fully appreciated. But like before, have a high resolution version available.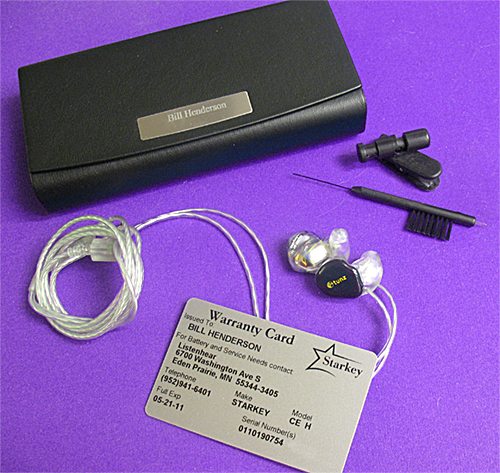 Moving in a totally different direction, but still following the bass route, is Paul Simon's "Diamonds On the Soles of Her Shoes" from "Graceland". The backing vocals of the South African group, Ladysmith Black Mambazo, provide a gutteral low undercurrent that accentuates Simon's vocal woo-hoo-ing throughout the song. And when the bass drum kick comes in at the beginning of "Boy In the Bubble", you jump in surprise even though you fully expect it.
"Long Haired Lady" from Paul McCartney's "Ram" isn't what you could call an audiophile recording but Paul's multi-instrumental talents are in full bloom here. The intimacy is immediate with no drag in the vocals. The crescendo ending is a fun, delightful mess coming from a wall-of-sound approach.
Another example of how unforgiving the Duos can be is The Byrds, "I'll Feel A Whole Lot Better" from their Greatest Hits album. The highs in this great song will absolutely set your teeth on edge. Talk about something in need of remastering. It's just awful.
The Philadelphia Orchestra's version of Claude Debussy's "Claire de lune" from the "Ocean's Eleven" soundtrack is a beautiful wash of melancholic strings which the Duos allow to breath. The spaciousness of the piece is immediately apparent and that's not easy with earphones. Open-backed headphones can provide a better soundstage, but then they're not exactly portable, are they?
If you are still listening to those supplied (free) earbuds and think you are happy with the sound, please, oh please do yourself a favor and invest (at minimum) $60 and upgrade to earphones. A whole new world will open up to you. But be warned: Once you get a taste of that aural sweetness, you're going to want more and better audio sugar… much like the Tunz Duos.
Updates
I still use the Starkey Labs Tunz Duo In-Ear Monitors. Since I review many earphones and headphones, most are not used on a regular basis. Not these. I now use them for music listening while I work around my 2-acre property in Florida. These custom made monitors are so comfortable, that I hardly feel them and they have held up wonderfully over the last 4 years. Plus, they block out so much noise that I can use anything motorized for hours with no worries. The Starkey Labs Tunz Duo In-Ear Monitors have probably saved my hearing. That's high praise.
Source: The sample for this review was provided by Starkey Labs. Please visit their site for more info.
Product Information
| | |
| --- | --- |
| Price: | $250 US |
| Manufacturer: | Starkey Labs |
| Requirements: | You have to be fitted by a professional audiologist |
| Pros: | Inexpensive for custom earphones, well balanced, warm sound, a fit that's better than any universal-fit earphone |
| Cons: | Have to pay extra to be fitted, not as accurate as some earphones |