We use affiliate links. If you buy something through the links on this page, we may earn a commission at no cost to you. Learn more.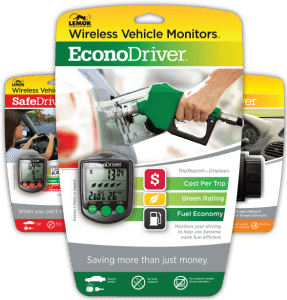 I don't think I have to tell anyone reading this that gas prices suck.  And they're making me motion sick as well.  Up and down, up and down, up and down.   What was $2.89 a gallon when I headed out one day could be $2.67 two days later.  Just yesterday, we left our small hamlet just 30 miles northeast of Indianapolis and headed for the Farmer's Market where I pop and sell kettle corn.   Gas at the Marathon was $2.56.   And that seemed to be the status quo of all gas stations along the route.  Everyone seemed to have gotten the $2.56 Memo.   On our way back into our small Mayberry-esque town, we noticed that Marathon dropped their price per gallon to $2.50.
While that's just fine by me, I'm a budget minded gal.  Many of you might not think that missing out on 6 cents a gallon is a big deal.  But it is to me because I'm just that much of a cheapskate.  I collect couch cushion money for crying out loud because it only takes 35 cents a gallon to refill the water containers for my water cooler.  My favorite expression is "See a penny pick it up and all day you'll have good luck,"   I say this to my husband who gets exasperated when I stop to pick up stray pennies.  He doesn't appreciate this quirk of my personality but that doesn't stop me from doing it.
For two people who work from home, you'd think my husband and I would be saving a lot on gas but I always find somewhere that I just have to go and then there's the Farmer's Market that I work at each Saturday morning.  I am always on the hunt for the best gas prices, always combining my trips, always trying to find the best way to save money on gas.
Lemur Monitors produces the Econo Driver trip report calculator.  This devices takes all the manual calculation out of deciphering your gasoline usage.  Econo Driver comes in two pieces:  the OBD II port sensor and the keyfob reporting device.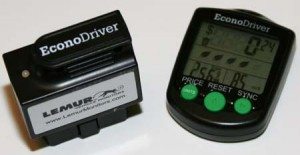 The sensor plugs in to your car's OBD II port which allows the sensor to communicate with your car's computer. You then sync the keyfob with information about your auto's engine size, whether you want the information reported in miles or kilometers and the ransom…er…price you paid per gallon for gas.   Then you go wherever it is you're going to go.  The sensor stays plugged into your car and once you drive off, it begins collecting information about your trip.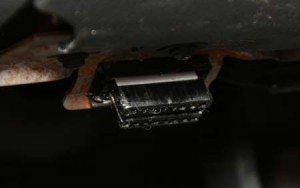 Finding your OBDII port is probably the most difficult part of the entire enterprise.  This port is located somewhere on the panel beneath the steering wheel and you'd be wise to insert the sensor and sync your fob before getting into the vehicle.  Unless you're remarkably limber and/or a contortionist, you're not going to be able to sit comfortably and plug in the sensor to the OBDII port of your automobile.   FYI, I attempted Econo Driver tests on three vehicles:  the Dodge Durango, the GMC Canyon and the Smart Car.  A customer service rep at Lemur admitted that these devices had not been tested on the Smart Car and now I know why…. there is no OBDII port on a Smart Car.  Or if there is, good luck finding it.
The Econo Driver fob reports back how far you traveled, a "green leaf" rating on the efficiency of your driving and the cost per trip based on the price per gallon you synced into the fob.  What I also like is that the device also reports a "waste" factor. The device reports back how much money your trip actually wasted based on your driving habits and it gets all of this information from your car's computer.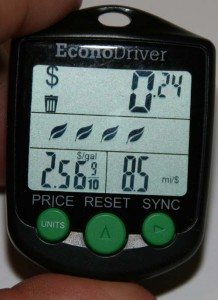 Most of the time, I can figure out for myself what my mileage actually is… a broad but somewhat reliable guess on how much gas I used.  What I never thought of what calculating how much each trip cost me.   The day before the Farmer's Market, I ran all kinds of errands…shopping, picking up this, dropping off that, going here, going there.  I try to plan my driving so that I can accomplish many things in one trip.  There are many reasons for this.  For a woman, I hate shopping.  Don't tell anyone because I could probably get kicked out of my gender for making that statement but it's true.  I hate shopping.  Until two weeks ago, I hadn't stepped into a mall in over 18 months.  But my childhood friend was in town visiting and she has a 14 year old daughter so a stop at the mall was mandatory.  If you live in Indiana or anywhere in the midwest, you also know that we've been suffering a brutal, humid, steamy and sticky summer.  Quite frankly, just going outside to look at my tomatoes is a miserable endeavor so I'm just not jazzed about driving around all over the place in this weather.  But the biggest reason I combine trips is that I'm cheap like that and I just hate driving.  Anywhere.  I thought it was an Indiana thing (where everyone thinks the 465 is the "other Indy 500") but no.. when I lived just outside of Portland, Oregon for a year,  I discovered that I hate their traffic too.  But here in Indiana, I do not have the benefit of the Maxx light rail system or even a decent bus system like I had in Oregon, so I have to drive.
Never miss one of our posts again. Sent MON, WED, and FRI with the latest gadget reviews and news!
As a small business owner who likes to write off everything she can, the Econo Driver trip report is actually an extremely cool feature.  Very cool.  The Econo Driver calculates the cost of each trip you make and this makes life very simple when I sit down to budget my household expenses and notate what I spend driving for my business.  For example, a trip to the Farmer's Market and back is $28.00.   The Farmer's Market is 22 miles away for a total of 44 miles.  This trip cost $28.00.00 in gas which is significantly higher than my errand running trip but I was towing a two wheel, 5×10 trailer loaded with an iron and steel kettle, aluminum sifting bin, propane tanks, gas generator and various supplies.  I am able to calculate the cost of these trips and enter it in to my expenses for business purposes which for me is well worth the $79.95 price tag.
Let's talk about Customer Service.  The Customer Service department at Lemur is nothing short of great.  It's the way Customer Service departments should be run.  Initially, the device I used did not work.  The sensor would not speak to my Durango's computer.   It should be noted that I HATE Customer Service departments.  Usually the company hires some bored twentysomething who knows next to nothing about the product and couldn't care less about it and really isn't interested in helping anyone.  I don't know what the playbook is for Lemur Monitors and their Customer Service department infrastructure, but whatever it is, it should be the Gold Standard that all companies should follow.
I emailed Lemur and got a response in less than an hour!  I actually talked to Greg the Rep  as we worked together to sync up the fob and get the device working.  When it didn't, we resorted to other troubleshooting ideas until we came up with the conclusion that the device just was not speaking to my Durango's computer.   I tried out the device on a friend's rental car. (Aforementioned childhood friend).  The  Econo Driver device worked perfectly.   Greg stayed on top of the situation until he found the device for my auto that would work.  He emailed me frequently to find out results and followed up even when I didn't expect him to.   That's unheard of.  A Customer Service rep that tracks YOU down to make sure they did their due diligence.  When he said he was going to report the problem to someone who could help, he didn't just put my issue aside and go to lunch.  He followed up and within a couple of days I had a Fed Ex tracking number of a new device that would speak to the Durango's computer. When I spoke to him, he was polite and friendly and interested.  He wasn't one of those drones who spout  training in-service lines.  He was alert, he was checked into the situation and was genuinely interested in helping me solve the problem.  And he was a man of his word.  Greg and Lemur have done what other customer service departments at other companies fail to do on a daily basis: build and retain the trust and faith of the customer.
I like the product.  It solves a number of issues for me and while my first device initially failed to work, the company stayed on the problem until I had a device that DOES work and is useful to me.  It's well worth the price.
Product Information
| | |
| --- | --- |
| Price: | $79.95 |
| Manufacturer: | Lemur Monitors |
| Pros: | Device does exactly what it says it will do. Favorite pro is the Cost per Trip analysis which is useful for budgeting purposes and calculating cost of trips for business purposes. Lemur Customer Service Department is extremely friendly, efficient and competent. Reasonably priced |
| Cons: | Read the sync instructions carefully. Fob took a couple of tries to sync successfully. Sensor is a little difficult to remove from OBDII port but other than that, I can't think of too many cons. |