We use affiliate links. If you buy something through the links on this page, we may earn a commission at no cost to you. Learn more.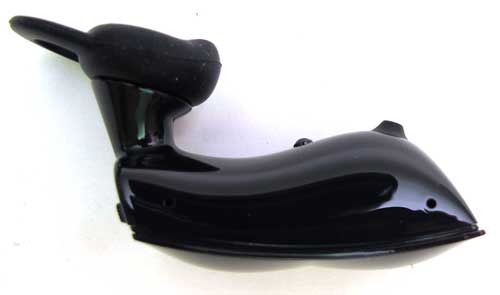 The Holy Grail.  The perfect cherry blossom.  A four leaf clover.  The perfect bluetooth headset.  *BUZZ*  "What are things that are searched for?"  "That is correct!"  Personally I'm interested in the headset, but I wouldn't mind finding a four leaf clover.  On my quest I've found headsets that were almost perfect, but failed for one reason or another.  Will Aliph's latest Jawbone offering end my searching?  Read on to find out.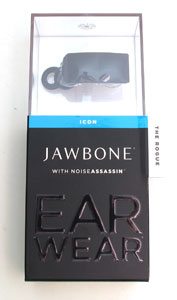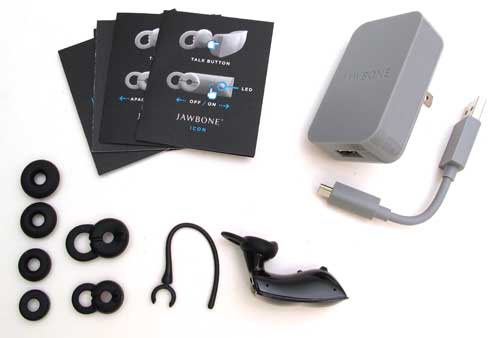 First the nitty gritty.  Aliph is known for its small, sleek headsets that have a sensor that rests against your jawbone (see, not just a silly product name) and detects when you're speaking to eliminate background noise.  I've actually never used any previous Jawbone models, so this is my first introduction to this type of noise cancellation.  The ICON is 45 mm long, 18.25 mm wide and 24 mm high.  It weighs a puny 8.2 grams.  It has a very minimal design with a single button in addition to a dedicated on/off switch.  It's rated for 4.5 hours of talk time and 10 days of standby time.
The ICON itself is available in six different colors/textures (some are much harder to find online than others) and each are based around a unique "personality".  You see, unlike other headsets this one talks to you.  Rather than showing you how much battery life is left with beeps, lights or other hard to decipher methods, this one happily tells you "About four hours of talk time remaining".  When it's ready to pair, it says "Jawbone is ready, waiting for phone to connect."  This is actually amazingly simple and useful.  I could never remember if flashing blue was good or bad, and if purple meant I had a lot of battery life left or none.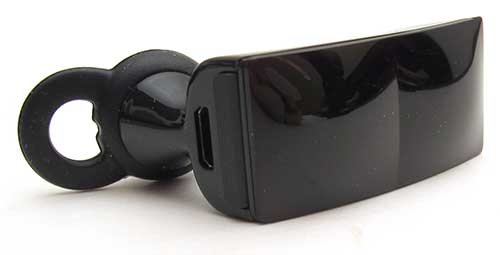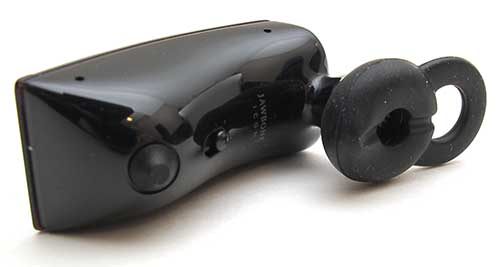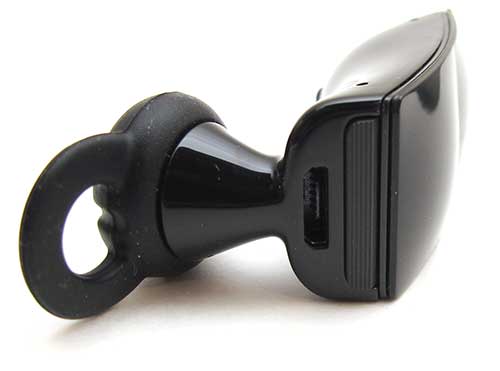 The different designs are called the Hero, Rogue, Thinker, Ace, Catch and Bombshell.  The photos in this review are Julie's Rogue, but I personally am using The Thinker in black.  The default voice is a friendly, but somewhat computer sounding female voice.  However, you can customize your ICON with different voices and applications.  In fact, after you register at mytalk.jawbone.com, you can change the voice, load applications, and manage connections on your device.
Use of the Headset
The ICON paired up with no problems to my Droid 1, Droid X and Palm Pre Plus.  To enter pairing mode you just hold the action button while powering it on which causes the indicator light to flash between red and white.  It really couldn't be easier.
Using the ICON is just as straight forward as pairing it.  Just flip the power switch to on (which shows a spot of painted blue on the switch to indicate "on"), and you're greeted by a chipper "Hey there.  Thanks for waking me up." greeting in a non-computer sounding voice (the message may be different on other ICON "personalities").
When the headset is paired with your phone and you tap the action button (which is nicely sized and perfectly positioned) you'll be told how much talk time is left.  Right now mine is telling me "About three hours of talk time remaining".  It doesn't tell you standby time, but generally the actual talk time is more important.  One nice feature is when you're on a call and the battery is getting low you'll get a warning telling you that there is approximately 15 minutes of talk time remaining.  Much better than the headset just dying which is the case with most other devices.
A long press of the action button activates Voice Commands.  NOTE:  Not all phones or Mobile Operating Systems support this.  It works on my Droid X under 2.1 but didn't work on my Droid 1.  This *should* be fixed with the Froyo (Android 2.2) update but you should check to be sure your device supports Voice Commands over Bluetooth.  In practice this is one of the weakest parts of Android.  The stock Voice Command app under Android 2.1 is awful (IMHO) and there are great third party apps that work much better.  Android 2.2 is supposed to offer a greatly improved app but I have not yet tested it with the ICON.  I don't own any iDevices, so I can't talk to how the device works with them.
A double-tap of the action button will redial the last number called.
While you are in a call a single tap of the action button will end the call.  If you press and hold the action button it will enable or disable Noise Assassin.  The only reason you would want to do this is to show how awesome Noise Assassin works (it really does work amazingly well).
When you receive an incoming call the headset will tell you "Call from 510-555-1212".  Unfortunately you can't configure it to speak the name you have associated with a stored contact, but it's still handy if you can remember important phone numbers of people you definitely do (or do not) want to talk to.  If you tap the button once the call will be answered.  If you press and hold the action button it will automatically send the call to voicemail.
MyTALK
At first I dismissed MyTALK as something that I wouldn't need, but after playing with it more it's quite useful.  When you download the software and plug your ICON into your computer, you are taken to a portal that shows you the current software/configuration on your ICON, allows you to choose different voices, and load software.  The following is the current configuration on my ICON: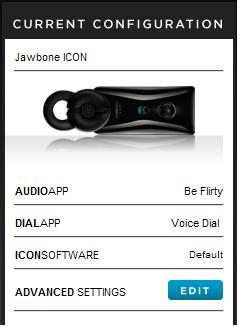 As you can see the Voice (AUDIOAPP) I've selected is "Be Flirty".  🙂  This voice is a flirty female voice.  Don't judge me… 🙂  I have everything else on the default.  If you click on "Edit" under Advanced Settings you are able to name your ICON (helpful I guess if you have more than one), turn voice announcements on or off, turn spoken caller ID on or off, and view or delete connected devices.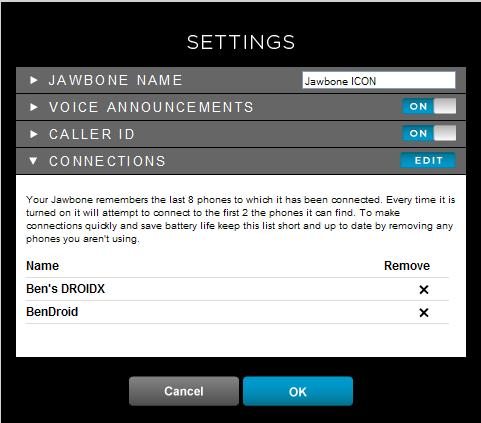 The description here is very important (and now is the first time I'm seeing it).  "Every time it is turned on it will attempt to connect to the first 2 [phones] it can find."  You can't drag/drop the devices to change the order, so if you want a different device on the top you need to delete the ones above it.
The ICON also supports A2DP which is great if you want to listen to audio books or podcasts (I personally don't).  As of this review (8/31/2010) A2DP support is now part of the default software and will work out of the box (if you have an older ICON you may need to update your software from the MyTALK site).
Sound Quality
Okay, so you can have the remaining battery life spoken to you in a flirty female voice…but how do calls SOUND?  In a word: Great.  I've never had anyone complain about the sound quality even when I've asked them "how does this sound?".  As the wearer, the sound is clear and loud.  I sometimes find that if I'm in a quiet room I need to turn the volume down on my Droid X.  I've never had to do that with previous headsets.
The ICON features Noise Assassin which in practice works amazingly well.  As mentioned, Jawbone models have a sensor that rests against your jaw to detect when you're speaking.  With the ICON you do not need to have the sensor in an exact spot, anywhere on your face seems to work well for me.
I previously used the now discontinued Zivio Boom which I LOVED.  Well, I love the ICON more.  I wrote a review of the Sound ID 400 (which I did not like) and used the Zivio as the comparison device.  Here is the Jawbone ICON compared to the Zivio and Sound ID 400:
Jawbone ICON with NO background noise (30KB .WAV File)
Jawbone ICON in my car on the highway (31KB .WAV File)

Jawbone ICON in my car on the highway with the passenger window down (30KB .WAV File)
Jawbone ICON in my car on the highway with the passenger window down and Noise Assassin disabled (31KB .WAV File)

Sound ID 400 with NO background noise (33KB .WAV File)
Sound ID 400 in my car on the highway (66KB .WAV File)
Zivio with NO background noise (33KB .WAV File)
Zivio in my car on the highway (225KB .WAV File)
Conclusion
So, is the ICON perfect?  To me, YES.  For the first time since I switched from wired to bluetooth, I have stopped looking for a new headset.  The ICON has amazing sound quality on both ends of the line, it's extremely comfortable and very rugged for its small size and light weight (mine's been stepped on and dropped a couple times with no ill effects).  If you want something sleek and subtle or if you want something flashy and blinged out there's an ICON personality that will give you the look you're after.
Product Information
Price:
$70 to $100 (Depending on
Manufacturer:
Aliph
Pros:

Excellent sound quality on both ends of the call.
Comfortable and extremely secure in the ear.
Noise cancellation works extremely well.

Cons: