We use affiliate links. If you buy something through the links on this page, we may earn a commission at no cost to you. Learn more.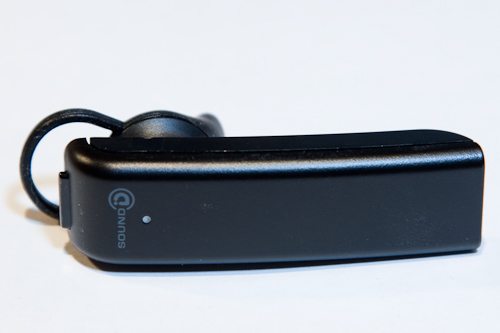 When Julie announced the Sound ID 400 I couldn't wait for it to be announced.  Small, simple and packed with features like PersonalSound (enhanced listening power) and Automatic Volume Control (self-explanatory) in a nice looking package.  Well I've been using the headset for a little while now, and was surprised by how it performed.
The Sound ID 400 is the fourth generation bluetooth headset from Sound ID.  It is visually very similar to their previous three headsets (which I have not used personally).  It is all black with a faint Sound ID logo and only has two buttons: the Main Button and a single volume button.  In addition, there is a tiny status light on the front of it and a micro-USB charging port on the back of it (the part that rests against your cheek).  It comes with three earpieces — two in-ear sizes and an over the ear loop with a foam cover.  The box also includes a micro-USB to standard-USB cable and a wall charger with a USB port.  (I love these modular chargers since they can be used with any device.)  Personally I would have preferred a mini-USB connection on the headset so I could use the many cables I have, but I understand that micro-USB is getting more standard and is better than a proprietary connection.
The headset itself is "standard" sized at 2.1″ by .6″ and weighing in at a very light 8 grams.  The stated talk time is 7 hours and the standby time is 8 days.  I did not test these values but "standby time" may be affected by the fact that the headset turns off after a period of non-use.  Of course with it off the battery will last a long time.
As of this review the headset is only available direct from SoundID.com's website which is curious.  It retails for $129.99 which is on the high-end.  You can get the Plantronics Voyager PRO for $85 or the Plantronics Discovery 975 for about ~$130.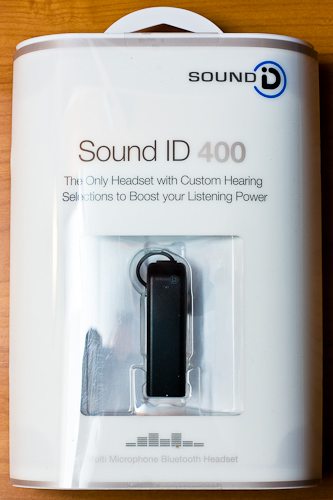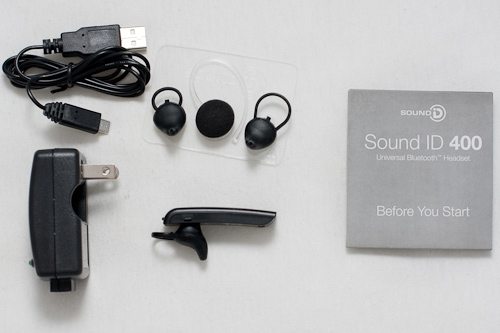 The headset itself walks a fine line between boring and sleek, but I'm not sure which side I feel it sits on.  It has a clean matte black look with no unnecessary design elements.  It's the type of headset that no one will ask you about and most people won't even notice.  For the style conscious (not me) it would work for everywhere from the beach to the boardroom without looking out-of-place.  From a functionality point of view it has some huge problems.  The first problem is no doubt touted as a feature: the single volume button.  There is no up or down, just up.  When you reach the max volume it cycles around to the bottom and so on.  It's not a deal breaker, but it is odd at best and annoying most of the time.  Simply adding a second volume button would not have any negative impact on style and would improve function.  Having said that, the Automatic Volume Control really does seem to work, and I've not yet had to adjust the volume on a call.
Then there's the Main Button.  The Main Button, the one that answers and ends calls, pair it with your phone and basically do everything non-volume related was clearly placed by a team that did not have ears.  The Main Button sits on the end of the headset opposite the microphone and in order to press it you have to wedge your fingers between the headset and your ear.  Maybe my ear has a weird cartilage setup, but when I want to press this button it involves squishing my ear back and wiggling the headset.  It's quite annoying, and honestly if I had purchased the headset this problem alone would have caused me to return it.
It may seem like TMI, but it does apply to this review:  I am a lazy groomer, and as such I do not shave every day.  The way the Sound ID 400 sits against my cheek when I open my mouth to talk, yawn or chew the stubble rubs against the headset and makes a scratchy sound.  It's annoying.  Now, I have a fat face so if you have a thinner face it may not rub as much.  Of course women (who aren't in the circus) won't have this problem.  I have never used the Jawbone, so I don't know if this happens with it as well since it sits against the users' cheek.  But, for this review it's a negative and almost makes me want to just shave that small patch on my cheek each day.  Almost.
From a comfort perspective this is a very comfortable headset.  I use the smaller of the two in-ear loops and it fits perfectly.  I can shake my head till I almost black out and this headset isn't going anywhere.  Also, it feels quite durable and I wouldn't hesitate to throw it in my pocket or bag without worrying that it will break.
So of course the big question is how well does the headset perform?  This is a mixed bag.  For the wearer, the quality is excellent and very clear.  For the person on the other end of the call, it depends.  Some callers I spoke with said it sounded like I was in a tunnel or elevator and things had an echo.  Other times everything sounded fine.  In a quiet environment the headset works very well, but as the background noise increases, the quality decreases.  It features dual microphones (the main one and one on the opposite side) designed to detect and eliminate background noise, but I can't see that they offer anything above a single microphone headset.    My other headset is the awesome Joby Zivio Boom so that's what I was comparing to (I just found out that the Joby Zivio Boom is discontinued!).  There is a clear difference between the Sound ID and the Zivio, and especially when in a moving vehicle with background noise the Sound ID tends to be very distorted at times.  Here are two examples of each with background noise (traveling 60mph in the car) and no background noise.
Sound ID 400 with NO background noise (33KB .WAV File)
Sound ID 400 WITH background noise (66KB .WAV File)
Zivio with NO background noise (33KB .WAV File)
Zivio WITH background noise (225KB .WAV File)
I have also found that about 75% of the time when a call connects I hear a very short but loud burst of static in the headset.  It's really annoying, but I have not been able to identify when or why it happens.  It does not happen on my Zivio, and does not happen all the time.  I can go a day or two without the static, then the next day it's static city.  After over a week of use, it's now at the point where I cringe when I'm placing a call in anticipation of the static.
The Sound ID 400 does offer some unique features such as PersonalSound, Environmental Mode, NoiseNavigation and Automatic Volume Control.  Notice I said "unique" and not "cool" or "useful".
PersonalSound just makes everything sound increasingly "echoy" and really is an odd feature.  It just makes things sound like it's been electronically enhanced (as it has).  I suppose it could be useful if you're in a really loud environment, but then you would just want to increase the volume instead.
Environmental Mode is something that seems great on paper, but just doesn't work.  When you're wearing your headset and not on a call if you hold the volume button for about two seconds it activates Environmental Mode.  This enables the microphone on the headset and plays it through the earpiece.  This would be a great feature, except for the noticeable and increasingly annoying hiss that also plays.  In fact, turning it off after using it for just a minute is an amazing relief.  I don't quite feel like shouting "THERE ARE FOUR LIGHTS", but it's close.  If the hiss weren't there, it would be an awesome feature.  As it is, I'll never use it.  Also, when the microphone is enabled our old friend "stubble scratch" shows up again since the microphone is activated and rubbing against my cheek.
NoiseNavigation uses dual microphones on the headset (the main one against the cheek and one on the back by the Main Button) to optimize sound and remove background noise.  I can't say if this works or not, but background noise is fairly well controlled.  If it weren't for the echo sound of the headset itself, it would be easier to tell how well background noise is removed.
As previously mentioned, Automatic Volume Control does seem to work well and I've not had to adjust the volume since I started using it.  This is actually a really nice feature and I hope it starts showing up in other headsets.
One "quirk" I found is that the Sound ID 400 shows up as SOUND ID 300 on my Verizon Wireless Touch Pro 2.  It works fine and definitely IS a Sound ID 400, but it's just strange.  What's even more strange is that on my laptop it shows up correctly as SOUND ID 400.  I've added and removed it and it always shows up the same way.
To round out the list of negatives, the Sound ID 400 cannot activate Voice Command and cannot reject a call.  These are both very important features for anyone who uses their phone while driving.  Voice Command has become very useful to me and rejecting a call is just a nice feature that is standard on almost every other headset.
I truly do not intend this review to just bash the Sound ID 400, but honestly for a fourth generation product it is a huge disappointment.  Having read some other reviews on the headset it is possible that I have a lemon, but really the design elements (awful button placement and single volume button) poor performance, incorrect bluetooth name and call connect static are just not excusable for a mature product.  Personally I will not be using this headset anymore and will probably leave it in my car as an emergency headset.  I was really looking forward to this product after the initial Gadgeteer spotlight, and am quite disappointed by the results.  I cannot recommend this headset as there are better choices on the market.

Product Information
Price:
$129.99
Manufacturer:
Sound ID
Pros:

Excellent sound quality to the wearer.
Excellent bluetooth power/range.
Comfortable and extremely secure in the ear.

Cons:

~75% of the time there's a very loud burst of static right when the call connects.
Environmental mode and PersonalSound are not useful features.
Main button is in a bad location.
Single volume button should be replaced with up/down buttons and relocated.
No Voice Command ability.
Cannot reject a call from the headset.