We use affiliate links. If you buy something through the links on this page, we may earn a commission at no cost to you. Learn more.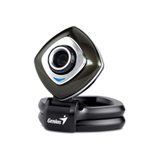 Are you a fan of sending webcam films of little Wanda and her loose tooth to Aunt Millie in Iowa, or any other webcam uses?  Genius, a Florida company with an extensive line of webcams has just released what looks to be a pretty cool new webcam, the eFACE 2025 which is bundled with CrazyTalk software.  Here are some of the "particulars" on this webcam:
720P HD 2.0 M pixel video
CrazyTalk Cam Suite Pro software
captures still images at up to 8.0 megapixels
foldable and easily transportable
PC and Mac compatible
about $60
The CrazyTalk software looks pretty cool.  A preview of its features can be found on this tutorial:
http://www.geniusnet.com/event/webcam/
The tutorial was dreadfully slow to load on my computer, so here are some of the features of the software:
Image and Video Capture with a one-click YouTube upload button
Monitor mode where the webcam is switched into security mode with motion detection
Avatar Live where users become their chosen avatar that can change facial expressions and voices
Media Desktop Share so users can share video clips, photos and live desktop activity without delay
Looks like Aunt Millie may be getting more in her in-basket soon!