We use affiliate links. If you buy something through the links on this page, we may earn a commission at no cost to you. Learn more.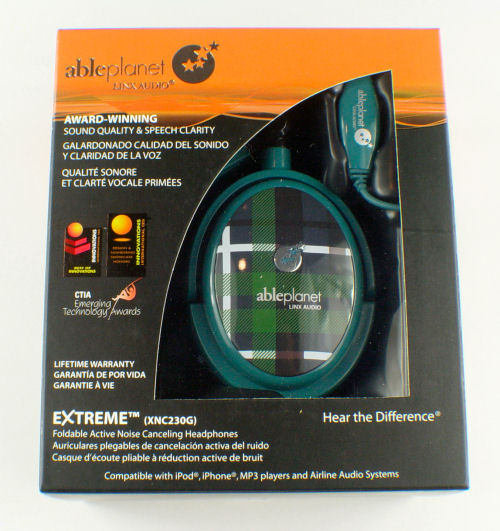 In a world with audio electronics from MP3 players to laptops to iPods to cellphones, a common denominator among them are headphones. Without a good pair of headphones, listening to these devices would just be dull.
Able Planet's Extreme Green Plaid (XNC230G)  is the green version of their foldable noise cancellation headphones. They also come in pink as well. It should be noted that 10% of every sale of Extreme Pink Plaid Noise-Canceling headphones  is donated to breast cancer charities. That's a great thing Able is doing.
The Extreme Plaid models are entry level headphones that are foldable and collapse to an acceptable size for traveling or storing in a backpack, luggage or large purse.  Travelers who don't care for wearing headphones around their necks will enjoy the ability to tuck away the headphones while not in use.  These headphones are a little bulkier than the average headphones but being able to pack them away is a nice feature.
The Extreme Plaid headphones come with a removable 3.5mm plug cable with the in-line volume control on it. This is nice if you want to remove it from the headphones to make it more compact to tuck away.  Able Planet's website has an accessory audio cable with boom mic to replace the standard in-line cable. This is handy for gamers or for cell phone users with the PTT (Push-To-Talk).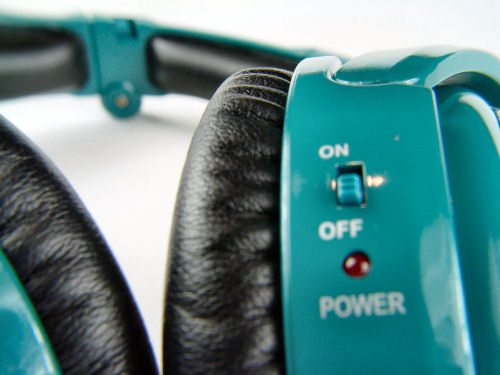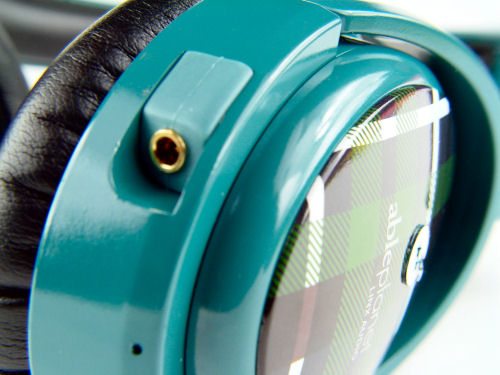 The Extreme's noise cancellation is activated by an on/off switch on the back of the right headphone. On the left headphones is the battery door for the included AAA battery that powers the noise cancellation.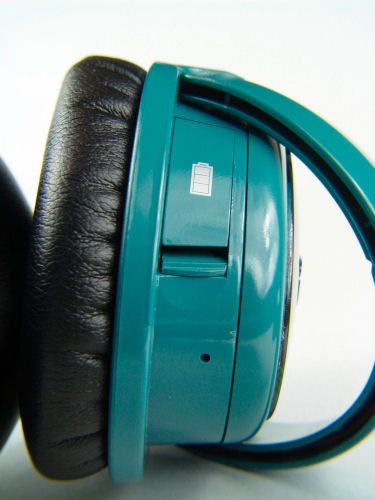 Not to fear though, if the battery goes dead or you don't have a battery, you can still use the headphones in a passive mode.  However, without the noise cancellation on, the volume isn't as loud and clear even with the in-line volume turned all the way up.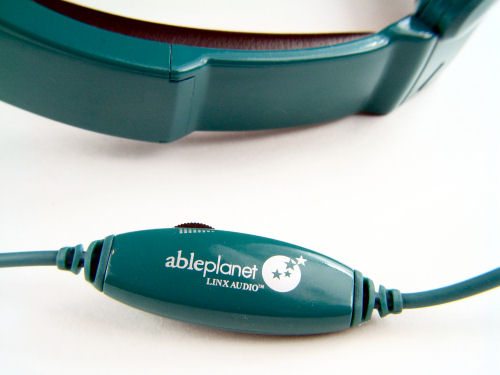 The Extreme headphones are equipped with LINX AUDIO which  is Able Planet's patented technology to enhance audio sound quality and speech clarity.  According to Able's website, the LINX AUDIO removes undesirable sound and noise making it easier to hear high frequency music sounds and enhancing voice clarity.
In addition to the large ear cuffs which block out a good amount of background noise already, the LINX AUDIO does an impressive job of producing sound quality.  With the noise cancellation switched on, the sound was boosted while the background noise was totally eliminated.  I can say they work very well. As soon as I switched them on I got a sensation that the air around my ears was sucked out as if the ear cuffs were mini vacuums. However, I did find the audio to be a little bassy and midtones were kinda low but had good sound quality overall.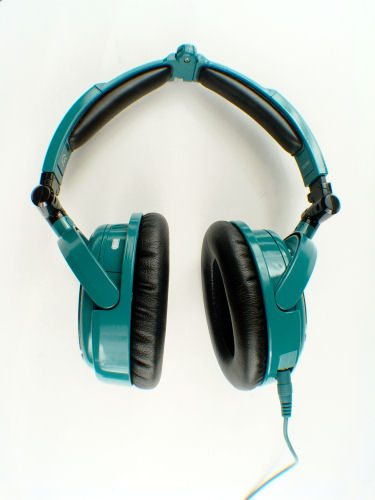 The headband has a nice thick pad which makes wearing the headphones fairly comfortable along with the cushy earcuffs. The headphones can be adjusted to size via the telescopic headband. They are a good pair of headphones for DJ's, serious gamers or just music lovers. Although the headphones are very comfy I seriously doubt they are recommended for jogging or other vigorous activity since they do have the bulk on it.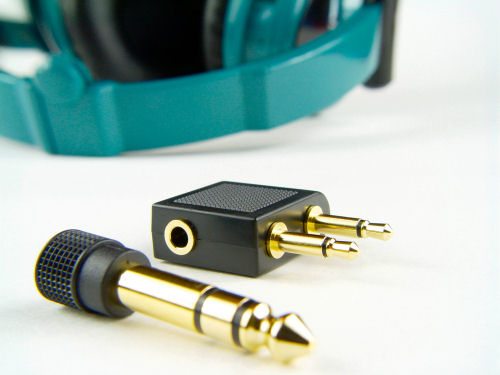 Here are some tech specs:
Frequency Response: 20Hz – 20,000Hz
Sensitivity at 1 kHz: 115 dB (Off); 121 dB (On)
The Extreme Plaid headphones come with a 1/4″ Home stereo adaptor, an airplane adaptor,  a soft carrying bag, and one AAA battery.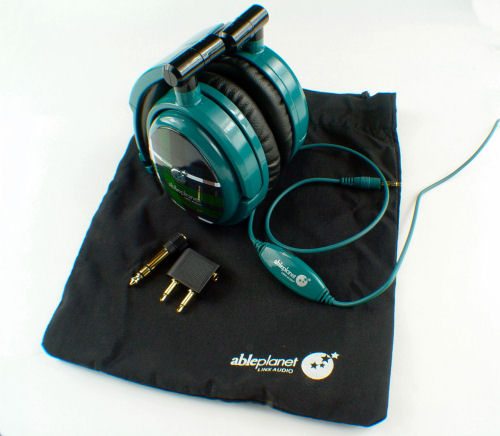 Product Information
Price:
$149.99
Manufacturer:
Able Planet
Pros:

Foldable and compact.
Comfortable headband and earcuffs.
Noise cancellation.
Linx Audio technology.
Good sound quality and clarity.
Removable audio cable.
In-line volume.

Cons:

Bulkier than average headphones.
Sounded bassy.
Not suitable for use during jogging.