We use affiliate links. If you buy something through the links on this page, we may earn a commission at no cost to you. Learn more.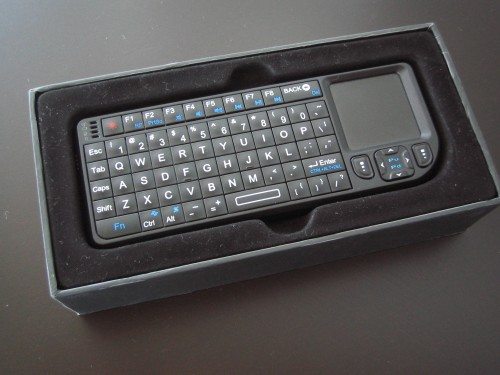 I am all about convenience. Any thing that makes life easier, takes up less space and works well, is all-good by me.  The Magic-Pro Tiny Keyboard from Pyramid Distribution makes my life easier. It is a keyboard, mouse and laser pointer that I can hold in the palm of my hand.  The same size as a remote control, the Magic-Pro stands out because few devices match its functionality and size.  The size makes it a perfect fit for interactive presentations and in my case and maybe yours, a media room with a computer based multimedia setup.   Could it really be magical?
System Requirements:
Windows 2000/XP/ Vista/ 7
Mac OS 10.x or lower
Linux (Debian 3.1, Redhad 9.0, Ubuntu 8.10/ Fedora 7.0)
The box includes the Magic-Pro Mini Keyboard, a USB charging cable and user manual.
It's hard for me not to call it a remote control because it looks like one. It is a remote control with a full keyboard, mouse and laser pointer. Although it won't control your television channels, it does allow you to fully control your computer, which is especially helpful in PC/Mac based multimedia setups or while doing interactive presentation.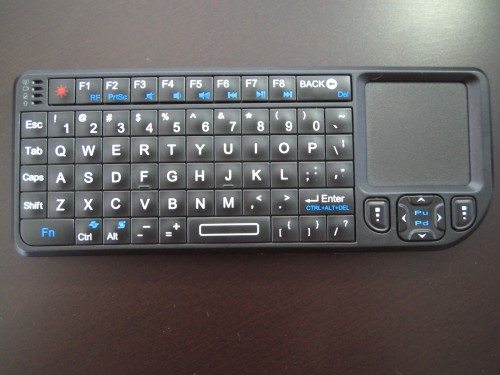 For me, the Magic-Pro is a perfect fit for my living room multimedia set-up.   Many of us have moved to computer based media setups in our living rooms and love it (me included).  Many devices, websites and applications are available to facilitate television watching through a computer as part of a multimedia setup. The Magic-Pro allows you to combine several peripherals (keyboard, mouse) into one easy remote control size unit that is easier and more convenient for home use.  The only trouble now is that I have 4 remote controls! I would consider it truly MAGICAL if it could combine all 4 into one. But for now it is better than having a full size keyboard and separate mouse to deal with.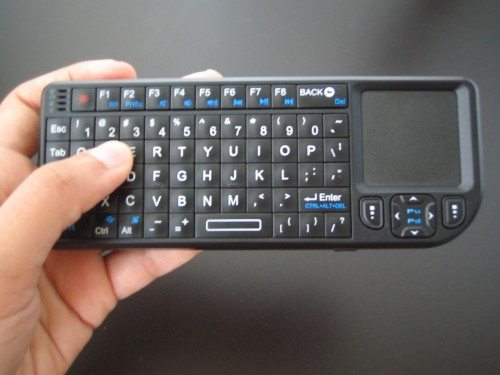 I'm all for combining multiple functionalities into one device, if it's done well. Before the Magic-Pro, I had a full size wireless keyboard and separate wireless mouse for my living room media setup. Now, this all in one tiny keyboard allows me to get rid of two devices and replace it with one remote control sized solution.  I can surf the web, watch videos and control my computer through my TV from my couch AND in the palm of my hands.
It's hard to find a full QWERTY keyboard on a device the size of a remote control. The closest thing I could find to the Magic Pro was by Brando, who makes a mini keyboard, which is still almost twice the size of the Magic Pro and looks more like a full size keyboard and is not wireless.  Microsoft also makes a full size keyboard with remote control functionality built on the keyboard.  Neither is in the same class as the Magic-Pro Tiny Keyboard.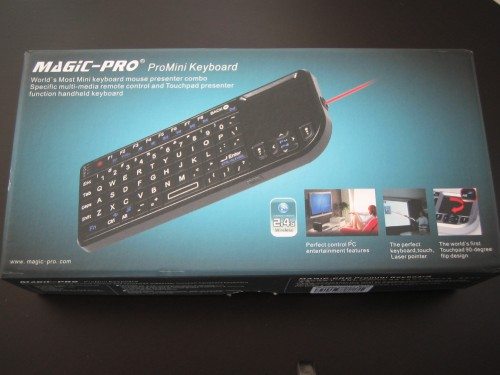 I was using the Magic-Pro Tiny keyboard right of the box without software setup. It is plug and play and does not come with any software to load onto your computer.  The USB dongle is larger than I prefer but having to use only one USB port to get wireless keyboard and mouse (and laser pointer) functionality is fine by me! My previous setup took up two USB ports, one wireless receiver for the keyboard and another for the mouse.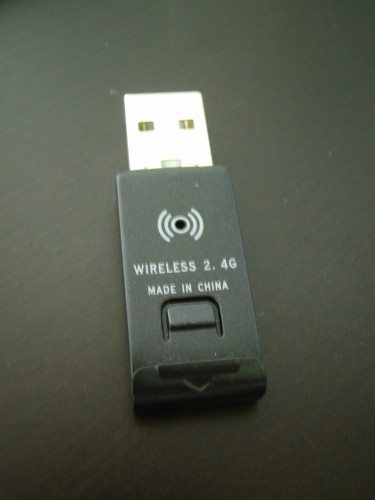 Using the mini keyboard is convenient. The size of the keyboard lends to double thumb typing, which is fine for light surfing and even chatting.  I would not use it to write documents.  The on-screen mouse is somewhat sensitive to maneuver with your thumbs. Double clicking on the touch pad is allowed. Its maneuverability makes it hard to get exactly where I need it to click.  This is one of my cons for the Magic-Pro, its not so magical mouse control.  This can be especially difficult if your screen resolution is set high.  It takes getting used to and for most applications it's not bad at all. It may be less suited for precision mouse controls.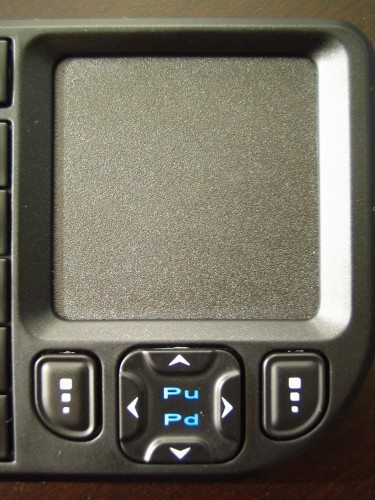 The right-click and left-click buttons are rather small and located below the touch pad making the functionality a little cumbersome to maneuver. There is going to be learning curve in trying to use the right/left click mouse buttons. I had to use both thumbs, one on the mouse pad and another on the right or left click button.  I guess there has to be some compromises when creating a tiny keyboard, but the right/left click buttons could have been integrated a little better given that your thumbs will do most of the work. Perhaps a right/left button on the top edge for the index fingers to use, similar to video game controls.  Or a trackball?? Just throwing ideas out there…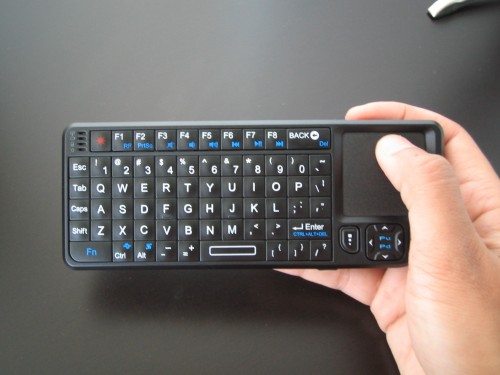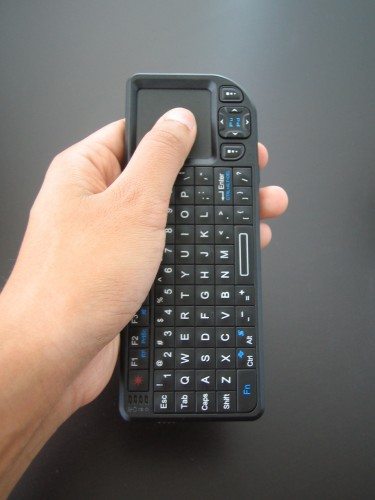 With that said I do really like the feature that allows you to rotate the mouse orientation 90 degrees.  The rotation feature allows you to hold and maneuver the mouse pad vertically or horizontally.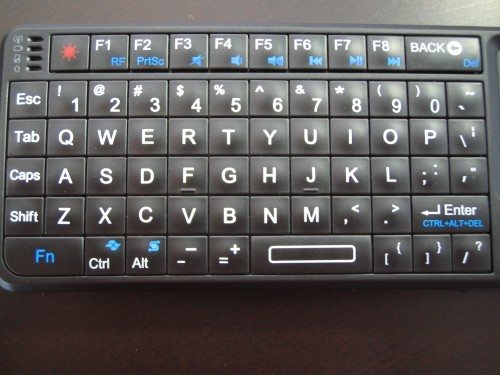 The blue multimedia controls are compatible with iTunes and Windows Media Player but I did not find them compatible with Winamp.  The volume functions control the computers overall volume level, not the volume level within each application itself.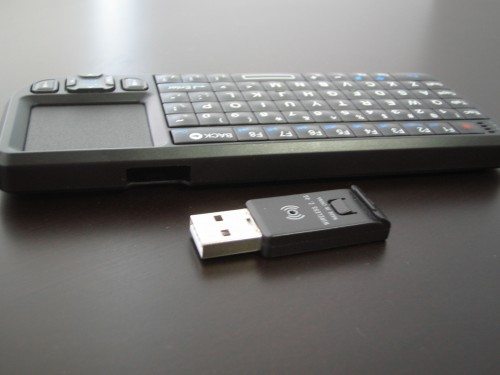 The USB dongle provides a 2.4 GHz wireless RF receiver with a range of up to 30 meters.  The USB receiver conveniently stows away inside a slot within the keyboard itself for extra convenience when carrying around.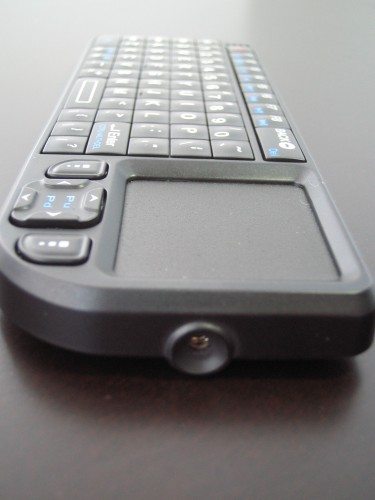 I may not use the laser pointer feature as much since I'm not doing presentations in my living room, but I do not want to underscore the usefulness of the Magic Pro for training, teaching, and presentations.  The Magic-Pro is a useful tool for interactive presentation or workshops where the presenter may be demonstrating an interface or typing live on the screen.  It's a little big for my preference to use just as a laser pointer.  I prefer a smaller clicker with built in laser pointer.   However, for more interactive presentation, this is a fantastic tool.  I'll have a chance to try it out next month.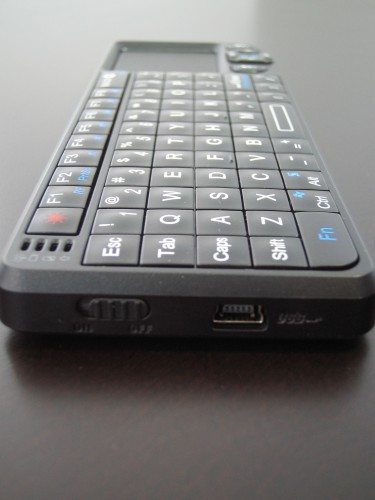 A built in lithium-ion batter provides long battery life, 500-700 hours according to the specification.  I used mine for about two weeks without recharging before it started getting sluggish.  The device has a built in auto-sleep funtion in order to save power when not in use after 3 minutes. In the sleep state you only need to click any button to wake-up the device.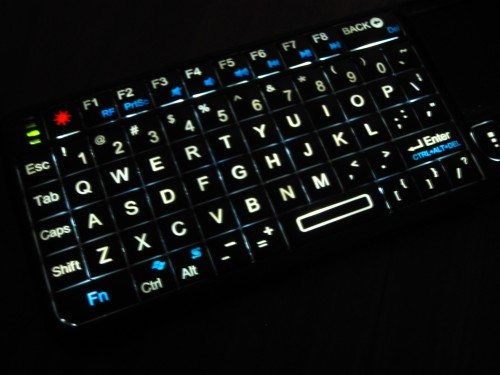 24 LEDs provide a nice back-light that illuminates the keys well and is handy for dim lighting situations.  There is a back light on button. The back light times out after 3 seconds to save battery life.  The indicator lights in the upper left corner include RF indicator, charging indicator, low battery indicator, and Cap lock indicator.
Magic-Pro Mini Keyboard is made by Magic-Pro Computer Asia and distributed by Pyramid Distribution for $69.99