We use affiliate links. If you buy something through the links on this page, we may earn a commission at no cost to you. Learn more.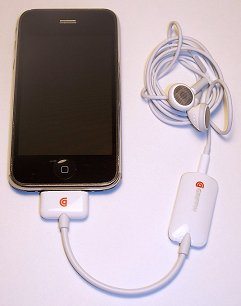 One feature that has always been lacking in Apple's iPhone and iPod family that many other MP3 player models have had is an FM receiver.  Though many may scoff and offer a flippant, "Who cares about radio?", it's a feature that was sorely missed when my wife switched from her Sandisk Sansa MP3 player to her 4th gen iPod nano and later her iPhone 3GS (shown in this review), who uses the FM to listed to TV audio broadcast at the gym.  I had begun to give up hope that I'd ever find a solution to this until I stumbled upon the iFM radio receiver from Griffin Technology.  Read on for more…
The Packaging
The packaging for this product is simple and straightforward.  I quite like the trapezoidal shape, with the inside tray that slides out from the outside sleeve, but only in one direction.   The windows in the back that allow you to view the actual product are a must.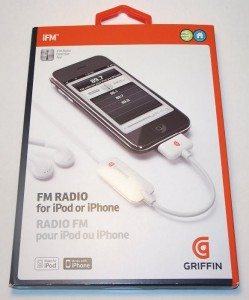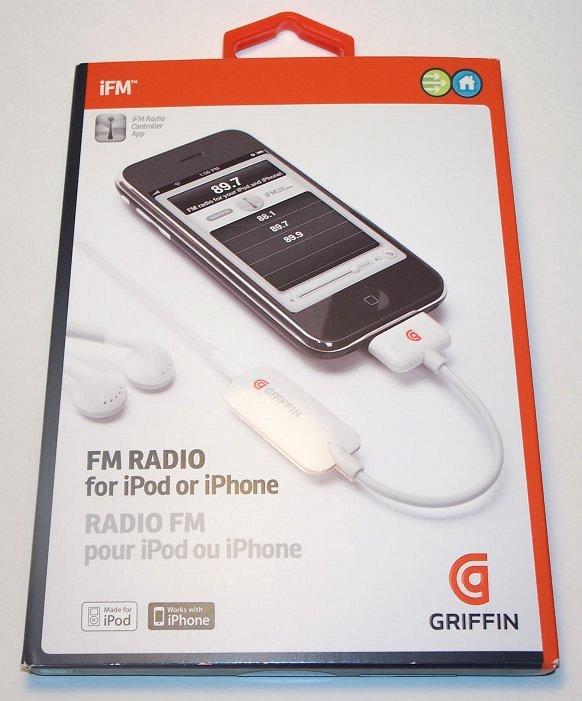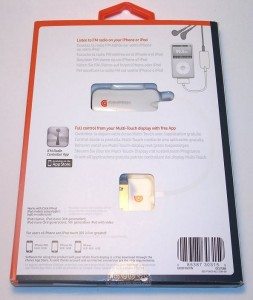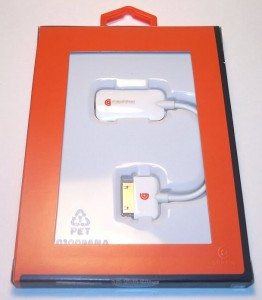 Inside the Box
The contents of the package, like the packaging itself, were quite simple, consisting of the following:
iFM radio receiver
griffintechnology.com decal
instruction manual (which I promptly misplaced before I could snap a picture)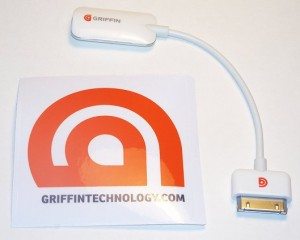 Features – Hardware
The iFM device itself is quite simple (seeing a theme here?).  It consist of a headphone jack module and an iPhone/iPod dock connector module, both connected by a 4-inch length of cable.  All in basic white color scheme with the Griffin logo.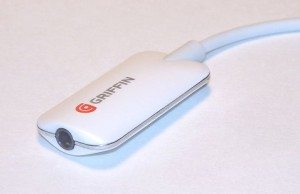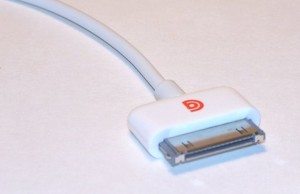 The iFM has the appearance of a natural extension of the stock iPhone earbuds: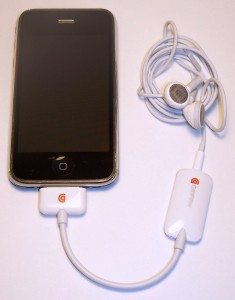 And that's it for the hardware.  No on/off switches, no buttons, just plug and go.  KISS.
Features – Software

The software in this case is an iFM Radio Controller app that is available as a free download from the iTunes App Store.  As with the packaging and the hardware, the operation of the Radio Controller app is straightforward.
Upon initial launch of the app, the user is first prompted to select the Radio Region.  At this stage, you can also select whether the app will "Stay Awake" when the iPhone goes into sleep mode: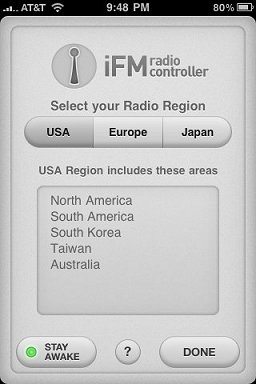 Next, the user is prompted begin the process of setting his or her radio presets, which will become your "favorite" stations: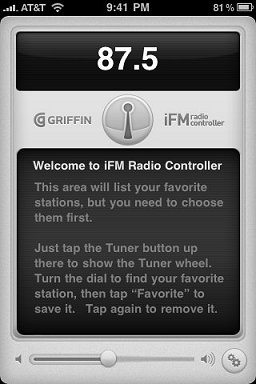 Next comes the process of actually finding your favorite stations, using either the virtual tuner wheel (on iPhone or iPod touch) or the Click Wheel (on iPod nano and regular iPod), or by hitting the 'seek' forward and backward buttons: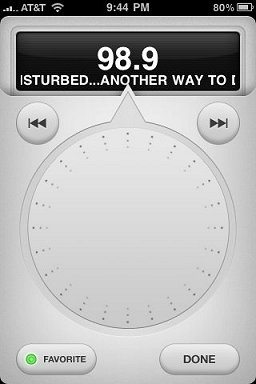 And finally, you have a personalized list of your own favorite 'preset' stations.  Just tap a station to access it: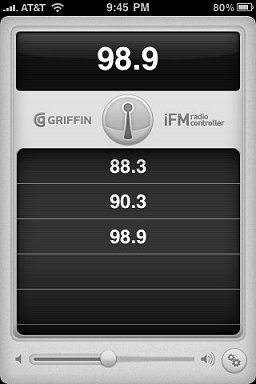 One drawback with the iFM is that it cannot multitask.  I'm hoping that Griffin will update this app and give it iOS 4 compatibility like every other app dev on earth is currently doing.  One other thing to note is that you cannot use the iPhone's headset earbuds/mic to answer a phone call with iFM running, which seems a bit crude: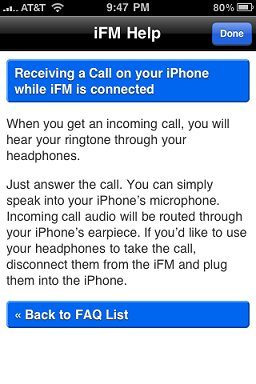 In addition, the iFM radio controller is compatible with the Griffin iFM Radio Browser app, also a free download from the iTunes App Store.  This app is not a radio, but is more of a media browser, similar to Shazam or Soundhound, that gives you additional info on music and lets you buy it with a tap.
Conclusion
I like this accessory.  I'm not sure why Apple has chosen not to include an FM tuner in their products, and I've read a few articles online that the iPhone has the capability, although it is not enabled.  Not everyone may need or want FM radio capability with their iPhone or iPod, but for those that do, this is a simple, straightforward solution.  Easy to install, set up and use, and according to my wife (who is the main user of this device in our household), it doesn't seem to drain the iPhone's battery any faster than with normal operation.  The only downsides seems to be the lack of multitask (which should be correctable through a software update) and the situation with answering phone calls.
Updates 03/13/15
My wife used this item with her iPhone 3GS to wirelessly connect to the various TV set stations at the gym where she works out, all of which were broadcasting audio over short-range radio frequencies. She used it constantly until one day it just died and never came back on. Bummer.
Source: The sample for this review was provided by Griffin Technology. Please visit their site for more info.
Product Information
Price:
$39.99
Manufacturer:
Griffin Technology
Requirements:

iPhone 3G/3GS and original iPhone, 2nd & 3rd gen and original iPod touch, 3rd & 4th gen iPod nano, iPod classic & iPod with video

Pros:

- Easy installation
- Unobtrusive hardware
- App is simple to set up and use

Cons:

- App not multitask capable
- Can't answer phone calls thru headphones & mic