We use affiliate links. If you buy something through the links on this page, we may earn a commission at no cost to you. Learn more.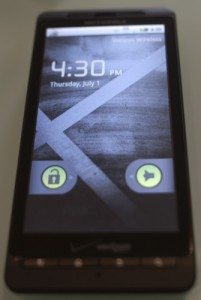 We ask a lot more out of our smartphones anymore. It's not enough to make phone calls, access the web, and receive text messages. We want them to be our communications hub. Android has become very adept at this, and will get even better with Froyo (2.2), but how does the Droid X stack up on this?
Supported Accounts
Out of the box, the Droid X supports a number of accounts: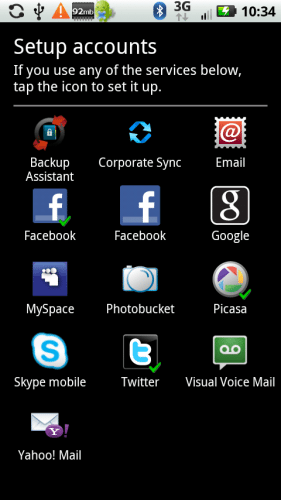 Social Networks like:
E-mail like:
Corporate Sync (Exchange)
Email (POP3)
Google (multiple Gmail accounts)
Yahoo! Mail
Picture sites like:
Additional options like:
Backup assistant(Verizon feature)
Skype Mobile
Visual Voice Mail (Verizon feature)
Exchange Support
I found the Exchange support works very well for me. I have heard of some folks having issues because of security settings on their company's exchange server, but I have not had those issues. Also, it only supports syncing mail, calendar and contacts. No notes or to-do lists, but I have not use notes or tasks lists for a long time.
This can be taken care of with an add-on application, but I have not tested them much, and not for a while. There was quite a discussion of this on my Droid post last October. You may want to look at Touchdown or Moonrug.
Google has promised more robust Exchange support in Froyo (2.2). I hate to say "wait for the next release" but it is expected this year. You can check out the information on Androids Developer site.
As it stands, the exchange support handles all my needs. I also like that the exchange calendar is shown in a unified calendar view: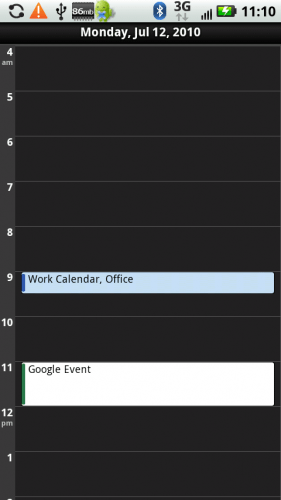 The exchange events are highlighted in blue, Gmail events in green. Each calendar you add is displayed in a different color. I did not see a way to change the color assignments, though.
Video and Pictures
YouTube is not listed in the Accounts section, but you can set up the gallery to upload to YouTube directly (large files will automatically wait for a Wi-Fi connection) and share anywhere you can e-mail. You can also upload pictures to your Picasa or Photobucket accounts, but unfortunately there is no direct Flickr support. To send to Flickr you need to e-mail it to your Flickr e-mail address (look this up on your Flickr account). I found this very disappointing. You can set a quick upload to an e-mail address (which I did to my Flickr photo address) but inexplicably this can not be set to send by your Gmail account. It is sent to your default e-mail account in the Email application.
Getting Social
After you setup your Facebook, Twitter, and (I assume) MySpace accounts, they are viewable through the social widget. I am not a big fan of this. I follow WAY too many people on Twitter, so it gets a little overwhelming. If you follow fewer people, this may not be an issue. I set the widget to only show Facebook status' and I use Tweetcaster to follow twitter.
Conclusion
I think the Droid X handles accounts very well. For me, Flickr is a huge disappointment. HTC phones with the Sense UI work with Flickr (Droid Incredible, EVO). The work-around is OK, but not as seamless as I would prefer. The exchange support should satisfy a lot of people, but will not satisfy everyone. There are 3rd-party solutions out there thanks to the vibrant Android Market, but it will disappoint some to have to add software for what they hope is a basic function.