We use affiliate links. If you buy something through the links on this page, we may earn a commission at no cost to you. Learn more.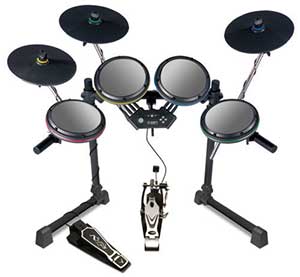 ION Audio hopes you will with their new Drum Rocker Pro drumset controller for Rock Band. Available later this year for the holiday season, Drum Rocker Pro will be compatible with Xbox 360, Wii and PS3 versions of the popular Rock Band video game. The set includes four drum and three cymbal pads and a fully configurable metal drum rack. It also includes a professional-grade electronic kick drum pedal. The price has yet to be determined, but the previous version of the Drum Rocker controller was $299.99. Wow, I guess Rock Band players are serious about their 'playing' if they are willing to fork over that kind of cash. Full press release after the jump.
ION ANNOUNCES DRUM ROCKER PRO PREMIUM DRUMSET WITH NEW DRUM ROCKER PRO PEDAL FOR ROCK BAND
Award-Winning Drum Set Enhanced and Ready to Rule Rock Band, Again
Cumberland, R.I. (June 29, 2010) – ION (www.ionaudio.com), a leader in consumer audio and entertainment technology, proudly announces the new Drum Rocker Pro Official Premium Drum Set for Rock Band. The latest member of the Drum Rocker family (which includes Drum Rocker and Drum Rocker Core), Drum Rocker Pro is compatible with all versions of Rock Band®, including The Beatles™: Rock Band™, the recently released Green Day Rock Band® and the forthcoming release of Rock Band 3®. Drum Rocker Pro will be available for Playstation 3®, Xbox 360® and Nintendo Wii® gaming systems.
Expanding upon the success of the original Drum Rocker, ION's Drum Rocker Pro adds the impressive Drum Rocker Pro Pedal, which further enhances the authenticity of the most realistic music gaming controller available. Drum Rocker Pro Pedal is a professional-grade electronic kick drum pedal that delivers uncompromised kick drum performance to the Rock Band® drumming experience. The Pro Pedal's steel base plate and all-metal construction gives a solid, stable foundation. The dual-chain drive, adjustable beater and rubber trigger assembly identically replicates the physics and rebound that drummers demand out of an authentic kick drum pedal, while an adjustable spring assembly allows for customizable feel. While the Drum Rocker Pro Pedal is included with Drum Rocker Pro, it is also available separately for existing Drum Rocker, Drum Rocker Core, and Rock Band Drum Set owners.
In addition to the new Pro Pedal, Drum Rocker Pro includes four drum and three cymbal pads and a fully configurable metal drum rack. The drum and cymbal pads are the same super-quiet, highly responsive pads that have made the Drum Rocker family a hit with music gamers. In addition to traditional 4-lane drum gameplay, Rock Band 3 also includes Rock Band Pro, which recognizes each drum, cymbal and pedal as a unique input to the game and requires the player to hit specific cymbals at the right time, resulting in a tremendous increase in realism. Best of all, every Drum Rocker kit ever produced is compatible with Rock Band Pro, so both existing and new Drum Rocker owners can take full advantage of these new features.
The Drum Rocker family was developed in partnership with Alesis, one of the world's largest manufacturers of electronic percussion instruments. When the gamer is ready to start playing for real, the addition of an Alesis drum module like the DM6 turns any Drum Rocker drum set into a real professional electronic musical instrument.
"Drum Rocker Pro raises the bar yet again for drum performance in music games" says Fred Galpern, Product Manager, ION Gaming. "The new Pro Pedal helps gamers build kick drum skills that translate faithfully to professional acoustic or electronic drums, and experienced drummers will be able to apply their playing skills to Drum Rocker Pro without missing a beat."
Drum Rocker Pro will be available Holiday 2010, coinciding with the release of Rock Band 3®.
Developed by Harmonix, the world's premier music videogame company, published by MTV Games, and distributed by distribution partner Electronic Arts Inc. (NASDAQ: ERTS), Rock Band 3 will ship simultaneously worldwide this Holiday 2010 in North America, Europe, Australia, New Zealand and other territories for the Xbox 360® video game and entertainment system from Microsoft, PlayStation®3 computer entertainment system, the Wii™ system from Nintendo, and Nintendo DS™. Rock Band 3 will be compatible with all Rock Band and The Beatles: Rock Band peripherals, as well as most third-party instrument and microphone controllers.
For more information on Rock Band 3, art and video assets, please visit http://www.rockband.com/press.
Rock Band®, Rock Band 2®, Rock Band 3®, The Beatles™: Rock Band™ and Green Day Rock Band® are trademarks of Harmonix Music Systems, Inc
Playstation® is a registered trademark of Sony Computer Entertainment Inc.
Xbox® is a registered trademark of Microsoft Corporation.
Wii® is a registered trademark of Nintendo of America, Inc.
#  #  #
About ION Audio
ION Audio manufactures a full line of consumer audio and musical instrument products. By leveraging its strengths in digital, analog, semiconductor and transducer technologies, the premier brand provides audio and music consumers with revolutionary product solutions. For more information, visit www.ionaudio.com; images are available at www.ionaudio.com/media.