We use affiliate links. If you buy something through the links on this page, we may earn a commission at no cost to you. Learn more.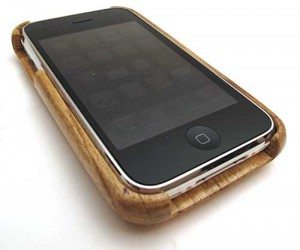 If you've been looking for a case for your iPhone 3G or 3GS, but aren't a fan of plastic and silicone skins, you might want to take a look at the TPhone Eco-Design Hard Wood Covers from AccessoryGeeks.com. These are recyclable wooden cases from Korea, made in Indonesia.
I couldn't help but roll my eyes reading when I read the packaging that came with these cases…

You would think that if they decided to put English text on the package, that they would get someone that could actually speak fluent English to proofread the text. I'm just saying… 😉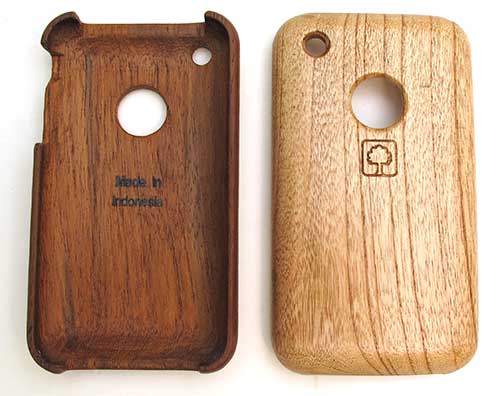 The covers themselves are actually quite nice. They are made from a solid piece of wood, with no rough edges or splinters. I'm not completely sure what type of wood these covers are actually made of though. AccessoryGeeks say that the dark cover is Rose Wood, while the lighter cover is Beech. But if you go to the actual manufacturer's webpage, they say that the dark color is Teak and the lighter color is Jackfruit. Regardless, the wood is smooth and has a very nice grain to it.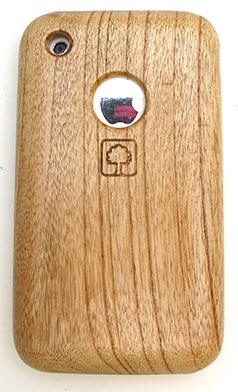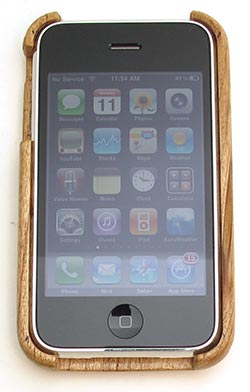 I can't complain about the look or the fit. I had no problems fitting the cover on the back of my iPhone 3GS. But, the first thing I did notice once doing so, was just how thick the cover is.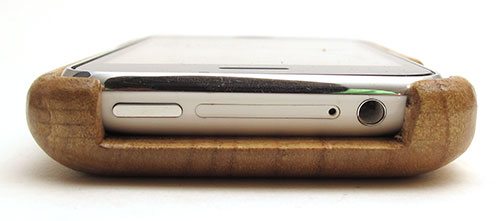 The thickness presents some problems with accessing the buttons on the phone. Pressing the power button is a bit awkward.

No problems fitting a charge cable though.

The biggest issue I ran into was accessing the volume and mute switches. Even though there is a cut out for this area, the wood cover is too thick to allow your thumb to easily press the volume button.
Unfortunately, this problem is enough to keep me from recommending this cover. I guess I won't feel close to nature while the wood case changes the various bad smell of my gear bag inside.

Product Information
| | |
| --- | --- |
| Price: | $19.99 - $24.99 |
| Manufacturer: | TPhone |
| Retailer: | AccessoryGeeks.com |
| Pros: | |
| Cons: | Hard to access power, volume and mute switches |