We use affiliate links. If you buy something through the links on this page, we may earn a commission at no cost to you. Learn more.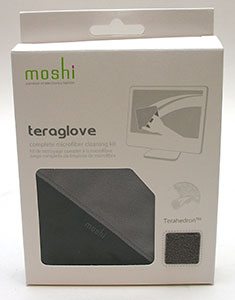 I had my Dad over for a Father's Day visit this past weekend and while he was here, he wanted me to show him how to look up stock information on the web. I loaded up Google's financial page on my Macbook Pro and showed him how to use it while we were sitting on the couch. I had to cringe several times when he touched the MBP's display to point something out to me. Dad, I love you, but quit touching my screen! 😉 That drives me bonkers. Luckily for me, I had recently been sent the Moshi TeraGlove Microfiber LCD Cleaning Kit and was able to clean the smudges his fingers left behind.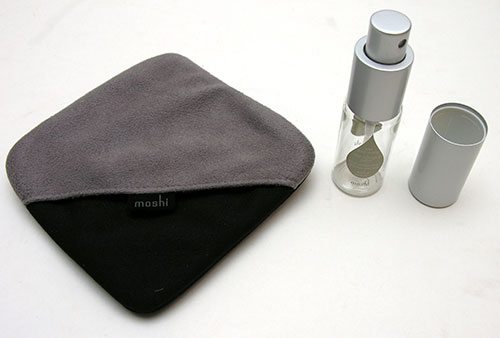 The cleaning kit consists of a microfiber pad and a small spray bottle. The microfiber pad is made with Moshi's special Terahedron™ microfiber and is designed to remove dust, stains, and fingerprint smears from any display. The best part is that there are no special chemicals involved with the cleaning process. You fill the included spray bottle with regular old tap water.
To clean a screen, you just spray some water on the pad (NEVER spray it on your LCD), stick it over your hand and start wiping.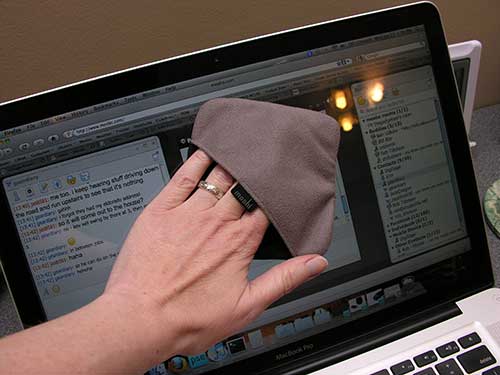 I tested the TeraGlove on my Macbook Pro's glossy display, my 27″ iMac's glossy display and a non-glossy Dell laptop LCD.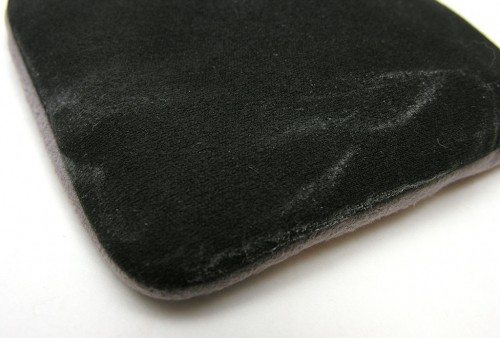 Check out the dust after just one wipe of my MBP's display, which didn't even look dirty (other than a smudge from my Dad's finger).
You can turn the TeraGlove inside out to wipe off excess water with the Grey suede part of the pad. I didn't find this to be necessary when I cleaned the three displays mentioned above. It took almost no effort to clean the screens. Just a few swipes of the moistened pad and all the smudges magically disappeared.
FYI – The TeraGlove is machine washable.
You might be able to find similar microfiber cloths for a better price, but some of the cloths I've seen are not as fine and dense as the TeraGlove. I also like that the TeraGlove is slightly padded feeling. It helps to prevent you from pressing too hard on your LCD.
All in all, two thumbs up from me!
Product Information
Price:
$16.00
Manufacturer:
moshi
Pros:

Easy to use
Removes fingerprints and dust without chemicals

Cons: