We use affiliate links. If you buy something through the links on this page, we may earn a commission at no cost to you. Learn more.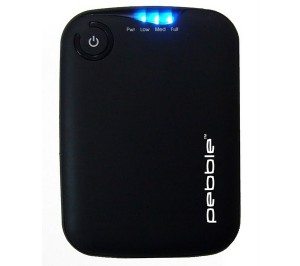 Let's picture the scene.  You're sitting at the airport with your iPhone or iPod and you suddenly realise it's rapidly running out of power.  So, you reach into your gear bag, only to find you've forgotten to pack your charger!  Not good!
Well, with the emergency backup battery 'Pebble' from VEHO sitting in your gear bag, you needn't worry.
It's stylish, hand sized (9.8 x 7.2 x 1.8cm) soft touch rubber case houses a whopping 5,000mA Polymer Li-ion battery, which will quite happily charge a 3GS battery (which is 1,200mA) under one hour and about three times over, without the need for replenishment!
On the top of the Pebble there is a bright blue, easy to read battery charge indicator, so you know exactly how much juice you have left to power your devices.
Along with the Pebble, you'll also get a range of device connectors that will fit iPod/iPhone, Nokia & Ericsson handsets, plus anything that uses Mini and Micro USB.  Plus, a USB cable and a soft pouch to carry it all around in!
Now, there's no excuses to run of power!
The Pebble costs £49.99 ($74) and is available directly from Firebox.