The Gadgeteer is supported by readers like you! If you buy something through links on our site, we may earn an affiliate commission at no cost to you. Thank you! Learn more.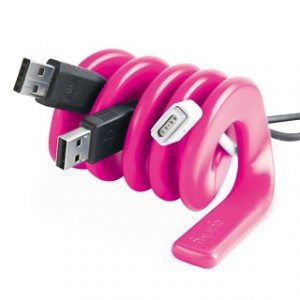 We all know that the amount of USB cables that can clog up desk space can be a bit of a nightmare to control sometimes.
There's nothing worse than unplugging your USB cable, only for it to fall down the back of your desk!
Well, you can take back control of the tangled mess that sits behind your desk and make everything neat and tidy once more, with help from a Cordie.
Made from weighted rubber, Cordies are only 3.5″ wide, however each one has three individual loop spaces that allow you to store your USB cables.  And, you can even stack cables on top of one another inside the loops, or even connect more Cordies together, giving you the edge on keeping your USB cables nice and neat!
They're available from Firebox in four colours (Blue, Green, Pink and Grey) and cost £12.99 ($19).