We use affiliate links. If you buy something through the links on this page, we may earn a commission at no cost to you. Learn more.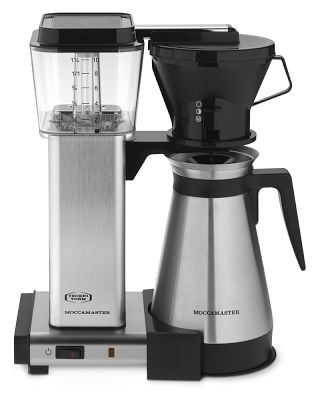 The search for the perfectly brewed cup of coffee at home has always proven elusive for me.  I have an entire counter devoted to my various coffee gadgets, each with its own niche:  brewing a single cup, full pot, drip, press. I have yet to discover the one-stop-shop coffee maker that can produce a great tasting cup or pot consistently.  My father recently made me aware of the Technivorm Moccamaster coffee maker.  Each unit is made by hand in Holland and is designed to extract and preserve the flavors and aroma in every cup of coffee.  It has even been given top honors by Cook's Illustrated magazine for brewing the perfect and best tasting cup of coffee.  But what exactly does that mean?  The perfect cup of coffee depends on three factors:  water temperature, brew time, and the freshness of the water and beans.  While it's fairly easy to control the last factor, most coffee makers do not make the cut with the first two and as a result produce either bitter or flat coffee.  The Moccamaster line is able to meet both requirements by maintaining a consistent water temperature (between 195-205 degrees Fahrenheit) through a copper element and a proper brew time (5-6 minutes) throughout the brewing process.  Although it sort of resembles something from a mad scientist's lab rather than a kitchen appliance, the coffee it produces is supposed to be supreme.
Perfection has its price though, $299.95 for the thermal carafe version or $279.95 for the glass carafe, both available through Williams Sonoma.