We use affiliate links. If you buy something through the links on this page, we may earn a commission at no cost to you. Learn more.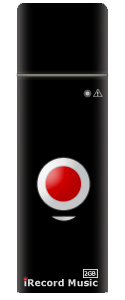 The latest release in the iRecord line is an audio recorder, allowing one-touch music/audio transfer and recording from the device to an iPhone, iPod touch, or any other compatible MP3 player.  iRecord Music is able to record any audio through a line out or headphone out jack on a cassette/CD/gaming device/etc, it can capture streaming radio from a computer's audio out, and it's also equipped with a microphone for live lecture recordings.  It has a 3-position slider for adjusting the recording volume with the ability to monitor your recordings in real time through the headphone out.  Forget your iPod?  iRecord Music will also function as a basic mp3 player and has a 2GB internal memory.  It supports the following audio codecs:  MP3, AAC, WAV, and FLAC.
iRecord Music is available now in either black or lime green for $79.95.