The Gadgeteer is supported by readers like you! If you buy something through links on our site, we may earn an affiliate commission at no cost to you. Thank you! Learn more.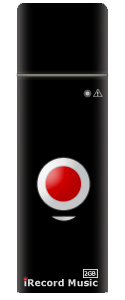 The latest release in the iRecord line is an audio recorder, allowing one-touch music/audio transfer and recording from the device to an iPhone, iPod touch, or any other compatible MP3 player.  iRecord Music is able to record any audio through a line out or headphone out jack on a cassette/CD/gaming device/etc, it can capture streaming radio from a computer's audio out, and it's also equipped with a microphone for live lecture recordings.  It has a 3-position slider for adjusting the recording volume with the ability to monitor your recordings in real time through the headphone out.  Forget your iPod?  iRecord Music will also function as a basic mp3 player and has a 2GB internal memory.  It supports the following audio codecs:  MP3, AAC, WAV, and FLAC.
iRecord Music is available now in either black or lime green for $79.95.