We use affiliate links. If you buy something through the links on this page, we may earn a commission at no cost to you. Learn more.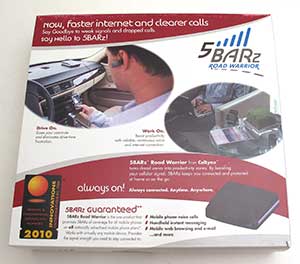 Can you hear me now? Everyone with a cellphone has probably asked that question at one time or another while checking the signal on their phone. I've been skeptical of so called signal boosters after reviewing the the Cell Ranger PORT Signal Booster a few years back, but agreed to try the CelLynx 5BARz Road Warrior Cell Phone Signal Booster when it was offered to me. Let's see if this one really does what it claims.
Hardware Specifications
Maximum input power: +20 dBm
Output power: 0.25 watt average /1 watt maximum
Service Antenna: Cigarette lighter/power cord antenna
Frequency Bands: Full-band US Cellular and full-band US PCS
System gain Cell/PCS: 40/45 dB, self-optimizing
System noise figure: 5 dB nominal at maximum gain
Power Supply: 12 VDC
Power dissipation: 6 Watts
Dimensions: 5.0″ x 4.75″ x 1.35″
Weight: 1 lb (0.45kg)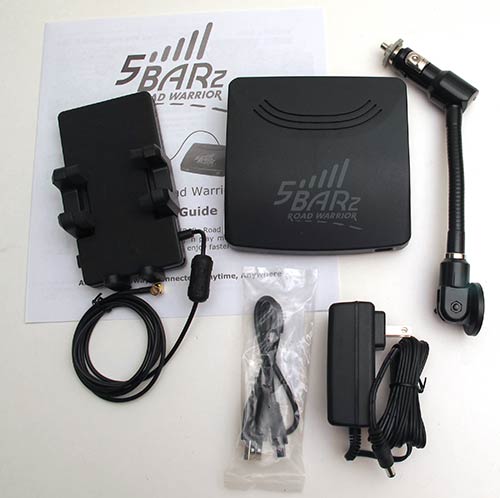 Package Contents
Base unit
Cradle
Car mount / 12V power
AC adapter
USB Charging cable (requires an iGo plug for the phone of your choice)
User Guide
Right away I could tell that this was a serious product unlike the Cell Ranger. I like the fact that it can be used when you're mobile (in a vehicle) or in an office.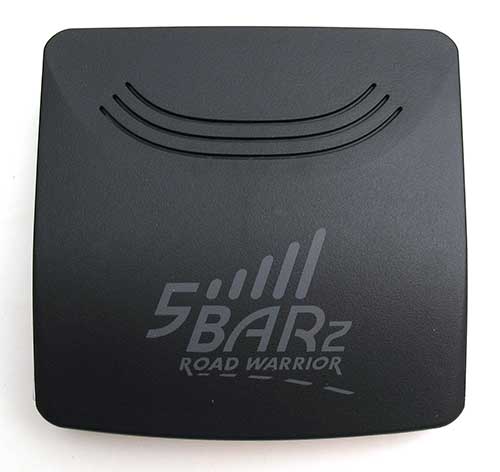 There are two main parts to this product. The base station and the cradle. The base station is a little smaller than a portable CD player (do they even sell those these days?).

The front of the base has a power LED of 5 signal bars. The whole thing lights up and doesn't actually measure signal strength.

On the back you will find the cradle cable connector and power connector. There's also a sticker that covers an external antenna port.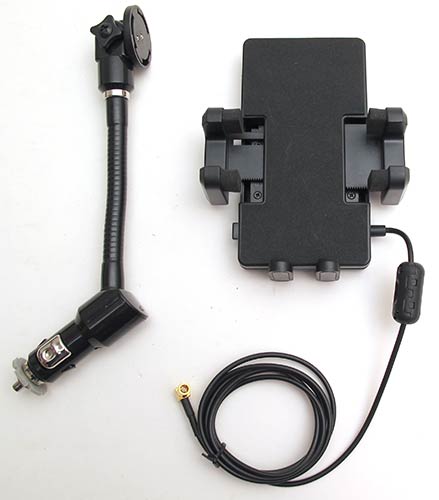 The cradle is padded with neoprene on the back and sides and has an adjustable grip. The cradle might not be able to hold narrow phones.
A goose neck style 12V car mount is included that attaches to a socket on the back of the cradle.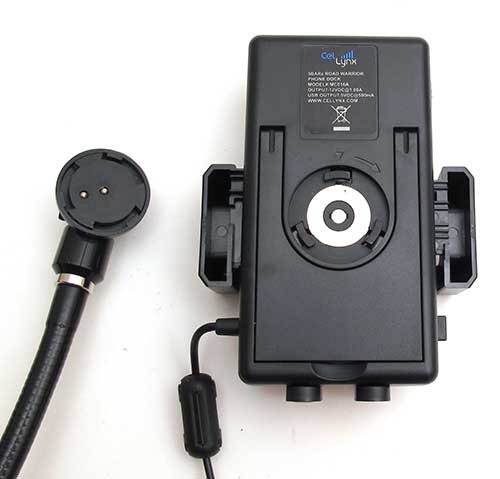 The mount is keyed to allow easy connection and removal. There's also a swing out stand built into the back of the cradle.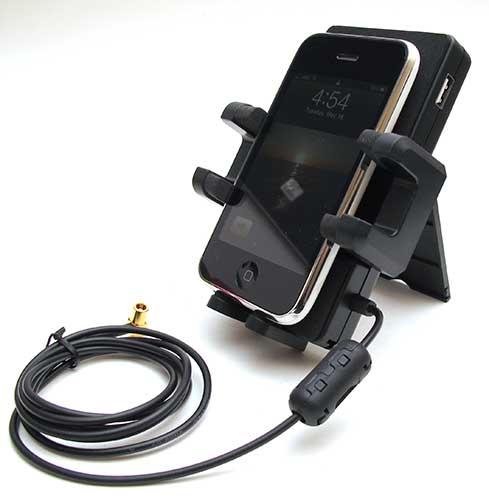 This is how you would use the 5BARz Signal Booster on a desk. You're probably wondering how you answer calls if the phone is always in the cradle. That is the one 'gotcha' for this product… the best solution is to use a Bluetooth headset or speakerphone while using the 5BARz booster.
You'll also notice what looks like a USB connector in the side of the cradle. You can use this connector to charge your phone while you are also boosting its signal. A USB Charging cable is included in the package, but requires an iGo plug for the phone of your choice. If your phone can be charged via USB and you already own a cable for it, it will work just fine with this cradle, which provides a charge regardless if the cradle's power switch is on or off.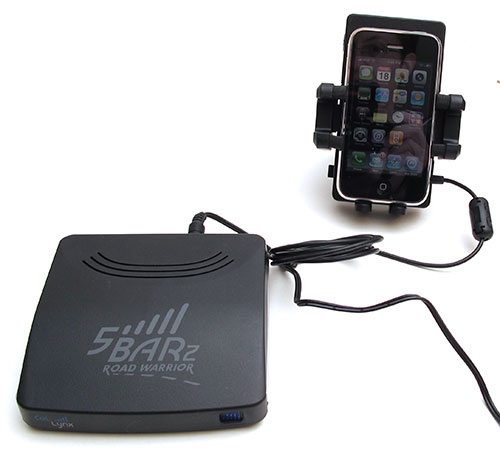 Only two connections are required to get up and running. The cable from the cradle plugs into the back of the base as does the AC adapter or the 12V mount into a power port on your car. If you use the 5BARz in your car, you can just set the base on your dash. It has rubber feet with a good grip. I didn't have any problems with it sliding off.
I tested the 5BARz with my iPhone 3GS on the AT&T 850MHz network. This product also claims to boost Verizon and Sprint signals too.
My first test was not very scientific at all. I took a screen shot of the signal bars with the phone in my basement before turning on the booster and then again when powered on. I was immediately impressed given the fact that I have never had a full signal in the basement of my house. Heck, I've never had a full signal upstairs or outside either.
Then I recalled that I could go into field test mode on my iPhone to get a better representation of the signal strength. You can do this by manually dialing *3001#12345#* followed by a tap of the Call button. Once you do that, the signal strength bars in the upper left are replaced by a negative number. The less negative the number, the better your signal strength. For a reasonably reliable signal, the number should be less negative than -100. Ideal strength would be somewhere around -50. From the image above you can see that without the 5BARz, the signal is bad and with the 5BARz it is significantly improved. The weird thing that I've noticed though is that AT&T's signal bounces around a great deal. But with this booster, I never saw a signal worse than -79.
I also tested the booster in my car. I was very curious to see if it would solve a 'black hole' issue on my way to and from work. There's a short distance where the AT&T signal drops completely out. I was super surprised when I was able to get 2 bars in the area where I normally see No Service. However, on the way home on the same day, I did see a No Service message for a few seconds in that same area while using the 5BARz. Of course, this device can't magically create a signal where one does not exist at all. So don't think that if you live in a true dead zone that it will somehow solve that problem. But, if you just have a really weak signal, it should be able to boost it.
I'm confident that the CelLynx 5BARz Road Warrior Cell Phone Signal Booster really works. It's pretty expensive at $300, but for people that live on the fringe coverage areas or often drive through areas with weak signals, this product will definitely help boost signals and prevent dropped calls.
Product Information
Price:
$299.00
Manufacturer:
CelLynx
Pros:

Easy to setup and use
Compatible with all carriers (Verizon, AT&T, etc)
Boosts signal as advertised

Cons: