We use affiliate links. If you buy something through the links on this page, we may earn a commission at no cost to you. Learn more.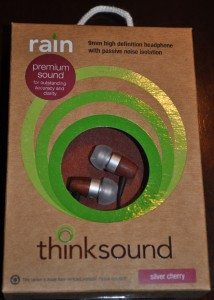 Much like the movies or music they're meant for, earbuds are a highly subjective gadget.  Something so mundane can literally run the gamut of options–heavy bass, no bass, in ear, on ear, plastic, metal, etc and spark heated debate as to superiority.  I am in no way an audiophile, but I can hear and appreciate the differences in the range of audio-wear.  I have been looking a new set to complement my trusty Sennheiser CX300-B and leave in my commuting bag.  I was was offered the thinksound Rain earbuds for review and have been using them for about a month, interchanging with the Sennheisers as my control.
thinksound's guiding principle is that their products should be designed and manufactured with the lowest carbon footprint possible without the sacrifice to quality or price.  Thus, the Rain earbuds are made out of wood from renewable sources, the packaging is free of plastic inserts and made from recycled materials, the cord is PVC-free, and the carrying pouch is from renewable source cotton.
What's in The Box:
rain earbuds
4 sizes of silicon ear inserts (S, M, L (pre-installed), XL)
cord clip
pouch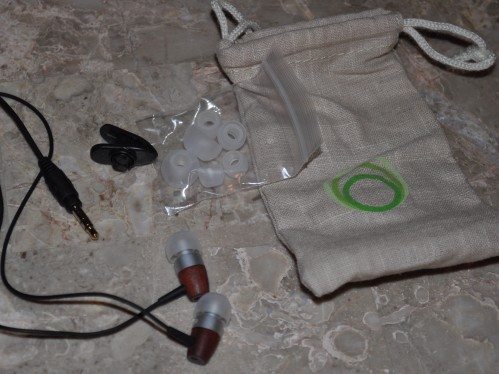 Hardware Specifications:
9mm in-ear driver
Plug type: 3.5mm gold-plated straight plug
Frequency range:  20 Hz – 20KHz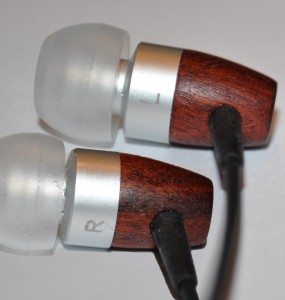 I have to just get this out of the way before the review begins in earnest:  these are some very sexy earbuds.   The wood housings are just gorgeous–the grain, finish, and color make for an extremely attractive product.  The Rain model comes in two variations:  silver cherry (which I was sent) and black chocolate.  Each has identical specs, the only difference is the color of silicon tip (white and black, respectively) and the color of the wooden housing.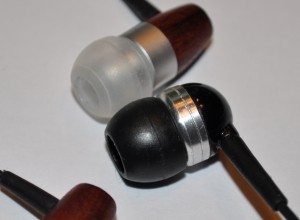 The earbuds came with the large-sized silicon inserts pre-installed.  I tried all the included sizes but large seemed to give the best fit.  However, I was never able to get a tight seal, which is vital to this type of canal-style earbuds.  I've never had this problem before–Bose, Sennheiser, Sony, Skullcandy, while having varying degrees of comfort, all sealed to my ear properly.  Not being completely knowledgeable on the science side of these things, my best guess to the discrepancy is that the Rain housings are long and narrow whereas the typical housing is slightly wider and round.   This is probably great news to people with smaller ears, but there was always just a little something off and loose for me while wearing them.  Without the tight seal, I never experienced a great deal of sound isolation and therefore had to listen to my music at a higher volume.
I used these primarily on the train, subway, and walking to work.  Cord length wasn't a problem at all; from the tip of the plug to just before the cord branches off to the right and left channels is roughly 51″.  There is also no offset right cable–both sides are even-length, which is a a personal preference of mine.  I didn't experience any line noise while walking and moving around, only when I shook the cord did I hear a slight hiss.  There is a cord clip included in the package should these be worn while running.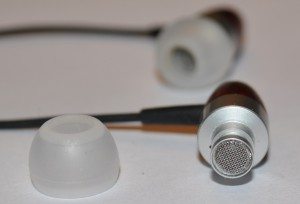 A surprising aspect was the weight, about 9 grams.  They feel practically weightless while worn, which is great for long-term use.  Although, again, the shape of the housing took a little getting used to.  They stick out just a little further than a typical bud and that coupled with my hair touching it made my ears a little sore after an hour of use during the first week or two.  However after daily use, my ears adjusted and this was no longer a problem.
Now for how they sound.  thinksound produces two models of earbuds–Rain and Thunder, and each has a niche.  Thunder is more bass-driven, whereas Rain is engineered to be light on the bass but is supposed to enhance the mid and high tones.  I have pretty eclectic musical tastes, but I'm currently also going through a bit of a bluegrass/folk music phase at the moment, and the Rain buds are perfect mates for those genres (as well as classical).  They absolutely love the banjo, ukulele, and fiddles–strings sound gorgeous.  However, on pop music there's a noticeable lack of a strong bass to the point where (don't judge) Miley Cyrus (Party in the USA)  and especially Justin Timerlake (SexyBack) sound almost muddled.  For my personal music preference, I do like a bass– not a skull thumping, teeth rattling bass, but one that can be heard and which rounds out or gives a bottom to the song I'm listening to.  There were definitely parts of pop songs that I just wasn't hearing due to the lack of a prominent low end through Rain.
The Rain earbuds carry a MSRP of about $100, but can be found online through Amazon for about a quarter less.  To me that's still a little pricey for their performance on my type of music.  However, for audio purists who do not like the often overemphasized bass in other earbuds or lovers of folk and classical music, these could be viable alternative.
Product Information
Price:
$99.99
Manufacturer:
thinksound
Pros:

Eco-friendly
Warm mid/high range sound
Long cord length
Lightweight
Good for those with smaller ears

Cons:

Very light bass
May not be comfortable for some
Might not fit larger ears properly
A little pricey