We use affiliate links. If you buy something through the links on this page, we may earn a commission at no cost to you. Learn more.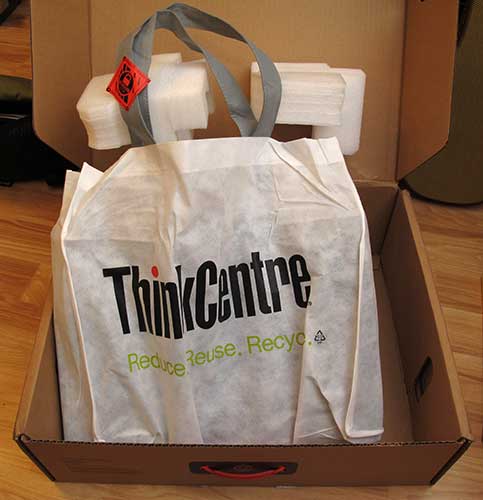 Regular readers of The Gadgeteer are familiar with the fact that I'm a Mac person. My main computer for the past several years has been an iMac. I upgraded last year to the 27″ version and it has been my work horse until early last month when it switched roles and became my TV. When I was offered a long term loan opportunity of a Lenovo ThinkCentre A70z All in One PC, I was happy to accept because I've always preferred to use a desktop for my writing and picture editing instead of a laptop. I find a larger display and a full sized keyboard to be more comfortable for extended periods of time. Let's check it out.
The first thing I noticed when I opened the box was the reusable bag that held the main unit and the fact that everything was either recyclable or reusable. Way to go Lenovo!
Hardware Specs
Processor: 2.93 GHz Intel E7500 Core 2 Duo
Operating System: Microsoft Windows 7 Professional
RAM: 2GB (max 4GB)
Display: 19 in (diagonal) Widescreen LCD, 1440 x 900, TFT active matrix
Graphics: Intel GMA X4500
Hard Drive: 320GB Serial ATA-300 7200 rpm
DVD-Writer
Webcam: 1.3 megapixel camera
WiFi: 802.11b/g/n
Ports: USB 6 ports, Ethernet 10Base-T/100Base-TX/1000Base-T, Mini-phone stereo 3.5 mm, PCI Express Mini Card
Dimensions & Weight: 2.9 in x 14 in x 18.6 in, 17.6 lbs
Included Software: Adobe Flash Player , Adobe Reader , Lenovo Online Data Backup , Microsoft Office 2007 (60 days trial) , Norton Internet Security 2009 (30 days subscription) , Roxio Creator Business Edition , Roxio My DVD , Skype , ThinkVantage Power Manager , ThinkVantage Product Recovery , ThinkVantage System Update , ThinkVantage Toolbox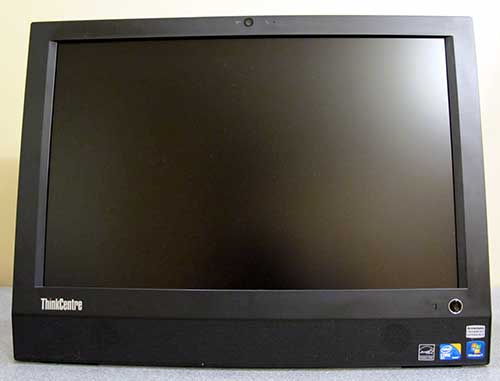 The ThinkCentre is definitely not a flashy computer. Although it has a modern all in one design, some might say that its Black casing borders on boring. But once you remember that this model is being marketed as a small business computer and not a home PC, the style becomes a non issue.
The front of the computer has one button (for power) and a long speaker grill along the bottom edge. Next to the power button is a hard drive LED that blinks during data access. Above the display is a 1.3mp webcam and a microphone.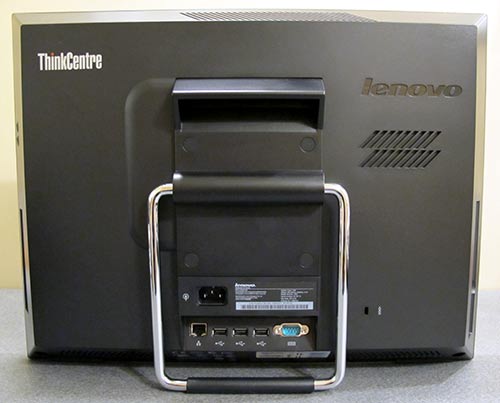 The back of the computer has a very handy carrying handle at the top. Since the whole computer weighs less than 20 lbs, it's really easy to relocate the A70z whenever it's needed.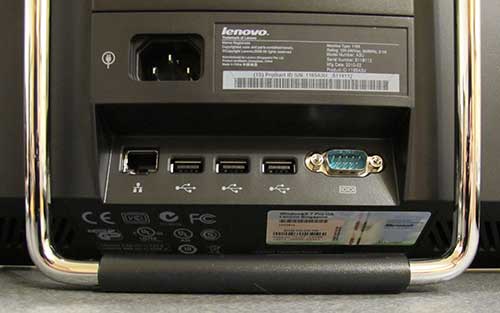 All of the connections are also located on the back of the computer. Since this is an all in one device, only one power connection is needed, which is very nice. There are also 3 USB ports, an Ethernet port, Kensington lock slot and what I think is a serial port? Do people even use those these days? Unfortunately there's no secondary display output so that you can connect a 2nd monitor…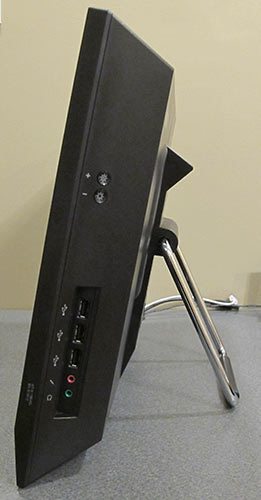 Here is a side view that shows you the heavy chrome stand, which can be easily adjusted to modify the angle of the display/ computer.   The A70z is compatible with standard VESA wall mounts, so it's possible to move it completely off your desk and on to a wall or a swing arm.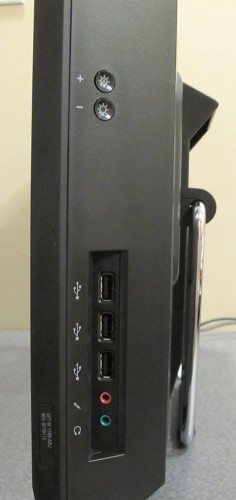 You will also notice that there are 3 more USB ports, a microphone jack, headphone jack and buttons to adjust the display brightness.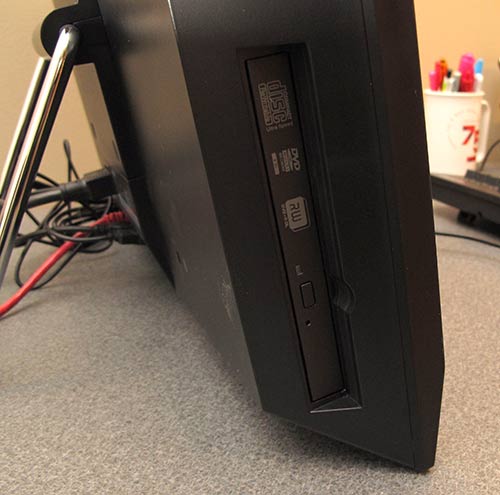 On the opposite side you will find the CD/DVD drive.
Setting up the Lenovo ThinkCentre A70z is super easy. Just take it out of the box, connect the wired keyboard, the mouse, power cord and press the power button. Within minutes, you're ready to work. I was a bit disappointed to see that the included keyboard and mouse were the wired variety. This draws attention to the fact that there is no good way to route cables with this computer. The first thing I would do after purchasing this PC is to ditch the included keyboard and mouse for a wireless combo.
I should also mention that the A70z does not have Bluetooth built in… Of course, it's easy to add a dongle later, but I don't understand why something that simple wasn't included in the first place.
The computer comes with Windows 7 Professional installed and has been my first experience using this version of the Windows operating system. These days it really doesn't matter that much which operating system that I use since I do almost all of my work through a browser. That said, I find Windows to be significantly more annoying to use than the Mac OS. I get tired of being asked all of the "are you sure you want to do this?" questions. And for some reason it seems that with Windows Vista and now Windows 7, that the hard drive is almost constantly being accessed. This causes noise that grates on my nerves after awhile.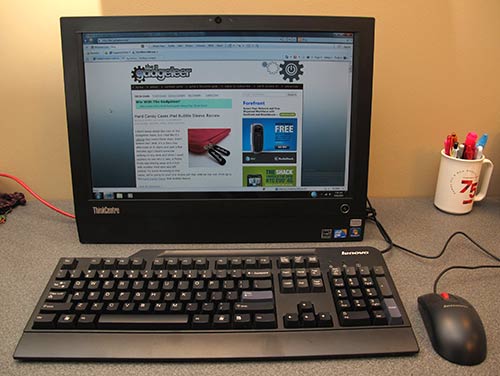 The A70z is less noisy than most tower computers, but it's still much louder than my iMac. The internal fan can be heard at all times and of course the constant hard drive access can also be heard. This is something to be aware of if you're as picky about noise as I am. Of course, if you will be using this computer in an office environment, it might not be noticeable at all.
Setting aside my complaints about the noise, this computer is snappy and performed all the normal tasks that I threw at it. Keeping in mind that it's not going to be a gaming or multimedia / home theater computer, it does a really good job at everyday work. That said, the display is nice and the speakers do an adequate job.
Boot up time is especially impressive at about 27 seconds from a power off state to the login screen.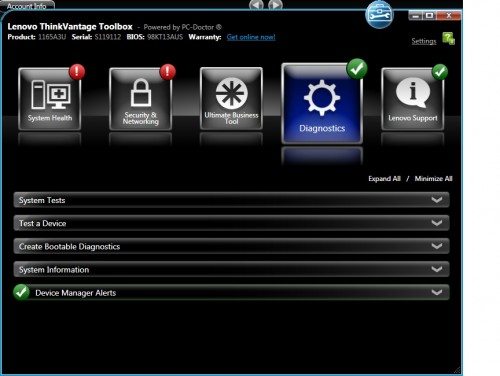 I was also happy to see that the ThinkCentre isn't packed with the typical new computer bloatware that most computers seem to ship with these days. Yes, it does have a trial version of Microsoft Office, Norton Virus Protection and some ThinkCentre dashboard tools, but it's still pretty light on the 'junk'.
I like the solid build of the A70z, but do wish they would have included a wireless keyboard / mouse combo and Bluetooth. But at a starting price of about $500, I think this system would be a decent choice for a small business owner or a student on a budget. The all in one design is great for small spaces while remaining a solid system that Lenovo is known for. The Lenovo ThinkCentre A70z is available at CDW and PC Connection.

Product Information
Price:
Starts at $499.99
Manufacturer:
Lenovo
Pros:

Compact all in one design
Fast boot times
Easy setup
6 USB ports

Cons:

No Bluetooth
Constant hard drive access noises
No secondary video output port