We use affiliate links. If you buy something through the links on this page, we may earn a commission at no cost to you. Learn more.
This is a Sponsored Post written by me on behalf of Swiss Army Knives . All opinions are 100% mine.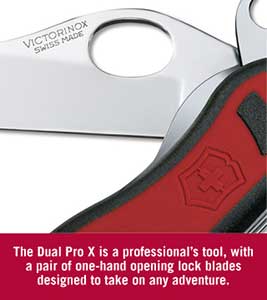 In my opinion, you can't really call yourself a true gadgeteer unless you have at least one Swiss Army knife somewhere in your arsenal of tools. The company that has brought us the iconic Red sided multi-bladed pocket knife has recently added a new model to their Victorinox Grip Series of knives. It's the Dual Pro X pocket knife.

Modeled after their popular Soldier Knife, the Dual Pro X is 4 3/8 inch (111 mm) when closed.

The Red handles are still there, but they now have Black accents and a better grip than the classic shiny Red plastic handles.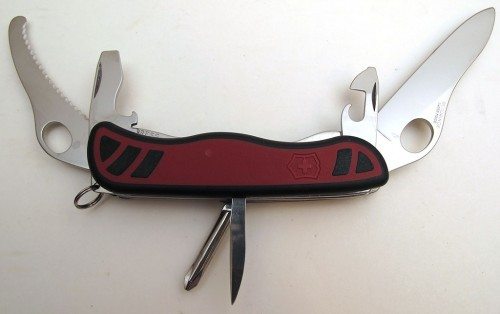 This knife has 6 separate blades including 3 that lock securely in in the open position.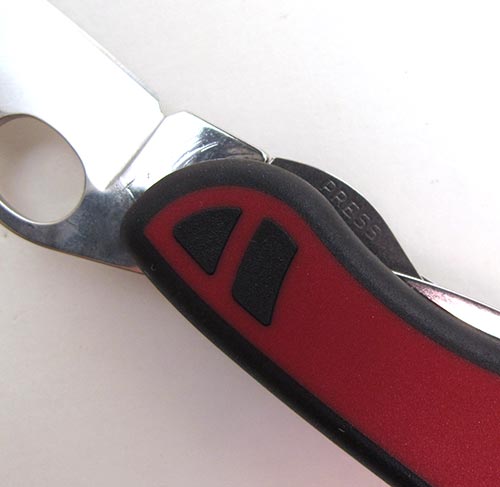 To close a locked blade you have to press the lock release as you fold the blade closed. It takes two hands to do this.
Here's a list of the tools:
One-Hand Locking Blade
One-Hand Serrated Locking Seat Belt Cutter
Phillips Screwdriver
Can Opener with
-Small Screwdriver
Bottle Opener with
-Large Locking Screwdriver
-Wire Stripper
Reamer
Key Ring
The Dual Pro X is a tough knife that can handle a lot of tasks both outdoors and indoors. I wanted to put my Dual Pro X to the test, so I took it outside to do a little creative whittling. Click the images below to see a larger view of my handy work.
What do you think? Ok, just kidding… Good old Mother Nature decided to bless one of the 50-60ft tall Poplar trees in my back yard with a direct lightning strike last week. According to a neighbor, it sounded like a bomb had exploded. It sent chunks of wood from the back yard where the tree stands, to the front yard.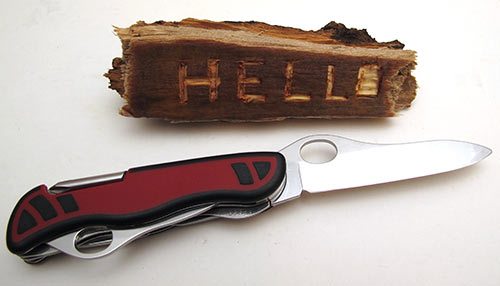 Here's one of those chunks… I decided to try a little chip carving on it. It's supposed to say HELLO… I don't think I'll quit my day job to become a wood carver anytime soon 😉
Whether it's whittling, fishing, camping or tightening a screw on the back of your computer tower, the Victorinox Dual Pro X knife can handle it. It's made well and is backed up with a limited lifetime warranty.
Fan the Victorinox Facebook fan page and participate in Share the Adventure for a chance to win great products and compete for a $25,000 Ultimate Adventure!