The Gadgeteer is supported by readers like you! If you buy something through links on our site, we may earn an affiliate commission. Thank you! Learn more.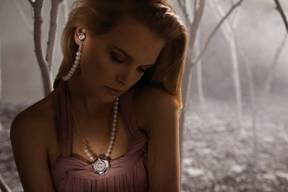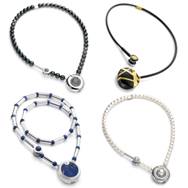 novero has announced the Victoria Collection, a line of contemporary Bluetooth earpieces that double as jewelry. These Bluetooth headsets are designed to be worn as a necklace and are constructed with precious metals and gems. I recently reviewed their TalkyOne Bluetooth speakerphone, which I'm continuing to use because it works well and I like the look of it. But I don't think I could ever see myself wearing a headset as a necklace though. I guess I'm just not that fashionable 😉 They have styles for men and women – any guys out there think they would be willing to wear one? Full press release after the jump.
NOVERO UNVEILS A NEW ERA IN COMMUNICATION AND ARTISTRY

Debut of Victoria Line Showcases Company's Vision,
Crafting Contemporary Bluetooth® Earpieces in Timeless Jewelry Form
LONDON, DÜSSELDORF AND ATLANTA – May 12, 2010 – novero, a company passionate about creating inspiring communication pieces, today unveiled its first collection delivering on a promise for a better tomorrow with products that are beautiful, yet instantly intuitive. Entitled the Victoria collection, the line is the first example of the company's ability to combine fashion with purpose, embodying the creative potential of its designers, and offering a glimpse into its future.  Victoria captures the beauty of finely crafted jewelry, the ease of hands-free innovation, and novero's willingness to challenge the status quo, to be the first communication accessory of its kind.
The collection debuted in London in an exquisite and exclusive event – attended by VIPs from the worlds of fashion, art and design and premier retailers – and will continue to tour with a series of launches in Düsseldorf and New York City to follow.  On display will be samples of the Victoria line to be available at select retail locations later this year, and also "la première édition" – a series of five commissioned pieces fashioned from precious metals and rare jewels valued at more than $120,000 each.
A Vision
Driven by the vision of CEO and founder, Razvan Olosu, novero strives to challenge the conventional to create products that blend seamless beauty into people's lifestyles.  The novero philosophy draws inspiration from the world's finest art and infuses it with the functionality of cutting edge technology to deliver communication in the most striking, yet innovative manner.
"This is the dawn of a new era.  The Victoria line showcases beauty's victory over cold technology," said Olosu.  "We have created pieces of delight that open the mind to the possibilities of the future – where devices deliver far more than pure functionality.  No longer will those who appreciate the finer things have their sense of style disrupted by unattractive accessories.  But make no mistake, this is just the beginning."
A Collection
As a collection, Victoria imbues contemporary design and timeless materials with unmatched Bluetooth innovation to deliver more than a hands-free earpiece.  The result is a line that encompasses everything from pure gold and silver, to Lapis Lazuli and diamonds, to the very latest in communication beauty.
The gemstones for the Victoria collection are set using a technique known as "pavé," from the French word meaning "to pave," likening the dense formations of sparkling gemstones to the intricately cobbled streets of Paris.  From the moment the metal surface is primed and scribed, right down to the light waxing before the stones are pressed into place, pavé is the most meticulous of stone-setting techniques; a true test of the jeweler's patience, delicate touch, and workmanship.
Victoria Lapis
Lapis lazuli is a breath taking stone, prized since time began for its intense shade of blue, and dusted with distinct, golden flecks of pyrite. The lapis is a stone set in history, hand polished to the highest degree, and framed in beautiful, brushed silver.
Designed to sit low and long around the neck, its contemporary design, culminates in a six thousand year old journey from precious blue, to precious Bluetooth.
Victoria Pearl
A pearl on its own may just be a pearl, but in the hands of novero's craftsmen, they are enchanting, enthralling, and timeless objects.
Re-crafting this classic accessory for the 21st century, the "matinee length," necklace is hand made beautifully in gold, and polished to the highest standards.
Victoria Stripes
Stripes is molded from contemporary, black silicone, but hatched with bright shafts of traditional, brushed gold. Stripes is the embodiment of the spirit of Victoria; the drama, the elegance, the love of beauty, the thrill of innovation – all side by side.
The piece wraps close to the nape of the neck, like a conventional choker, yet plunges past the neckline to a round, polished pendant.
Victoria Wave
Wave speaks a modern, minimalist language of its own. It is the complex, encased in simplicity.
The elegant choker's centerpiece is a stunning yin-yang white and blue pendant – the irony of the piece's two sides living in one beautiful object – in perfect harmony.
Victor
Hand-crafted in highly polished, piano-black cubes and finished with a brushed, silver plated cap, Victor allows for every call to be made in style.
Victor is designed as a discrete pendant, which arcs around the neck, and clips to the shirt or jacket, so it's always fashionably there.
Availability
The Victoria collection will be available later this summer at select retailers in North America, Europe and Asia.  The initial line will be crafted from precious metals and stones, yet those who desire will also be allowed to commission their own for "première edition" of each piece with the finest jewels they desire.
Those with discriminating tastes can learn more about novero's vision by visiting novero.com and follow the company's evolution via Twitter and Facebook.
About novero
novero is a company passionate about creating beautiful communication accessories that combine brilliant artistry with leading-edge innovation. By challenging convention with imagination and high-design, novero crafts mobile lifestyle products that resonate with discriminating buyers around the globe.
novero was founded in 2008 via a management buyout from Nokia orchestrated by Razvan Olosu, the visionary and former head of the worldwide Mobile Enhancements division.  The company has since delivered groundbreaking consumer products, including the Victoria collection – contemporary Bluetooth accessories in timeless jewelry form – as well as solutions for luxury clients including Bentley, Jaguar, Land Rover and Mercedes-Benz.  novero is headquartered in Düsseldorf, Germany, with over 425 employees across offices in Europe, North America and Asia.  For more insight, please visit: novero.com.
Support The Gadgeteer
:
The Gadgeteer is supported by readers like you! If you buy something through the links on our site, we may earn a small affiliate commission. Thank you! Learn more.